A few with good memories will remember that I did a crazy thing for my Mountain Goat activation a few years ago. I took a QRPme RockMite][ kit with me on my final summit and built the kit with a gas soldering iron.
Link here if interested -
It's true what they say, once you reach Mountain Goat status, the pressure is off and SOTA becomes even more fun. Soon I was looking for my next challenge. I decided that I would aim my SOTA efforts to achieving 'True' Mountain Goat - by that I mean earning 1000 activation points using summit points alone, not including winter bonus. My challenge took a bit longer than I anticipated!
Fast forward to October 2019 and I was at the RSGB Convention chatting to Dan M0WUT. Those that know Dan will appreciate his PCB design and RF electronics prowess. I have always wanted to try to put together my own PCBs, but I'm not good with software and each time I attempted to learn a PCB design software package I failed. Dan gave me encouragement and tips to help me persevere with Kicad.
I had the idea that for my 1000 point activation, I would re-create my 'solder the kit on the hill' event, but this time I wanted to attempt SMD. I looked everywhere but I couldn't find an SMD based CW kit that was available to buy. I was forced to put together my own kit.
As the 1000 point milestone crept closer towards the end of last year, I sat down with Kicad and put together a PCB. It was a steep learning curve and I did make a few mistakes. I sent off the Gerbers to JLCPCB and for the grand total of £5.34, 5 smart PCBs arrived on my doormat a couple of weeks later.
I decided that 40m would be the most useful band at the time of my activation, I also wanted a useful amount of power. I aimed for about 2 watts of CW.
The Manhattan style test circuit worked well -

Unfortunately the Covid restrictions rather got in the way, so my project was put on hold for a few months. I did build up a transmitter board in the shack though and gave it a test.
Once lockdown had been lifted I needed to 'engineer' my SOTA activation points to allow me to hit the magic 1000 on my chosen summit of Ingleborough. I chose to test my SMT transmitter along with the rest of station set up on Hutton Roof Crags last week, taking me to 994 activation points.
I worked 5 stations with my SMT TX, using a QRPme Sudden Storm simple Direct Conversion receiver and QRPme Tuna Helper RX / TX automatic changeover switch.
Many thanks to the chasers who coped with my mangled straight key CW and unwittingly proved the viability of my challenge! (I even managed an S2S!)
Rather quicker than anticipated, an opportunity presented itself to attempt my challenge today, the weather forecast was agreeable and also it was a weekday - I didn't really want to run a DC receiver on 40m at a weekend!
I set off early up Ingleborough this morning with my kitted SMT Transmitter and a whole load of ancillary items.
The build went great- I made a little mistake putting an 0805 cap in the wrong place but I knew that I'd done it almost immediately. I was a little nervous applying power for the first time but the transmitter fired straight up with a healthy 2 watts without any troubleshooting.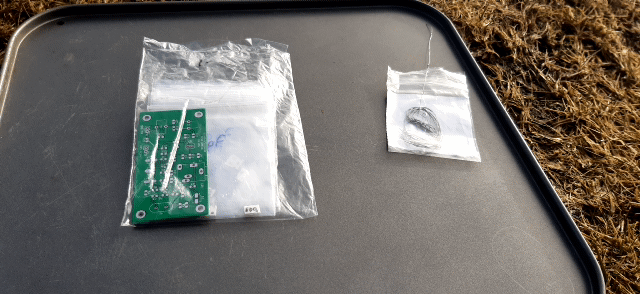 In a nice tie up, I used the home brew straight key which I made during my Mountain Goat activation on Whernside G/NP-004.
I was very relieved to hear SA4BLM replying to my CQ and F4WBN was my fourth chaser, making my challenge a complete success!
My log -
The weather was superb throughout. A fantastic day in the hills!
A big thank you to all who have supported me, especially Dan M0WUT for pushing me to make my own PCBs and Dennis G6YBC for supplying components and crystals.
Thanks also to the chasers who put up with my hand sent CW on a home made key and apologies for those that I missed - running a DC receiver on 40m is not ideal!
73, Colin M1BUU
'True Mountain Goat'. Whoop!