Another fairly quick activation today of a local one-point summit, Holme Fell. The fell lies to the North of the town of Coniston with good views towards Coniston Water, The Old Man of Coniston, The Langdales and Helvellyn. The forecast was for light rain/drizzle during the afternoon so we took our pak-a-macks but it didn't look that bad out the window and as it turned out it was warm with no rain and light winds. Last time I was here was on New Years Eve last year, drinking champagne with a group of walkers one of whom had just completed the Wainwrights. This time it was water only!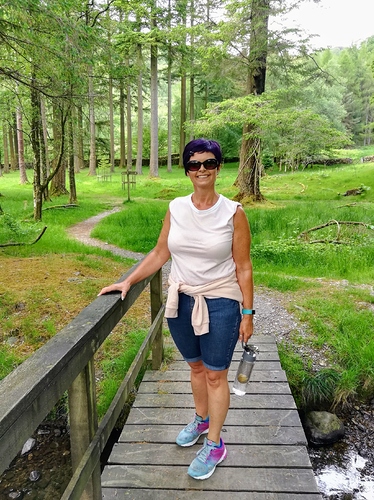 The route up is via a parking space on the main road between Ambleside and Coniston, the A593 next to Yew Tree Tarn. You can walk either round the South or the North end of the Tarn to pick up the summit ascent as there is a circular walk. The trees to the North end of the tarn are spectacular both in their height and absolute straightness!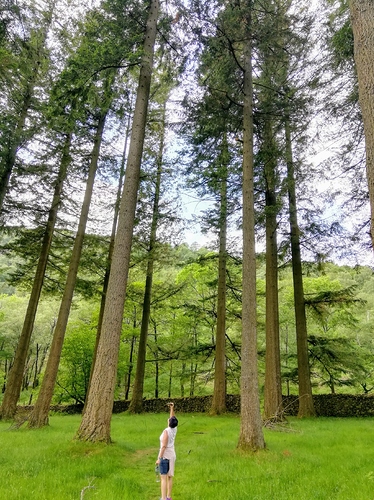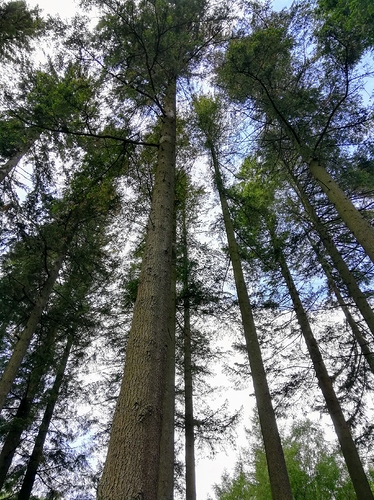 The ascent is fairly steep on a rock and gravel lined path, gently at first from the trees and then unrelenting to the summit, albeit only a 20 minute or so climb.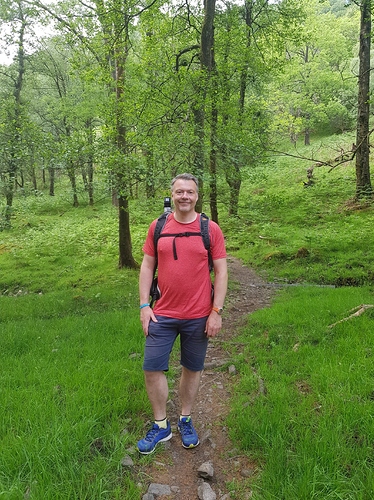 We headed for Long Crag initially for a quick look at the view South over Coniston Water before setting up near the Cairn Stones. I was using the MCHF clone with MiniPA50 Amp powered by a 4.5AH 4C LiPo through a SotaBeam Quadbander Dipole 20/30/40/80m inverted V configuration using a 10m travel mast (with the top of the dipole around 8 metres).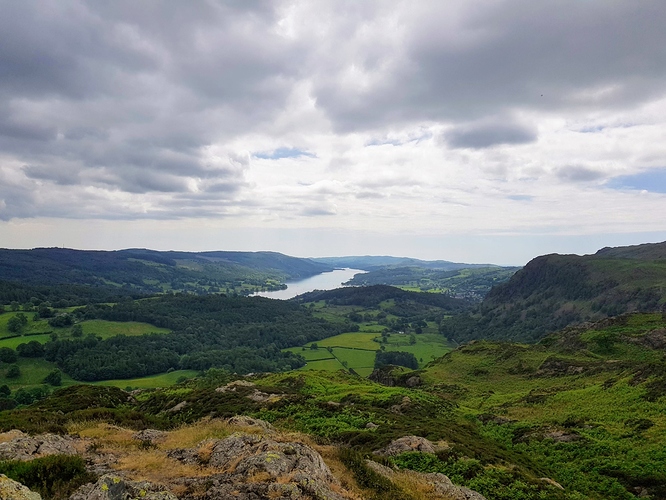 Coniston Water
Clearly the 20m band was working well and there was a quick and sustained response to my Spot. This included a S2S with @HB9BIN on Hauchenberg in the Allgäuer Alpen region of Germany, good copy.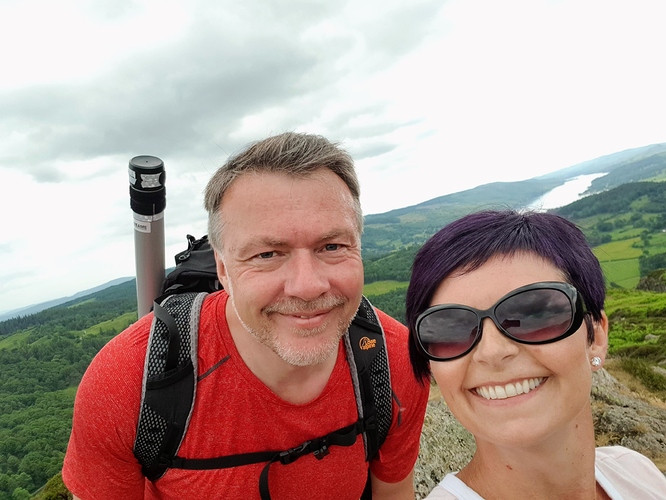 80m seemed fairly flat, which has been quite common lately and I struggled a QSO with Geoff @GM4WHA in Annan, Scotland until realising subsequently the antenna was still set to 40m! After correcting this I had another couple of QSOs on 80m before 2m FM and 2m C4FM. I caught Jordan @M3TMX calling SOTA CQ on 2m FM from Arneside Knott as I reset the handheld and we had a good chat about his day's activities.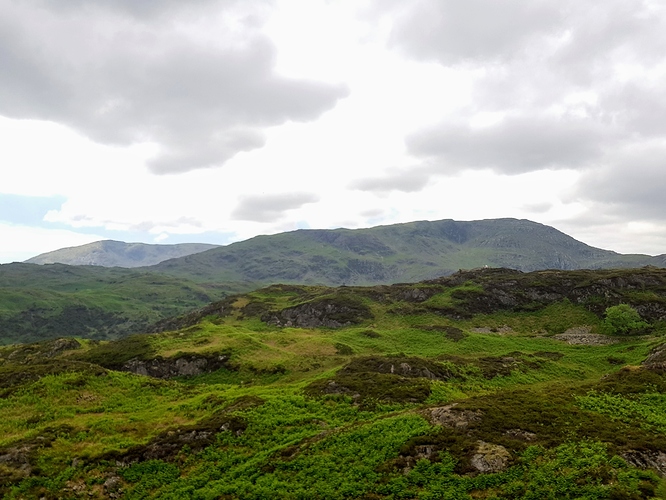 Old Man of Coniston on the left behind Wetherlam
I noticed that Phil @G4OBK was enjoying another SOTA excursion into Europe, this time in France. At this time he was working 20m CW so I figured if we hung around for a bit we might get lucky with a third S2S. Right on cue the spot came through and I was able to work Geoff on Le Haut Koenigsbourg in the Vosges region of France. Great!
On the way down we decided to take a longer route to avoid the steep descent which was on a decent path, then a back road before tracking back to the car on a path that followed the main road. Alex spotted all sorts of wildlife including some wonderful butterflies and dragonflies.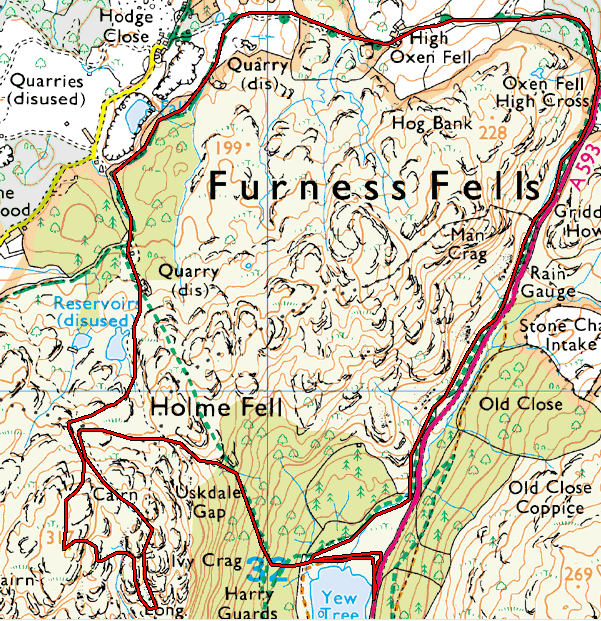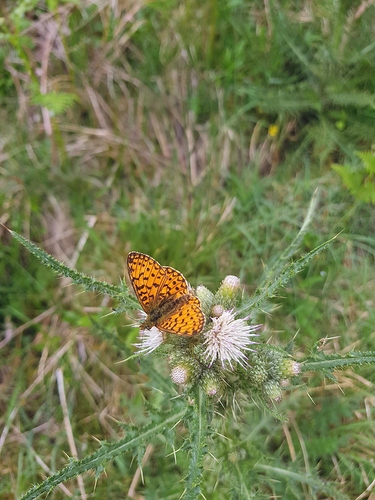 | Time | Call | Band | Mode | Notes |
| --- | --- | --- | --- | --- |
| 13:11z | RW3XZ | 14MHz | SSB | Thx for SOTA chase from G/LD-051 IO84lj |
| 13:12z | 9A6DTX | 14MHz | SSB | Thx for SOTA chase from G/LD-051 IO84lj |
| 13:12z | HB9MKV | 14MHz | SSB | Thx for SOTA chase from G/LD-051 IO84lj |
| 13:12z | SV2FLM | 14MHz | SSB | Thx for SOTA chase from G/LD-051 IO84lj |
| 13:13z | OK2PDT | 14MHz | SSB | Thx for SOTA chase from G/LD-051 IO84lj |
| 13:14z | DL/HB9BIN/P | 14MHz | SSB | S2S on DL/AL-145 from G/LD-051 |
| 13:14z | SA4BLM | 14MHz | SSB | Thx for SOTA chase from G/LD-051 IO84lj |
| 13:15z | SQ9MDF | 14MHz | SSB | Thx for SOTA chase from G/LD-051 IO84lj |
| 13:15z | SQ9NOT | 14MHz | SSB | Thx for SOTA chase from G/LD-051 IO84lj |
| 13:16z | 9A1AA | 14MHz | SSB | Thx for SOTA chase from G/LD-051 IO84lj |
| 13:16z | ON4UZ | 14MHz | SSB | Thx for SOTA chase from G/LD-051 IO84lj |
| 13:17z | OK1SDE | 14MHz | SSB | Thx for SOTA chase from G/LD-051 IO84lj |
| 13:18z | PH1DLB/P | 14MHz | SSB | 15km North of Amsterdam |
| 13:19z | EA2DT | 14MHz | SSB | Thx for SOTA chase from G/LD-051 IO84lj |
| 13:23z | GM4WHA | 3.5MHz | SSB | Thx for SOTA chase from G/LD-051 IO84lj |
| 13:29z | G3OKA | 3.5MHz | SSB | John The Wirral |
| 13:30z | G6NHW/A | 3.5MHz | SSB | Pete Birmingham |
| 13:36z | G4PJE/P | 144MHz | FM | Ray Great Eckleston Icom 290D 20w |
| 13:41z | G7CDA | 144MHz | FM | Thx for SOTA chase from G/LD-051 IO84lj |
| 13:42z | G6ZAK/M | 144MHz | FM | Thx for SOTA chase from G/LD-051 IO84lj |
| 13:43z | G1OHH | 144MHz | FM | 26.8 miles |
| 13:44z | 2W0SEU | 144MHz | FM | Malc |
| 13:46z | G1OHH | 144MHz | DV | 26.8 miles |
| 13:48z | G7CDA | 144MHz | DV | Thx for SOTA chase from G/LD-051 IO84lj |
| 13:49z | M3TMX/P | 144MHz | FM | S2S with Jordan on G/LD-058 from G/LD-051 |
| 14:07z | OD5ZZ | 14MHz | SSB | Thx for SOTA chase from G/LD-051 IO84lj |
| 14:13z | OM18FIFA | 14MHz | SSB | Thx for SOTA chase from G/LD-051 IO84lj |
| 14:18z | F/G4OBK/P | 14MHz | SSB | S2S with Phil on FL/VO-073 from G/LD-051 |
Cheers to all the chasers, 73! M0NOM