Hi Patrick, I have already done a survey of the area using my KX2 / whip antenna on 80m [see my post #42 above]. However, taking your advice I repeated it using my Sony ICF-SW7600GR tuned to 1630kHz and it was more sensitive (and directional) than the KX2 set up.
Results were pretty much as before. The noise went up a lot under the overhead electricity / telephone cables that go up the road and up a bit under the phone cable running to my house.
I could get very high noise if I held the MW/AM radio 5 cm away from the large bunch of cables going vertically up the telegraph pole (see photo) to join the horizontal cables 8m up. But the noise dropped rapidly as I moved the radio away.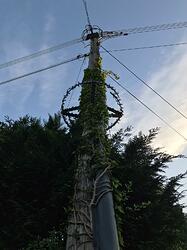 I could create other loud [and weird sounding] noises holding the radio next to my iPad or laptop, but again it's very localized. There is no increased noise level from any of these sources anywhere near my shack or the end-fed long wire.
As I said [at post #42] I'm not convinced one can draw any firm connection between the noise sources detected by the handheld radio and the spatial distribution of those noises (which must be very dependent on the radio and antenna used). The KX2 /whip and the MW-AM radio / internal ferrite antenna are very different from my FT857 / EFLW.
Another point I haven't mentioned the background noise is highest during the day and lowest evenings & night time.