Same here. KISS! (Keep it simple, stupid!)
73, Alfred, OE5AKM
I use wooden pencils & a Rite-in-Rain notebook for field logging, then log them onto the computer using the G0LGS SOTA CSV Editor. From there they go to the SOTA DB & to DXKeeper.
73,
Rob - AE7AP
I have used Outdlog on my iPhone for the last 60 or so activations. I keep a "Rite in the Rain" paper notebook with a Fisher Space Pen in the back pack just in case. I have never had to resort to it. I am usually able to upload my log into the Database after checking it before I get home.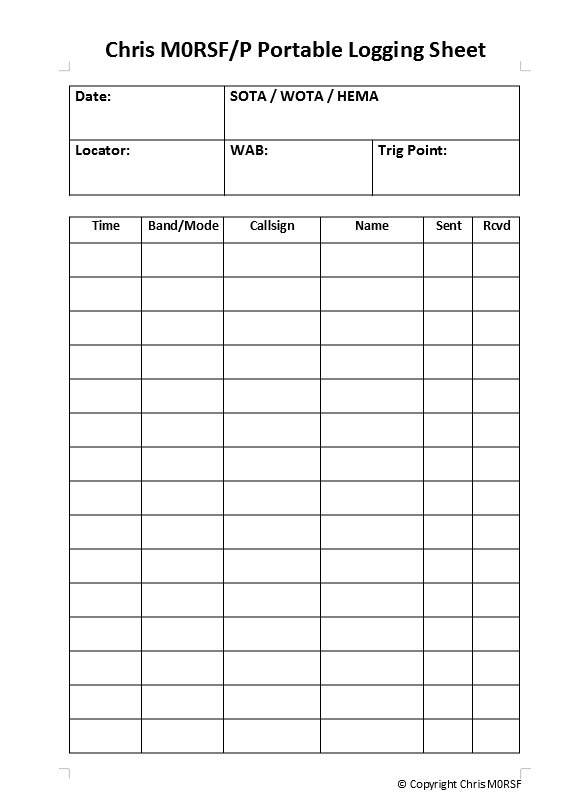 Always useful to have the info when operating from a portable location as quite often asked for it so I put together a simple portable log sheet. So pen & paper for me.
73 Chris M0RSF
On my manual when the electronic gizzo packsaup log sheet I add a column called S2S. Put the other summit reference in there if it is a S2S.
As others have written here, I don't want to complicate things by using an electronic device for logging as there may be several unreliability issues with it, i.e water, too low temperatures, too much sun light, low battery, touch screen not working due to rain drops or hands wearing gloves…
Too many things to make it far much worse that writing on a paper.
I gave up using pens long time ago after finding in a summit at sub-zero temperatures that the ink had got too cold and the pen wasn't writing. I only use pencils since then. They are 100% reliable at any temperature. I usually have 4 small wooden pencils in a small pocket of my rucksach and periodically sharpen them all at home to have them perfectly ready for action at any time.
Once at home, I handtype my paper log into the SAISIE SOTA program, which I use for logging SOTA either when chasing from home or when creating an activator log after an activation. It produces .csv and .adi files after clicking on the "SAVE" button. The .csv goes to the SOTA dabase and the .adi goes to my main logging program (Logger32).
I know the newsotadatabase allows uploading .adi files, but this is something I haven't tried yet. What I have and do works fine and I don't feel the need to try other methods. I'm usually like "if if works, don't touch it".
73,
Guru
I agree with the José!!!
When I get home, I register in the database.
Simplicity is better!