The last weekend of our holiday
Friday July 2nd
Mo and I had been off all week. Mo's sister Sandra was keen to come down from Elgin and enjoy the good weather. She'd been asking for us to take her up Lochnagar for ages. Lochnagar is Aberdeenshires Snowdon, although one wouldn't think that, as it had only been activated 24 times.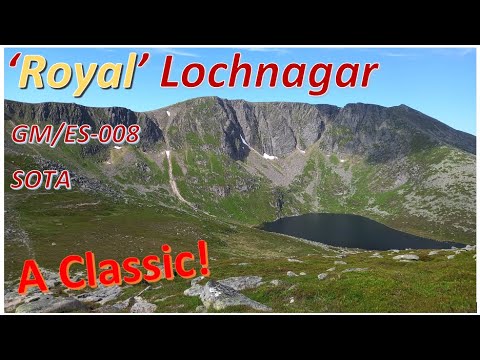 I was slightly reluctant because of the popularity of the mountain these days - the Police actually close the entire 6 mile road down Glen Muick when the car park is full on busy weekends. Oh, and we'd been up Lochnagar a couple of times already this year. However, I'd never activated it, so there were 10 points awaiting…
0745BST and we were departing the Glen Muick car park in glorious weather, one of the first groups to set off.
The entire route is within the Royal Estate of Balmoral and standard route follows a decent Land Rover track past some estate houses, then north across the flat glen before gently ascending firstly through trees and then onto a moor, the track becoming more rocky as it goes.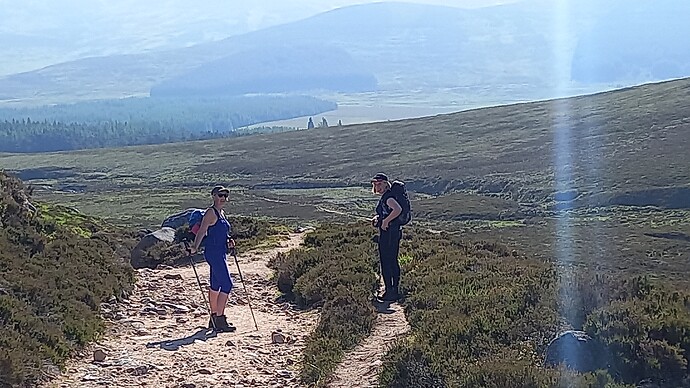 Soon, we'd reached the large cairn that marks the left turn to Lochnagar as well as the right turn to Conachcraig (GM/ES-019), which I'd activated in April, although using a longer and more scenic route.
It was a hot day and there's little water to be had on the ascent, so we found the Fox Well (NO26295 85682) and topped up.
A couple of hours in to the walk and we reached the broad col between Lochnagar and it's subsidiary top of Meikle Pap. The views of the corrie are impressive, but become stunning if Meikle Pap is ascended, which is only 60m vertical from the col.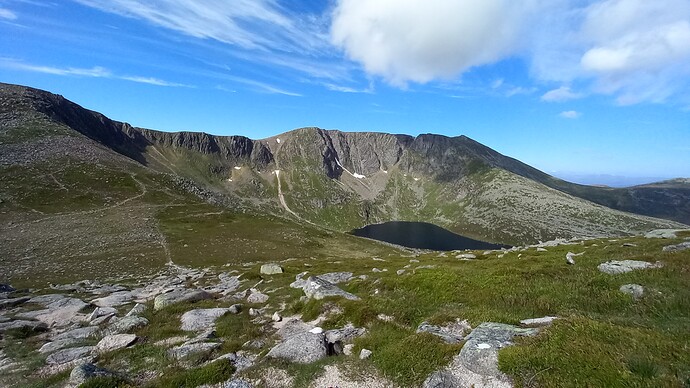 Lochnagar from Meikle Pap
The next section of the climb is a boulder field. I prefer the climb in winter, as this is banked out with snow.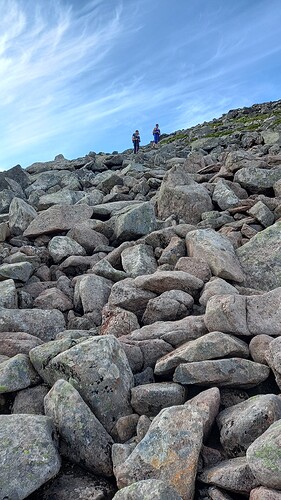 Ascending the boulderfield
Above the boulders we reached the first plateau. The route follows a cairned path around the corrie rim at first, but then cutting away from the edge to ascend another slope to reach the summit plateau area.
Across this slope lie the two Tops of Lochnagar - Cac Carn Mor and Cac Carn Beag. The Ancients named these incorrectly. In this case "Beag" is the true summit, with "Mor" being the smaller Top.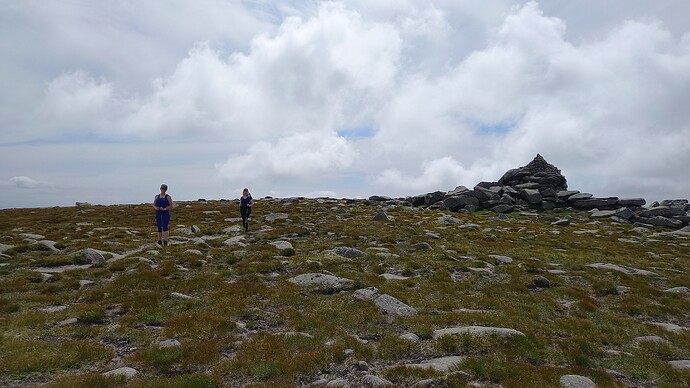 Cac Carn Mor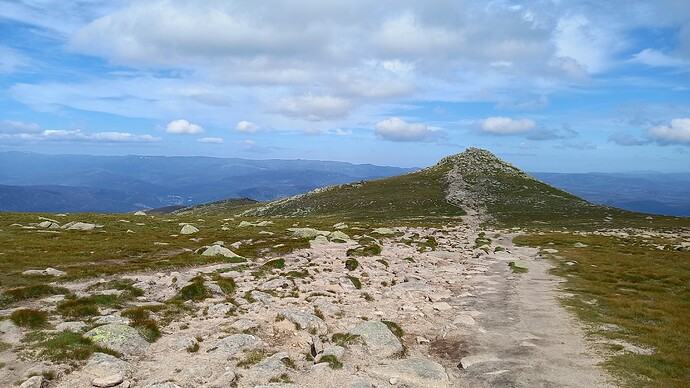 Cac Carn Beag
The summit was a real achievement for Sandra. She'd taken a bad tumble on a Munro several years ago and this outing helped her restore confidence.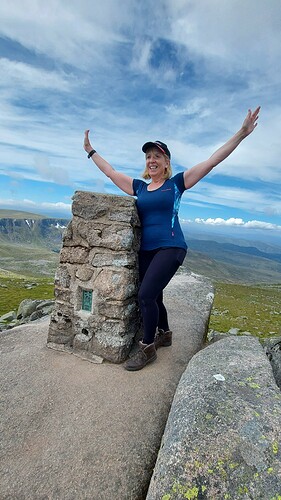 Summit Fever for Sandra
Although the summit sits on a Tor, there is plenty of scope for setting up a station within the Activation Zone and I chose a slightly sloping grassy area to the west of the summit area.
Thanks to my helpers, I had the mast and 40/20m linked dipole set up in no time. I'd found a clear frequency on 40m and went off to spot myself.
No 4G and no phone signal, and this on a mountain that overlooks a Deeside, a valley with a main road traversing it. I climbed back up to the summit. Still nothing. I then had to reset my phone and it finally worked. Only one thing - I mistakenly entered a frequency 5KHz away from my one and on returning to the radio I realised my mistake. This frequency was in use, so I went back to my originally planned one and called CQ for a few minutes. I now know how difficult SOTA must have been before 4G and SMS spotting came along!
Now even more annoyed with myself, I dropped the dipole and unlinked it for 20m, found a frequency, remembered it this time and headed back up to the summit to spot myself again, which I just managed to do, thanks to the SMS service. By the time I returned to the radio, Manuel @EA2DT was calling me!
On 14.280 MHz SSB I worked 9 stations in 10 minutes using 25 watts of power from my ft-857d, the best DX being SV3IEG in Southern Greece, 2771km. I tried hard for a tenth, but there were no takers.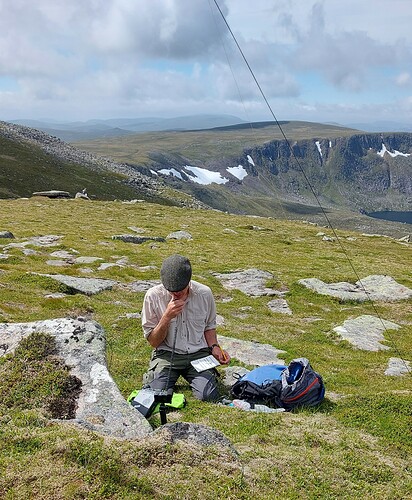 Now that the activation was over it was time for the descent. I'd planned for a scenic route back, which added an extra 1.5 miles to the walk.Firstly a close up of the Black Spout Gully (easy Grade I in winter for any SOTA rock and ice climbers).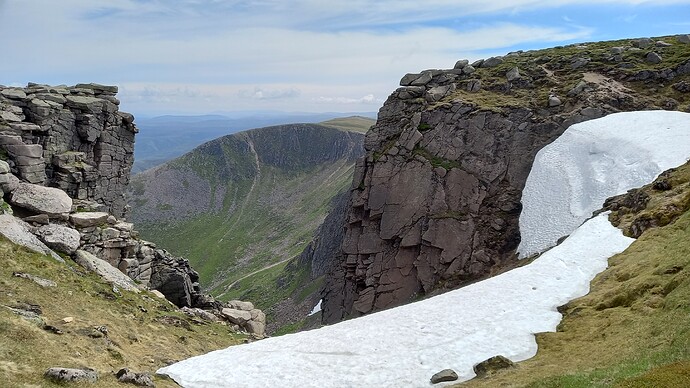 The Black Spout
Then, instead of following the corrie rim east around the lower plateau, we descended south east to pick up the track that followed the Glas Allt burn, pretty much from its source, until it reaches Loch Muick. It's a lovely route and has a nice waterfall.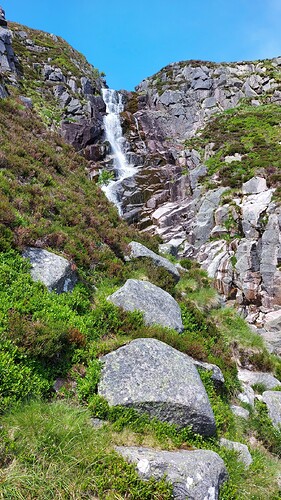 Glas Allt falls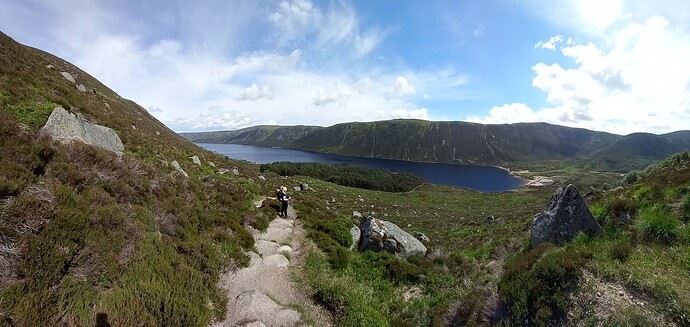 Heading down to Loch Muick
From the lochside it was a long (3.5 miles) but straightforward walk back to the car park, arriving there at 1530BST, having had a longish but relaxed paced day on the mountain.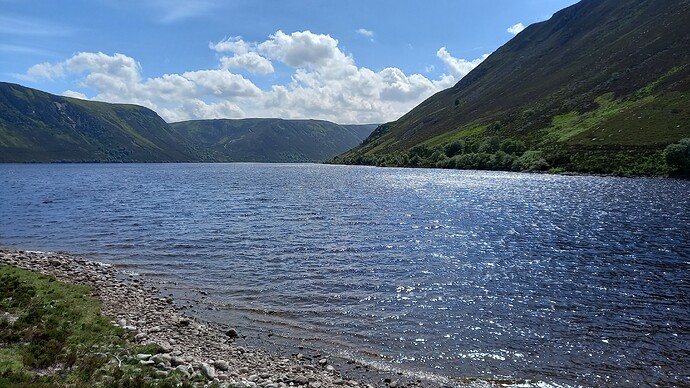 Loch Muick (say Mick)
Saturday 3rd July
Keen to do another climb, but with tired legs, the ladies chose Kerloch, a lovely little hill just south of Banchory and around 15 miles west of Aberdeen. I didn't want to slow things down by taking the radio gear, but Sandra insisted, having marvelled at the previous days antics.
I elected to take 2m QRO kit only and this is the story of a very different day.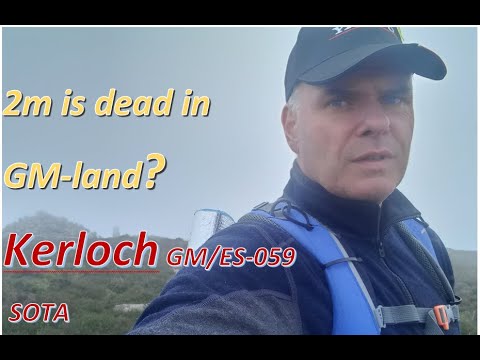 So, two activations, both very different, with the "easier" one proving to be the more difficult. Ah well, thats climbing/amateur radio/SOTA for you!