Hi,
When checking-in to a flight (business related, not SOTA

) I noticed a warning to carry Li-batteries as carry-on baggage with a limit of 160Wh (fine) or max 8g Lithium.
I have never seen the amount of lithium declared on a LiPo or LiFePO battery. Is this a new addition? Did anybody else notice such restrictions?
I wonder were to get this information from. Calculating the Wh from the label of a typical battery is already challenging for security personnel, estimating the amount of lithium beyond imagination!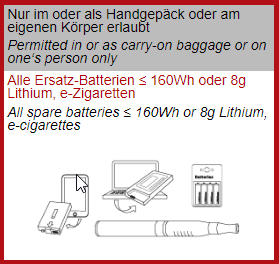 73 Heinz, OE5EEP