Yesterday and today we decided to do a couple of summits that at first glance did not show much promise. The main reason for doing them was that I had chased the first and the second was a unique, first to be activated. The reason for the lack of enthusiasm was the less than exciting tracks to the summits and the antenna farms on both of them with the potential of loads of interference.
Yesterday we headed up Atalaya de Femes (EA8/LA-002) with a monotonous trudge up a service road that zig-zagged its way up the south side of the hill. We set up on 17 metres having read that there could be interference on 20 metres; the higher band was noise free thankfully and we did not need to change. A continuous run of calls kept us busy for an hour and a half with 119 QSOs recorded.
---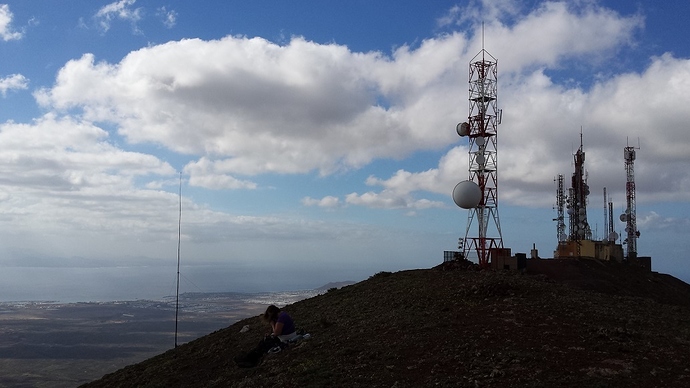 The view southwest from Atalaya de Femes (EA8/LA-002) to Playa Blanca showing some of the antennas

The view east from Atalaya de Femes (EA8/LA-002) was less spoilt
Today it was time to activate another unique. Another trudge up a service road although this time there was some more interest with a radar dish (probably for the nearby airport) and a series of wind turbines that were not in use (and have not been whenever we have gone past). We started on 17 metres but it was really difficult due to interference; they could not have got more towers and transmitters on the top. We mainly used just 2.5 W (without the amplifier) on the basis that we would only hear someone who could hear us running QRP. It was quite hard work concentrating and picking out callsigns and reports.
On to 20 metres but it was really unusable with S8 of noise making contacts all but impossible. After three contacts we decided to change to 15 metres which meant an antenna rebuild. 15m was surprisingly good with less interference but lots of heavy QSB making contacts difficult unless the signals were strong.
---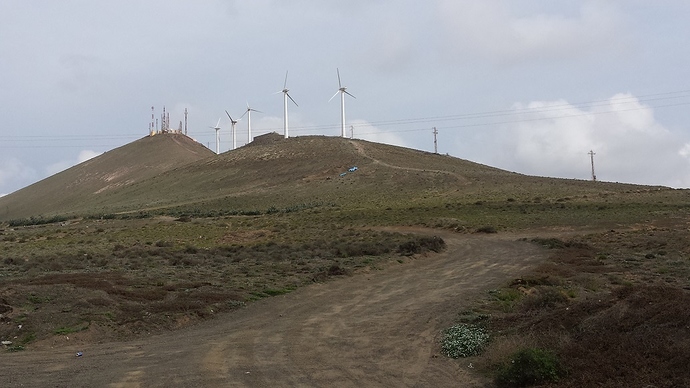 The view of Monte Mina (EA8/LA-017) from the car parking showing the wind turbines along the ridge (and the dirt road) and the antennas covering the top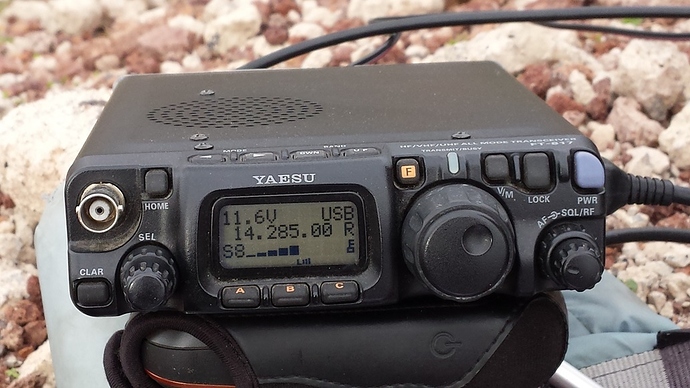 The S8 of interference on 20 metres

Carolyn activating Monte Mina (EA8/LA-017) dealing with the noise on 15 metres
So two summits we would not necessarily recommend if you come to Lanzarote unless you want to test your technique with a high noise floor.
Carolyn
EA8/G6WRW