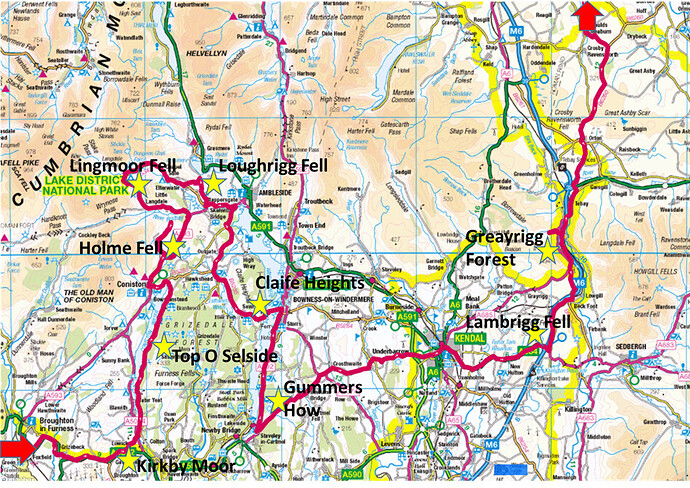 ©Crown copyright 2023 Ordnance Survey. Media 041/22
Friday 26 May
One of my objectives for this year has been to complete all of LD, with my enthusiasm for this cultivated by having completed Swinside earlier in the year leaving only a 16 one-pointers remaining. Over the month of May I had ticked-off several of the northern one-pointers: Lord's Seat, Binsey and Watch Hill, leagving me with a total of 13 one-pointers remaining.
With a family holiday planned in the North Pennines, above Alston, I decided to do a short cycle tour around the south Lakes to mop up a few of the remaining summits.
The route started on a sunny Friday afternoon, cycling along the A595. This was a bank holiday weekend and the narrow A road was busy with both holiday makers and commuters. The sun was intense and I was wearing Assos sun-protectors no my arms to protect against sun-burn – I always feel more exposed to the sun when cycling compared to walking.
The first target was Kirkby moor (G/LD-049), lying at the southern end of the lake district and forming part of a wind farm. I was not expecting great things from any of these summits; indeed, I was worried I might find them all to be a bit boring as I do prefer wild places. However, as we shall see, the weekend was a thoroughly enjoyable experience. The road rises to an elevation of 194m and the tailback of traffic behind me was glad to see my pull off the road onto a partially metalled track. At SD267847.
My touring bike is very much optimised for road use, being fitted with 28mm tyres and panniers front-and-back; nevertheless I followed the rough track as far as the boundary fence to the moorland, at which point I changed into walking mode.
With long trousers donned (to protect against ticks), and radio equipment transferred from panniers into a small backpack, I headed off up the hill. It was a pleasant walk up the summit, with a welcome breeze encountered near the top. Looking towards the north I could see the Coniston Fells and began picking out some of my next target hills.
A small cairn marked the summit, and I setup my radio while admiring the vista across Morecambe bay. I had with me a couple of handheld 2m/70cm radios, an HF CW radio (Venus SW-3B) and a 6m pole (with a 2m flowerpot and a EFHW for HF).

Rough track near to Kirkby Moor
Putting a call out on the HT, with just an RH770 antenna. First to call in was G4ZIJM followed by G6AZK, G0MRL and 2E0XLG/P, there followed a good pileup that included calls into Yorkshire and across to the Isle of Mann – I was surprised how many contacts I made from this little summit.
With lots of summits ahead, I decided that I would consider myself happy with 10 contacts on 2m, and did not bother to crack out the HF gear. At 1600 BST I started my descent, heading down via the Wainwrights summit to re-join my bicycle. I found a small stream along the way to replenish my water bottles, I was glad I had brought my Sawyer Squeeze water filter with me.
Back at the bicycle, I was quickly into cycling mode, and heading down the sweeping descent through Gawthwaie. I quickly reached a turnoff onto a minor road that took me through Lowick Bridge. I was on the lookout for a shop selling cold drinks, but nothing appeared, so I crossed over the A5084 and headed along a minor road that passes along the Crake Valley (the outflow of Coniston Water) and onto the quiet eastern banks of Coniston Water.
This being a sunny Friday evening, the lakeside was not so quiet; every little cover seemed to have people paddling and picnicking. The road along the lake seemed to go on for longer than I expected, and I kept stopping to check the map as I was convinced I must have cycled past the turnoff. Eventually I came across a small parking spot in deciduous woodland, set back around 20m from the road.

This looks like a good spot to camp

Shaded woodland walk on the way to Top O Selside
A rough track lead away from the parking spot, which I followed as far as I could, passing a log cabin in the woods until I found somewhere to leave my bike. Changed over to walking mode again, I headed through the woodland, enjoying the shade and cool dampness as I headed up Top O Selside (G/LD-048).
The route was a pleasant climb through the woodland, eventually emerging alongside a small stream, I avoided the temptation to take water from this spot, as the map showed some habitation further upstream. Sure enough, I later came across a small farm cottage, with cattle roaming around.
The track widens out and begins heading south, following a bridleway. I was deliberately taking a slightly longer route here, as I could see this track passed over a small stream; sure enough the water course emerged and provided an excellent rest stop. I sat a short while and admired the view across Coniston water – the lake was a deep blue, with the late afternoon sunshine sparkling on the water.
Fully refreshed I headed eastwards up a grassy bank to arrive at the summit. I found this to be a delightful hill: the rough summit appears surrounded by the lowland woodland; a pretty tarn (Arnsbarrow Tarn) lies just off the summit while the plateau offers many nooks and declivities suitable for sheltering a tent.
I called out on the HT again, and was greeted by G6LKB, G1ZIM/M, G6AEK and G7CDA followed by G1OHH and M7MCG. It was 1812 BST when I finished, and looking forward to finding some dinner I decided to call it a day. The descent was quick, and I was soon at my bike. I paused a while in the woodland to consider staying the night here, but with the certainty of some proper sustenance in Coniston (rather than the meagre rations I had with me) I continued on.
Back on the bike, the evening had become cooler, and the lakeshore also appeared to have quietened down. The road took me around the northern head of the lack, and around into Coniston. I stopped at the first eatery I found – a pizzeria. The owner informed me there would ban hour wait for a pizza, but fortunately had a selection of cold (cooked!) pizzas too – which made a good meal for me alongside a can of dandelion-and-burdock.
Heading out of Coniston after my meal, I was on the lookout for somewhere to camp…definitely not a campsite, I can't think of anywhere worse to spend a night on a bank holiday weekend! I had noted a small road passing around the west side of Holme Fell (G/LD-051), which the map suggested had a number of options. The road passes alongside Yewdale Back, and into Hodge Close Quarry. The Quarry was amazing - I stopped a while and watched a lone sport climber on the opposite face of the quarry. This is a popular spot for car campers and fly campers, so I headed a little further along the road, where it turns into a track and passes over the side of Great How; here I found a patch of grass.
My plan was to sleep in just a bivvy bag, but the midges were thick this evening and I was glad I had packed a single wall tent to provide protection from insects.

After the road end - scouting for camping spots

Not the best spot - but it will do!
Saturday 27 May
I lovely morning dawned, and I packed away my tent with great haste – to avoid the midges. A short cycle rid back to the trailhead for Holme Fell followed, and I was soon walking up the hill. The morning was already warm, but there was quite a stiff breeze blowing on the summit. Holme Fell (G/LD-051) was again a delightful hill – lots of interesting things to see – woodland, tarns, and a generally wrinkled summit ridge with lots to explore.
Atop the summit I called out on 2m at 0810BST to be created by the reliable sound of G6AEK, but had no other callers – I suppose it was too early for many chasers? I was glad I had brought an HF radio with me, and set about erecting the EFHW using my 6m pole. Hf conditions were difficult too – it was the CQ WW CW contest so the band was full of people beeping "CQ Test" and "599" at 30 to 40wpm.I eventually made some contacts on a mixture of 20m and 40m, but the going was very difficult, I had calls into Germany, Wales Finland and Spain, I also caught G0TDM on 40m CW. After working HF I called on 2m again, and spoke with G6LKB.
After checking around on 2m again, I headed off the summit, and back to the bike. The sky was fairly overcast, providing some hope of relief from the intense sun that I had faced the previous afternoon. Back on the bike it was a glorious decent along a wooded back-road to get back to the main road, from where it was head down until the turn-off of little Langdale.
The turnoff usually marks a point of trepidation, as it is the approach road from Wrynose and Hardknott pass; today I had other plans and was able to turnoff the Wrynose pass road just at the warning sign of steep gradients. Nevertheless, the road between Little and Great Langdale was also quite steep, but somewhat more easily manageable than Wrynose. The bicycle was parked against a footpath sign, and after a quick change I was heading up a steep grassy bank to the a ridge. This was an interesting walk, with a few rocky parts, and all along great views across to Pike O Blisco (G/LD-024).

Heading up Lingmoor Fell - Pike O Blisco in background
The small rocky summit of Lingmoor Fell (G/LD-040) gave a great view back to Holme Fell. All around me I could recognise SOTA summits. I visually traced out the route I have taken previously from Pike O Blisco, across Great Langdale and up to High Raise (G/LD-019).
On the HT again I called out on 2m at 1100 BST and made a good number of contacts starting with G1OHH, G6AEk and G6LKB followed by 2E0BIA on G/SP-004 and 2E0LDF on Fairfield (G/LD-007) I also caught GM4WHA/M on his way to the northern Lakes.
The pileup subsided, and I sat for a while admiring the view, before retracing my steps to the bike. The decent into Landgdale was steep, and approached carefully on my laden bike, but I was soon gliding along the bottom of the valley. As I was cycling along the valley a lady got out of her car and stopped me, she asked
"is it okay to hike around here"
I replied that it generally was okay, and she then asked my to point out how to get to Wasdale (on foot). I had to explain that it was probably at least a couple of hours by car, and somewhat more than a pleasant afternoon stroll to get there-and-back on foot: she looked rather disappointed. I continued along the valley, until stopping for lunch at the excellent shop in Chapel Stile – it sells everything.
A modest climb up a little back road took me past High Close Youth Hostel before I parked my bike on a bridle way at NY341 059. The path soon opens out into a terrace above Grasmere, and was busy with walkers and cyclists. A stepped path heads up to the grassy summit, where I laid out my EFHW, being careful to avoid creating a trip hazard for the many others on the summit.
HF was poor again – due mainly to the contest – I only made three contacts on 40m but that included G4YTD/P on Tarn Crag G/LD-026 (a SOTA complete for me). I satisfied myself mostly with 2m and was pleased to get G4WHA/P on Little Mell Fell G/LD-037 – another SOTA complete. I had a good chat with G6LKB and also spoke with 2E0LDF/P who was descending from Fairfield. Once the calls had died down again, I sat and looked southwards, noting the length of Windermere and the fact that my plans for today were to take my all the way to the other end. With no time to lose, I headed off the summit, and back to my bike.

Grasmere with Dunmail Raise in background
Shortly after setting off, another cyclist drew alongside me and asked my callsign – he had noted the 2m half-wave vertical I have mounted on the rear rack. It turned out he was licensed also, and we were able to have a chat about what I was up to.
The route to Hawkshead was quicker than expected, I opted to head towards Ambleside and join the B5286 which is a relatively easy cycle ride. In Hawkshead I stopped at the CoOp to stock-up on food for the rest of the day, and ensure I had something for an evening meal. It was hear that the trip had its major fault; on the following Tuesday I was to fall ill with Covid, and since the CoOp in Hawkshead was the only crowded indoor space I entered during the cycle tout, I can only assume this was where I picked up the virus. I'd like to say that the iccecream and sour-dough bread was worth catching Covid – but I can assure you it wasn't!
With panniers bursting with food, I headed out of the busy Hawkshead, passing alongside Esterthwaite Water and parked my bike on a rough track behind the public house in Far Sawrey. The walk up to Claife Heights was very pleasant again, with most of it through woodland. The last few hundred meters were a slog through fallen trees – a product of the winter storms a while back.
The summit would be a difficult place to setup HF, I was also keen to keep moving and catch the ferry. I was therefore glad to immediately be greeted on my HT by a call on 2m from MW0JKS/P on Yr Eifl GW/NW-075; this turned out to be an easy activation with calls from the LKB family (G6LKB and M6LKB) followed by M6BHU, M1AVV/M, G7CDA and G8KBH.
The view from the summit was great – I could see the Windermere Lake cruiser heading along the lake, and looking north and west, could pick out the hills I had traversed earlier in the day. It was a great vantage point to watch the bustling and busy lake below.


Parking for Claife Heights
The descent passed quickly, and I was soon gliding down the hill to the ferry terminal, passing a long line of cars queueing for the ferry. As I arrived at the terminal, the ferry was just docking, so there was no waiting around.
The 10minute ferry crossing added a unique element to the tour – and reminded my of cycle tours I have taken in Scotland, I could picture myself on the short crossing from Bute to Argyle. After leaving the ferry I headed north into Bo'ness looking for a cold drink, but found it to be uncomfortably busy and so u-turned and headed south along the lake. I kept heading south until a arrived at the National Trust owned centre at Fell Foot – the terminus for a passenger ferry from the steam train at Lakeside.
It was now early evening, and all the crowds had dissipated so I had the carefully manicured parkland to myself. I found a tap next to the café from where I was able to fill my water bottle (I sued my Sawyer Squeeze to filter the water, just in case).
With bottles filled with water, and one more summit to do, I headed out of the National Trust park, and begin the road climb up Fell Foot Brow. This was a vicious end to a day, the OS map includes two pairs of double chevrons and two separate single chevrons on this road. It was a battle to get to the top, requiring me to eat a full packet of Jelly babies.
I eventually reached the footpath for Gummers How (G/LD-050); the summit area was being grazed by Highland Cattle, and was also still quite busy even in the early evening – so not an option for camping. I scampered up to the summit, and called out on the HT, getting several contacts in quick succession starting with G6LKB, G6AEK, G7CDA and G1OHH. It was a nice relaxed evening and I was abale to have a good chat with several of the chasers.
I could barely believe what a lovely evening it was, watching the sun set over West Cumbria, and looking back up the lake to trace out my route of today. I could have sat here all evening, but it was not too far from dusk and I needed to find a camping spot. I looked out at a few options from the summit, but eventually chose to head for a forestry plantation, where I could be sure of finding a secluded spot for the night.
Back at the bike I cycled a short distance to Show How Land, where turned off the road into the forestry plantation. I headed some distance into the plantation, approaching a series of three connected ponds where the forest track changed to a path at SD 395 871; here I found a patch of ground under the pine trees on which to pitch my tent.
Sunday 28 May
The road to Kendal was tough – very undulating. I considered deviating to climb Whitbarrow, but by the end of the day I was glad I had made the right decision and avoided this distraction.
Arriving in Kendal late morning, I found the town to be very quiet. I had wanted to find a bike shop in order to restock on chamois cream, but they were all closed. The last time I cycled through here (over a decade ago) I was on my way to John-O-Groats, it was also a Sunday and I had my choice of several bike shops .

Navigating Kendal's one way system
After Kendal I was on very familiar ground, having cycled part of the route up to the M6 in December on my winter cycle tour of NP summits. Back in December I had cycled straight past Lambrigg Fell, as I was racking up winter bonus points. Today, it felt good to dismount the bike at Lambrigg fell (G/LD-046), making more of an event of reaching the M6.
The walk across to the summit was easy at first, but then reduced to some rough ground; with the actual summit being made difficult to reach by dry-stone walls. Eventually on the summit I was pleased again with the number of calls on 2m, starting again with a S2S to MW0JKS/P, this time on GW/NW-035, there followed G6LKB, G6AEK, MWOPJE/P on GW/NW-043 and G8KBH. A concluding with a chat with G7KSE/P on the side of Old-man-of-Coniston advised that there was a metalled road up the next hill – but it wouold have been a bit of a detour to the northern side of the fell, and probably would have taken more energy to cycle up than to walk up.

Lambrigg Fell summit - not much to show for the climb!

Yorkshire lays claim to part of Cumbria

Finding the going tough - the M6 cutting between Lakes and Dales
The bike ride across to Greyrigg Forest (G/LD-038) was tough – the sun had come out in full force, and the road took a seemingly unnecessary detour (and climb) to a spot height of 300m. This point is on the SE side of the summit of Greyrigg Forest, but there does not seem to be a good route up from there, so I was forced to lose almost 100m of height before heading up into the Lake Districts lesser known version of Borrowdale.
I parked my bike about a kilometre past the carpark, and headed on foot up the side of the hill. This the highest 1-pointer in LD at 494m, and I certainly felt it (the lowest 2-pointer, Little Mell Fell at 9m higher is trivially easy thanks to the road passing almost up to the summit). The large grassy summit was pleasant, and I even found a geocache (held by fishing line inside the trip point).
On finishing the activation I headed down to the bike, and cycled up to Tebay where dinner was pizza – but freshly cooked this time. A call at the Tebay services disappointed – it was just a porta-cabin. Knowing that water is hard to find up on Orton Scar I stocked up on bottled water at great expense before heading up to Orton, and then on to the fell road. I pulled the bike off the road and camped near to Orton Scar – an excellent example of limestone pavement.
Monday 29 May
On Monday I headed up towards Alston via Hartside Pass. My plan had been to cycle home via High Rigg at the end of the week, but as I mentioned earlier I came down with Covid and instead had to travel home in the broom wagon.
I know have four LD summits remaining: High Rigg; Whitbarrow; Arnside Knott and Hutton Roof Crags.

The highest point of the trip was not a SOTA summit, but rarther the top of Hartside Pass