It's been a long time since I've been out in weather this good!
A non-radio amateur friend and I set out from Snake Pass at 08:30 UTC. We headed South along the Pennine Way, aiming for the less popular trig point at OS grid SK077894, which we expected to be a quiet location for our activation.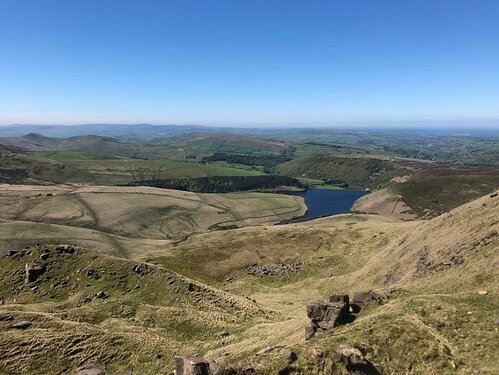 Kinder Reservoir and the view West from the Kinder plateau towards Macclesfield.
We reached the activation zone in plenty of time and took the obligatory "fjellfie".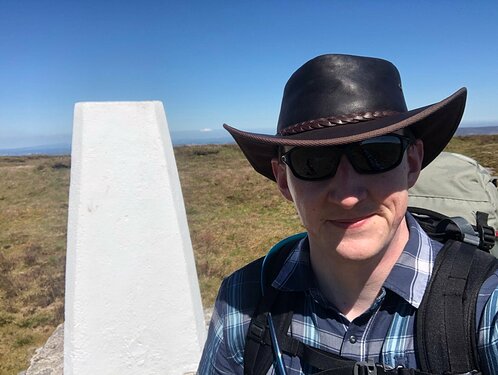 The trig point at SK077894 on Kinder plateau
I decided to try SSB, and called CQ first on 7.091 MHz and then 14.280 MHz. Unfortunately there was no cellular service so I couldn't spot myself, and my calls were in vain.
Having failed in similar circumstances last weekend, I had resolved that if the same situation occurred again, I would force myself to try CW. I have only been learning Morse since the start of 2021 and am by no means competent, yet I knew our activation was unlikely to succeed if I didn't have a go. I switched to the 60m band to find space away from this weekend's big CW contest, took a deep breath, and invoked the keyer on my Xiegu X5105 to call CQ on 10.1184 MHz.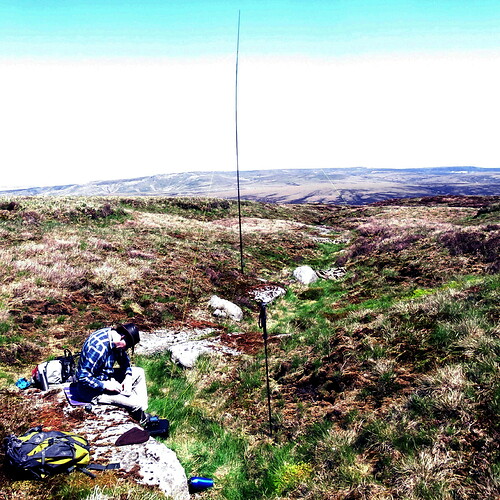 Extremely amateur radio…
What a brilliant invention the Reverse Beacon Network is! Within two calls I had several chasers responding and my adrenal glands were working overtime. I really appreciate the patience of everyone who stood by as I haltingly struggled through 13 QSOs, including two summit-to-summit contacts, I believe. I wasn't good enough to copy the other summit references though!
The weather remained beautiful and if I were on my own I would have gladly switched to other bands and made more contacts. I decided not to bore my companion with a long activation, however, so we packed up and took a quick look at Kinder Downfall (surprisingly dry given all the rain we've had) before retracing our steps.
Thanks to all the chasers, and apologies for my rubbish Morse code. I hope I got all your callsigns right…
73 de Richard.