Association Updates for June 2019
This month we have a large update for E7…
E7 2019 Updates
This process has been going on for a year or two. It's taken a lot of work from me and from Zaro, assembling map sources and checking the results of analyses.
New Summits
The result has been 515 new summits: E7/BO-084 to E7/BO-480 and E7/HA-053 to E7/HA-170.
Note that for the E7 borders we have taken the online national mapping agencies' maps as definitive for the borders with 9A and 4O.
Here you can see the old and the new summits: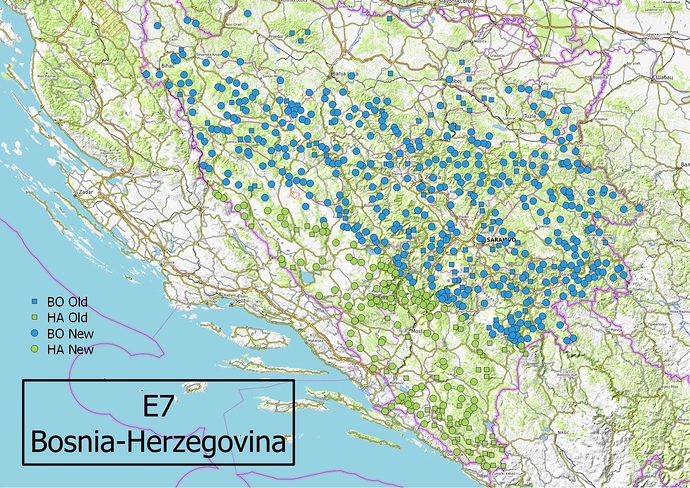 Basemap © OpenStreetMap contributors
Re-banding
Noting that, especially with the additional summits, E7 banding was rather skewed, with few 10-point summits and few 1-point summits, I re-evaluated the divisions. This has brought into line the spread of scores at both the low and the high elevation ranges.
Winter Bonus Level
Changing scores figuratively (or maybe literally?) gives Andy a headache. But since we were doing it anyway it presented an opportunity to reconsider the WB minimum elevation setting. Originally the ARM and database did not agree. Having previously brought the ARM into agreement with DB reality this time we have been able to adopt the lower value. Note that this was in spite of unfair criticism levelled previously. Kind aren't I.

9A
Whilst checking E7 I found a new 9A summit, 9A/DH-173