some useful improvements, including speed at 20wpm.
Cheers,
Jon.
I installed JS8call today. It has lots of cool features that might appeal to SOTA data types. I discovered that it's even easy to send sms messages using it. You can also relay messages automatically. It has many similarities to FSQ - but is a lot better. It's free-form text and similar performance to FS8 but without the chaos.
I think JS8 is better for SOTA because you can enter in the appropriate text and information related to activating a Summit. FT8 is a bit rigid in how much text you can send per transmission because it was not designed with a SOTA summit activation or chase in mind.
Ian vk5cz …
Version 2.0 of FT8 has several new fields that can be "re-purposed" for SOTA use - after all a SOTA activation is like a mini-DXPedition!
It'll be interesting to see how the guys get on in about 12 hours with the FT8 SOTA activations.
73 Ed.
JS8 has about the same RF performance as FT8 but it also has a whole host of features that would make it great for SOTA - including an SMS link that could be used for self spotting. It only has one weakness - hardly any users.
It's not "automatic" in the way that FT8 is though and unless you are familiar with FSQ it might take a bit of effort to understand it. One interesting feature is the way that you can send commands to all the stations who can hear you, to do various things.
After a couple of days of testing JS8call (and some initial enthusiasm) I have concluded that it's not a great mode for SOTA. It does have lots of attractive features but it also has several serious shortcomings. That being said it's quite a fun mode for use in the shack. Like FSQ, it has a small EMCOM following but it's unclear to me what they would use it for in some sort of emergency. I intend writing up my findings sometime soon.
This just received from Jordon:
Hey Folks! This is not a test, this is not a joke, it's actually happening. The public release of JS8Call version 1.0 is here! You'll find all of the public releases (now and future version) of JS8Call downloadable from this page: http://files.js8call.com/latest.html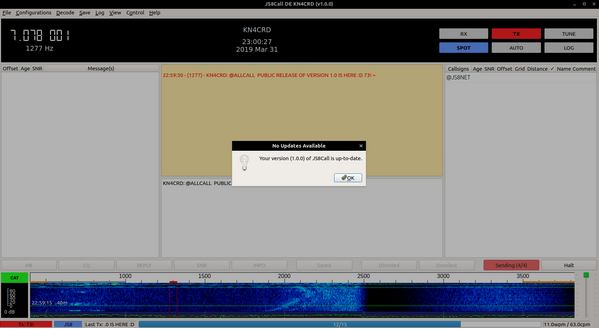 For those following along at home, there were a few fixes from RC3 to 1.0 GA. I also added in one last feature…a "Check for Updates" on startup (by default) so we all know when a new version is released. There's a full changelog below.
I want to thank all of the thousands of folks who have stuck around through the development of JS8Call. It has been a fun journey and there's tons more to come! Stick around in the list if you want to have "early access" to any of the new features developed.
In the meantime, I wish you all the best QSOs and hope to see you on the air.
Cheers!
Best,
Jordan / KN4CRD
OK @vk1mic, when are we doing this ?
Coiled spring here mate. I use it every day. Nice little cross VK net going last night on 80m
Am I late?!?! Where and when?,
Installing now. Then onto the SOTA notebook and then onto a summit.
Lol. I'll invite you to a VK group if you wanna practice. But dedicated group of 10 or so on most days between 20-80m.