I'm looking at having a slight reshuffle of antennas to see if I can get something a bit more effective on the lower bands (40m & 80m).
I wondered about running an end-fed wire from the shed at the bottom of the garden up to the roof of the house.
I've heard with wire arrangements like this that it's better to have the feed point as far away from the house as possible, so I was going to put a remote tuner (such as an SG-230) inside the shed and run a fairly heavy duty/low loss feeder cable to the shed.
Whilst considering my options with regards to counterpoises, it occurred to me that I already have a big lump of metal (ie the shed itself) right at the feed point!!!
I figured that people use their cars as a counterpoise for mobile operations, albeit that mobile setups are generally very inefficient (probably more due to the short loaded whip). Could I use this metal shed as a counterpoise:-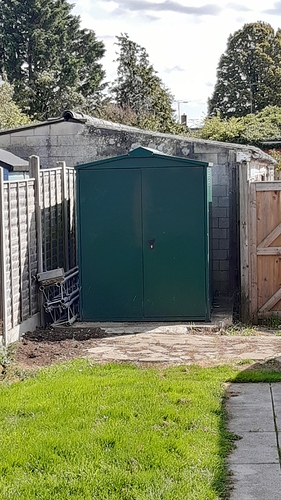 So I guess I really have 2 questions:-
From a safety point of view…would someone be likely to get an RF burn if they touched the shed whilst I was transmitting (I've not heard of this being a problem with mobile setup's in cars, so it may not be a issue). I would be running a maximum of 100 watts (which admittedly is still plenty to give someone a nasty RF burn).

How effective do we think it would be?
I'm interested to know what the antenna experts out there think. Will this work or is it a really bloody stupid idea?