Everybody knows you should ensure a frequency is free before you start CQing. Listening is the most easy way to do this. Of course especially on the upper bands this may not work well in any case. You simply cannot hear stations within the skip zone. In this case asking "Is this frequency in use?" of course does not help either.
But when selfspotting a frequency in SOTAWatch why not have a short look whether some other activator is just using this frequency or one within the passband? This could avoid situations as the two below:

I do not know, whether Eva acutally was working on 14.288 MHz. I could not hear her or her chasers but that's no surprise being in her skip zone. As there was little response on my 14.287 MHz I decided to QSY anyway.
Somewhat later the same situation happened again: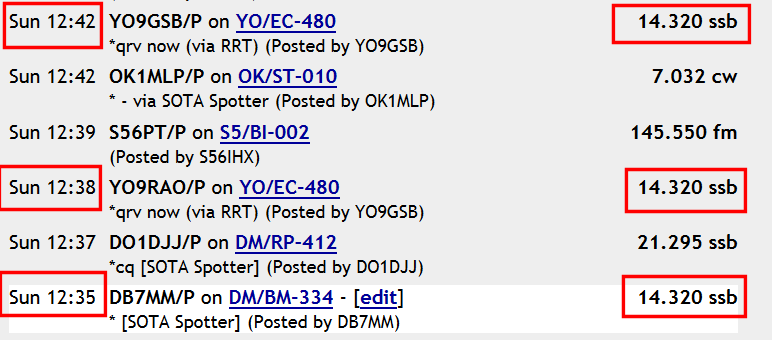 I was working two chasers on 14.320 MHz at 12:36 and 12:37. The third chaser was calling in but not coming back to my report - he was propably already working the Romanian activators. When EA1DFP was working them at 12:40 I knew staying on 14.320 MHz would cause nothing but confusion.
Finally: This posting is not indended to blame anybody. I know mobile coverage often is patchy so you are lucky to get your spot through. Displays are hard to read in sunlight and during the time you start sending a spot and its appearance in SOTAWatch (typing, waiting for mobile coverage, …) another activator may just have spotted the same frequency.
I also know, many activators do not read spots on summits at all and some are self spotting with one-way techniques like APRS or SMS.
But in case you have got an app as in these two examples:
Before sending your spot, do a quick check what's going on on your planned frequency.
Edit: Typo.
73 de Michael, DB7MM