For digital mapping and SOTA walks in the UK I use an expensive paid-for solution and my Garmin GPS.
For SOTA outside the UK I have worked through many different programs and apps over the years as I have used 7in Android tablet, 10in W10 tablet + keyboard, various Android phones, various Linux laptops. I have been fetching my maps based on OSM data from Freizeitkarte.
For a long time I have been using Orux on Android. I noticed when I did a map update earlier in the year it did not render correctly. I was using an old version of Orux as I preferred the UI to the UI of the later version. I reverted to an older version of the map. The next attempt I found that the latest maps from Freizeitkarte are in "V5 format" and these don't work with my old version of Orux so I have updated the app. Well worth it as the new maps are much, much better.
On Windows, I use Garmin's free Basecamp with the same maps from Freizeitkarte (but in a different digital format). With me fetching V5 maps for Orux, I also updated the maps for Basecamp. I use this for entering routes and saving as GPX to send to Orux on the phone.
What surprised is that the maps now contain DEM data. This means that when you draw a route in basecamp and look at the waypoint table you can see not only the horizontal distance between points as before but the elevation change as well. This means a quick Naismiths rule (12mins / km, 1m / 10m altitude gain) can be applied.
Here's the overview for Hoechi Flue HB/SO-013: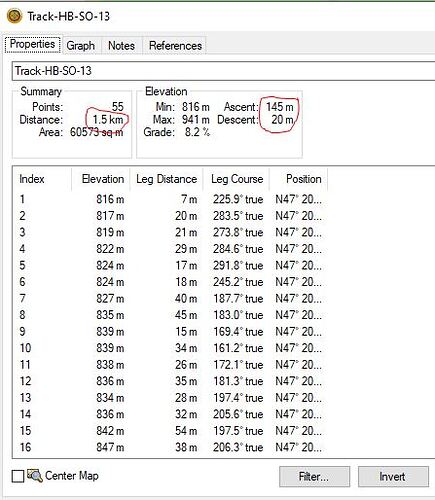 1.5 x 12 + 14.5 = 32.5 mins to the top. I don't need the route though since I climbed it last year and found the antenna lead was on the previous summit. I've got to do it again next week

Anyway, if you haven't updated your maps for a while, it is well worth doing so for the DEM data.
My W10 tablet thing (Linx 1010b ) is still working fine and still has decent battery life. But it's only 32bit and is a bit slow. It really needs more memory but that isn't possible. So I've been looking for replacement apps that run on Linux. There is no version of Basecamp for Linux and I was toying of running a Windows VM on my Linux laptop so I could use it. But first I tried many Basecamp alternatives. Most were, to be honest, rubbish. Or I wasn't prepared to invest the time to find out if they were any good.
But there's one… GPXSee that is brilliant. (https://www.gpxsee.org/) It installed and worked out of the box and uses the same format maps as Basecamp. It was simplicity to get going on my Debian 11 laptop and I just copied the existing maps and routes to it and job done! I used it to review walks on my recent SOTApedition to the Llyn Peninsula. It's doing a great job for the up and coming SOTA completing session through Northern Switzerland next week.
It really is so simple to use. The downside is you cannot create new GPX tracks, just view existing ones. I can live with that limitation for now. Especially as if I can get online I can use GPX Studio (https://gpx.studio/) to create and download GPX files for use with GPXSee and the Orux.
Why the title? Well I always seem to end up updating everything the days before I fly out to the FN rally. I started a few months back this year