Just in case you don't have enough toys…
Paul
This thing looks big and heavy! Also looks like it would be hard to operate portable without making some kind of stand for it. I'm sure 3D printers will have something in the works as soon as it hits our shores…
I'd be more incline to throw this in the mobile and pair it up with my Tokyo Hy-Power HL50 amp and replace my TS480 and/or FT857D, since both of those are hoofs up now

(not even sure if it's worth trying to fix either now).
Any update on when it's avail here stateside? My youngest is over on Okinawa now - maybe I'll have him go check it for me. Of course it wouldn't be the stateside model though ;-(
Recall there is a couple of peeps over on Okinawa now that I think of it. Haven't seen or heard any activity out of there for a while…
Thanks for sharing Paul.
73, Todd KH2TJ
I figure I will get a 705. Not so much for HF but for VHF and UHF. That said it won't be replacing my KX2.
Malen
VE6VID
I really wanted to know how big the box it comes in is.
vk5cz …
Some images that give a size comparison of the IC-705 with the KX3 here: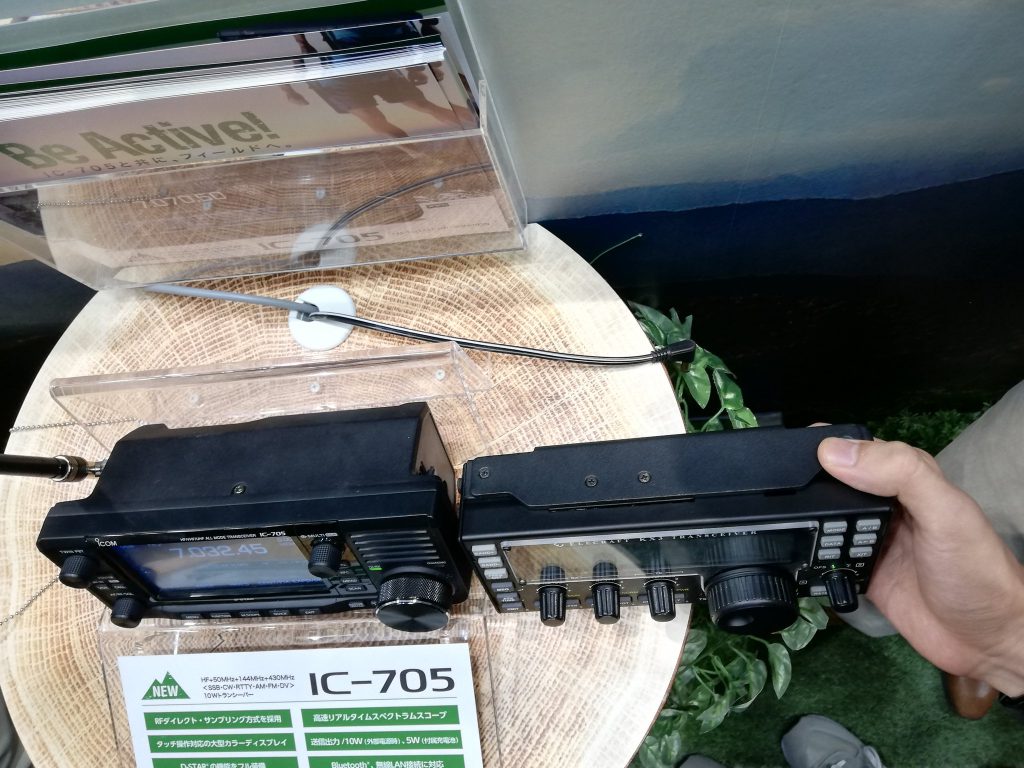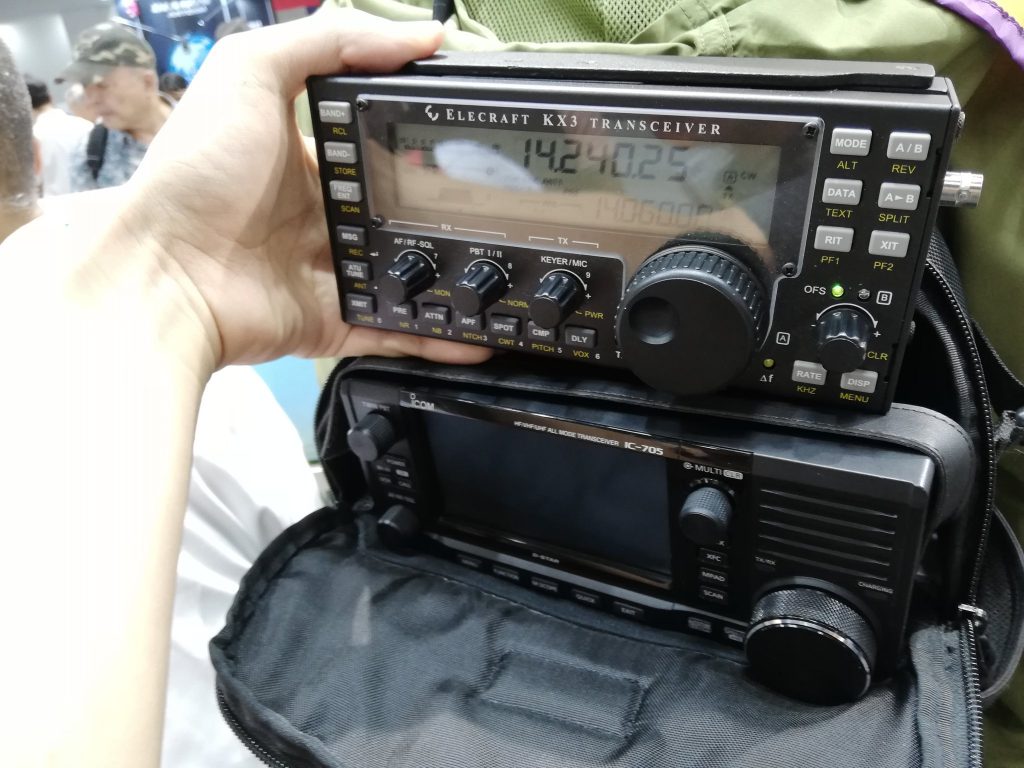 with thanks to YO9IRF.
73, Gerard - VK2IO
Whilst many here will scorn the 705's large size and disappointing onboard battery, I can see it selling to new hams who want a do it all radio and think that they might try some portable activities in the future. Whilst RX current drain is also high, many of us carry lipos big enough to run this rig no problem. That said, if I wanted HF + 2m + 70cm for SOTA, I would probably go with an 857.
73 de OE6FEG
Matt
Matt
I have an 857D and used it for the VHF contest this weekend. I have it mounted on a Alice Frame pack and with the bioenno battery it was heavier than I thought. I brought up 2 beams and a tripod as well.
I ran qrp so 10 watts was fine
The 705 could be a weight saver and if the performance is like the 7300 could be a better receiver than the 857D
We will have to see
Now on HF I can go 100 watts or a smarter 50 watts without worrying about wires and a power amplifier add on
I have several hammers in my toolbox and I just choose the one to do the job at hand
On a recent hike I was thinking that maybe a Commtronics CTX-10 would fit in a chest pack and a wire and that would allow fast set up and contacts
The 599lab is not avilable but that seemed an interesting radio with a separate battery and a tuned antenna
John
VE3IPS
I've been waiting over a year now to see a real live 599lab transceiver. I hope it's not like the old joke about nuclear fusion as a power source: "It's about 20 years away – and it always will be."
Actually fusion is only 0.000016063 LY away.

Are you sure about that last decimal place Andy?
One thing the 705 has right is the forward facing speaker. So many rigs have a backward facing speaker. I have to use headphones on such rigs.
There have been quite a few days lately with a sunspot or two so 10 W is going to be OK for the next decade.
I think the 857D is no longer available.
73
Ron
VK3AFW
I hear lots of reports about IC705 order cancellations due to the promised inclusion of the 70 MHz band which has now been rescinded.
When I saw a prototype of the IC705 at the RSGB convention I was not impressed at all. The unit is very bulky and even bulkier still with the optional high capacity battery pack which will be needed for SSB operations. I can see the rig finding a place in a motor home, but then you'd surely go to a 100w capable rig.
Not for me, I think Icom have made some poor design choices.
Colin
The thing I don't like is the touch screen. They tend to be useless when damp or when you need gloves. So that's Winter and Summer covered in Scotland when there will be touch issues using it outside.
Whilst RX current drain is also high, […]
How high is it? Figures, please!
260 mA on rx, less than 3 A on tx
VK3AFW
Rx current
IC706 is about an amp.
FT817 is over 400ma.
IC703 is about 250ma.
KX3 is about 220 ma.
MTR3B is about 40ma (ok unfair, but fun)
Seems to me the 705 isn't too bad.
Edit:
320 mA with signal and full audio.
Specs
Yap, from the perspective of an FT-857 user, this is quite good.

Ahoi
Pom
Yes,
The IC705 is what the FT818 should have been.
The size is determined by the large screen and ok size buttons and knobs plus heatsinks. The removable battery arrangement is good.
Not quite perfect but if the price is right I will be disposing of a couple of existing SOTA rigs and getting one.
73
Ron
VK3AFW
Really? I can think of some things that the 818 should have been like but its not an IC705.