No, I don't have an IC-705. But I just thought that it would be interesting to share this info in the SOTA reflector.
The point is I found this question in other forum: what battery do you recommend for an IC-705 to get 10 watts out?
As you probably know, the built in battery (7,4 volts) only provides 5w out. In order to get full power you should use an external battery, which is a shame.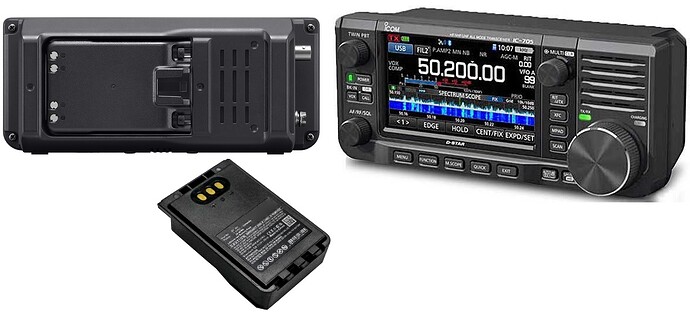 The rig has been on disposal for a while now and I searched for info about the input voltage vs. output power and found very little, just a few videos at the nominal 13,8 voltage, or battery powered and not many technical reviews.
Only the review from VA7OJ / AB4 OJ was a deep evaluation and testing report.
I got from him the numbers of the input voltage / output power and I prepared a graph showing this data: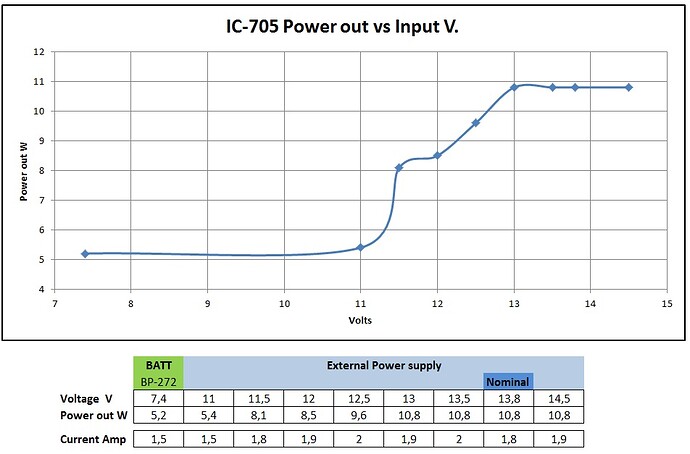 By looking at the data, you should stay over 12,5 volts to get around 10 watts.
A drop to 11,5 Volt provides 8,1 watts, while 11 volt cuts to 5,4 Volt.
A regular 3S LiPo or a 3S LiIon would probably be enough for a 8-9 watts power out. Meanwhile a 4S LiFePO4 (14,4 V) would probably be a better choice for this rig.
If you'd like to use a 4S LiPo you'd need a voltage regulator or some Diodes in series to get to a lower and safe voltage.
It would be interesting to compare this feature for some of the alternative rigs. Feel free to provide me with them, I wouldn't mind doing the tests


73 de Ignacio.