EI/GI/G Ops - stay safe today.
To the continent Ophelia brought a mass of warm air over the weekend that slipped over the cold layers close to the ground - and so a very nice inversion layer formed resulting in good conditions throughout central europe.

Nevertheless, stay save on the British Isles.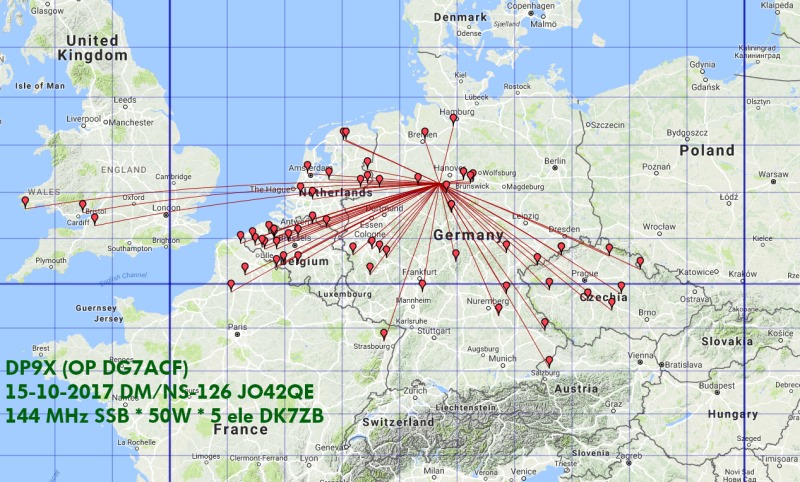 Ahoi
Pom
Howling on the West Coast here Jim…On nights tonight & where I work is on top of the cliffs overlooking the Irish Sea. Might blow out by then???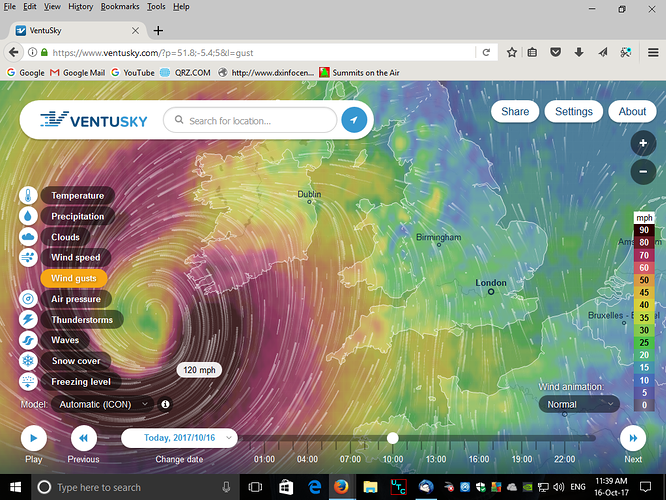 A brisk afternoon here - tomorrow I will be putting up the G5RV again!

I was in Stoke-on-Trent yesterday - Monday 16th October 2017 - visiting a GCSE student for some maths tutoring. However, when I got there, she decided she didn't want to do any maths and refused to engage with any activity. Reminded me of teaching in a nearby school in Stoke-on-Trent - just like the old days.
With a bit of spare time as a result, and no exercise since Thursday due to being constantly on the road for gigs, I decided to walk up The Cloud G/SP-015 on the way home - just like the old days. I didn't have my logbook with me, so grabbed a piece of paper out of my glove compartment. Fortunately, I did have fleece, coat, hat, pencil and charged-up VX7 HT in the car!
It was pretty breezy on Cloud summit, but this distant arm of Hurricane Ophelia was not at all disruptive. Then again, I probably wouldn't have tried to erect a proper VHF antenna, or HF dipole or groundplane in these conditions.
On 2m FM, I made four contacts - just like the old days.
LOL! In my schooldays (more than 60 years ago), such intransigence was speedily resolved by the application of the "Lochgelly Special". GM4TOE will know what that means!

73,
Walt (G3NYY)
It was pretty gusty here, the 7mm nylon cord holding the far end of my antenna snapped like a carrot, probably due to the tree support whipping in a strong gust. The orange sky will probably be a more enduring memory, though…
I was up on Orrest Head (viewpoint East of Windermere) yesterday lunchtime and the sky indeed was a sight to behold! At that time the wind was very light and it was very mild.
Today felt more like Autumn again and the sky was a normal shade of gray for the Lakes!

Regards, Mark. M0NOM
Hi Walt,
My XYL - Anne - GM4UXX still has her's. A bit of an heirloom. She never really used it in her 40 yrs of teaching. Though I on the other hand was a recipient of quite a few issues of the said beast of Lochgelly by various teachers. And I was innocent - I tell you!
And it never did me any harm, harm, harm …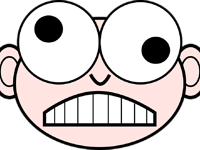 (;>J
ROTFL! I understand they are something of a collectors' item nowadays.
Yes, I had the misfortune to have my "fingers warmed" on numerous occasions during my schooldays. It was particularly painful on frosty winter mornings, when one's fingers were already frost-bitten!
Happy memories …


73,
Walt (G3NYY)
Adults in a position of responsibility, assaulting children under their care, within educational establishments, has been illegal for many years now - since long before the start of my own teaching career nearly a quarter of a century ago. Astonishing that this wasn't always the case really!
Returning to topic, it was "periscope up" for me last night on Long Mynd G/WB-005 for the 23cm UKAC. The wind had dropped to the slightest breeze, as forecast, and I was lucky to enjoy another dry evening's entertainment.
I was able to set up by ambient light, which, as far as I could tell, was street lighting reflected off the smooth cloud cover, there being no sign of moon or stars. Conurbations visible throughout a quadrant from Shrewsbury to the north, through Telford and Wolverhampton to Birmingham in the east. The cloud glowing brightly above all of them. Optical NVIS?
42 contacts; ODX 284Km. Heard GM and PE, but they couldn't hear my QRP signal.
A similar geographic distribution to the previous four sessions, with surprisingly few stations to the south east - I must look at the distribution of those submitting logs in order to understand this.
Good stuff Adrian. After spending an hour trying to get Visual Studio 2013 to run last night, I gave up an measured the performance difference between my double and double-double quad using the local beacon and Spectran. A clear 3dB RX improvement could be seen. Then I did what I should have done earlier and rebooted the PC and VS2013 started working.
I'd suggest knocking up a 23cms version of the double-double quad as it would still be a light and managable antenna for SOTA. Performance like a 10-12 ele yagi ISTR.
Yes, I liked your antenna posting Andy, and it does seem well suited to SOTA especially with the plastic box enclosure. Something like that would make a wet activation possible - though that could be a mixed blessing

I'm toying with the idea of mounting the transverter in the same box behind the backplane, so that the "feeder" only has to carry the 144MHz IF, and so can be a few metres of nothing-too-special coax. The SG Labs transverter can be configured to take DC power from the IF coax, or to use it for TX/RX control, either of which reduces the number of interconnecting cables required.