I activated Hardown Hill G/SC-011 this morning and for a bit of variety I attempted it using 2m only and using 4 different modes: SSB, FM, CW and FT8 digital mode.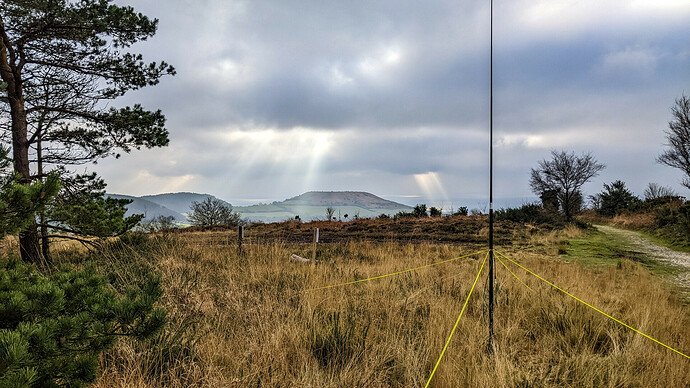 The weather forecast was good for December and on the hill it was better than expected as the fresh breeze forecast was not felt. But it was cold for Dorset at about 8C to begin with warming up just one degree to 9C at the end.

I started on 2m SSB with a 5 element Diamond 144S5R Yagi hung from a 6m mast although the antenna was only a little above 3m from the ground.
Calling CQ on 144.300 first in the log was Tony G3PFM from close by near Poole. He was followed by Damian M0BKV from Bude area in Cornwall after I posted a spot on SOTAwatch for 144.250. There were no other responses on this frequency so I went back to 144.300 and found Patrick F0DBU in Normandy. Patrick struggled to hear me until I remembered in which direction France was and he then gave me a 57 after I pointed the beam at Normandy. My excuse was it was very hazy and I couldn't see the sea. The photo above was taken as I was dismantling everything and the sun was trying to shine. France is somewhere in the distance!
Things then went quiet so I set up for 2m FT8 not expecting much activity but I was wrong. Three more French operators were contacted then Damian M0BKV again. The last FT8 contact was Don G0RQL. Afterwards, I realised I had not altered the settings in WSJT-X and had been sending out M0WIV not M0WIV/P and the grid reference was for my home QTH. This has messed up the SOTA log somewhat as Don has recorded me correctly as M0WIV but as my submitted log was under M0WIV/P the two don't match up. I've tried submitting two logs, the second having all the FT8 QSOs under M0WIV but the system didn't seem to like it. I think I may ask Don if he will resubmit his log to show my callsign with the /P. Frustratingly, I saw Phil G4OBK calling me during the FT8 session but I couldn't get WSJT-X to swap over to his callsign. This is something I need to work out and fix as it has happened before. I may also try FT4. Andy MM0FMF has said he saw one of my FT8 calls and has put it down to aircraft scatter. With FT4 it might almost be possible to complete a QSO this way!

With the antenna still horizontal I had a go at 2m CW on 144.050 after putting up a spot but without success. I did hear one station but they were weak and I don't think they were trying to contact me and they were too fast for me anyway!
Finally, I changed to vertical and tried 2m FM. This was very rewarding with three S2S. Viki MW6BWA/P on GW/SW-006, Shane G6WBS/P on G/SP-006 Shining Tor at a range of 285Km and then Ben GW4BML/P on GW/SW-009. There was a lot going on on FM which I couldn't hear and my choice of frequency of 145.450 wasn't very clever as others were trying it. I need to choose something a bit more obscure next time.
Using Mark's M0NOM's clever ADIF mapping tool this is what this morning's activity looks like. See the Afternote below for why there was probably only one contact to the east.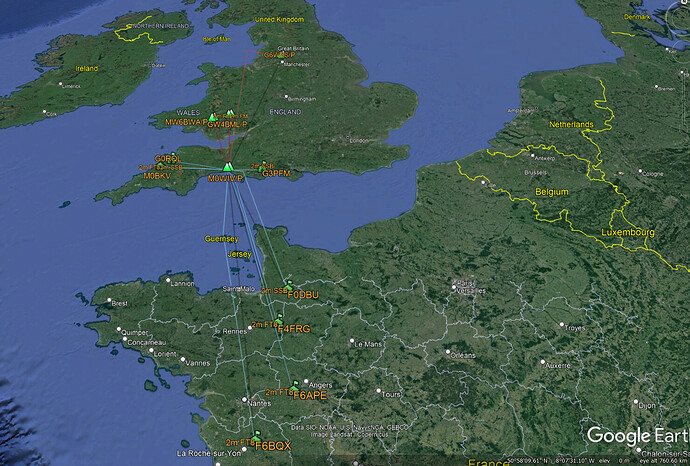 I didn't expect to make 11 QSOs on 2m from this part of the UK so it was a successful activation from that angle. I would have liked to have made it with four different modes but to succeed with 2m CW probably needs someone stood buy listening. It might be easier to do in HF using SSB, AM, CW and Data - but then AM is a minority mode as well.

As always very many thanks to all those who contacted or tried to contact me today. I had planned to go on to do another summit afterwards but I was getting very cold. Is it too late to write to ask Santa for a thick insulated jacket?

Afternote: Parking is limited near this hill but there is what passes for a lay-by at SY408942. From there walk north about 200m to where the path starts. There are no signs other than one saying "Private land". Ignore this other than as a marker, the path is to the right of this sign. Climb this path and where it meets another near the summit turn right. Follow this path until you reach the much wider path, almost a track. Turn left here and walk towards the copse where you will find the bench. This is where I set up as it is free of gorse. The take off is good from the bench to the south, west and north but worst to the east. You probably need to move to the other side of the hill to work in that direction. The summit is very flat.