…any SOTA people going? I was thinking maybe of combining with some activations…
hamfest2019.ch
. . . yep, because I am from Central Switzerland, hi.

Vy 73 de Markus, HB9DIZ
It's possible that I might be speaking there. It's under discussion.
I'll probably be in Switzerland activating for a week or so sometime around the 24th of August.
de OE6FEG
Matt
I have been invited to give a short address at the evening reception. Looks like I will be on the SOTA stand during the day. I hope to get a couple of days activating in too.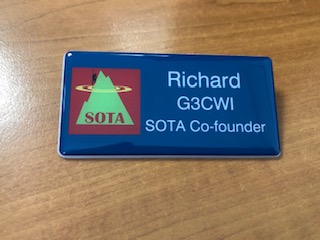 Badge made. Who's going?
Thinking of doing HB/ZH-006 or HB/ZH-012 on Monday 19th if anyone is about.
Hi Richard
There is a HB9SOTA booth and even an outpost for SOTA among a series of outposts around Landsgemeindeplatz not far from the main location at Casino Zug. Will be at the outpost for some time (hoping for suitable weather) and attend dinner.
Seen now your badge and wondering how mine will look like, hi. Will certainly bring along my personal SOTA badge to feel complete, hi.
Vy 73 de Markus, HB9DIZ
Hi Richard and others
There is a bunch of pictures of the Hamfest 2019 in Zug to check out on the website of Beat, HB9THJ:
http://www.hb9thj.ch/P01/USKA/USKA_Jahrestreffen/2019/2019.htm
The pictures from the SOTA outpost are just at the beginning.
The other pictures may take you some time since there are >800 pictures. WX was fine, and thanks for having met you at the lake.
Vy 73 de Markus, HB9DIZ
Hi Markus
It was great to meet you there! I really enjoyed meeting the Swiss SOTA Crew.