We (with M0JLA) suddenly visited the top of the Brecon Beacons yesterday (Thursday, 1 December) with a 2m/70cm handy and a dipole (oh - and lots and lots of warm clothing!) I feel an apology should be offered to those who wanted to chase us as things didn't go according to plan (or to the alert for Friday 2 December which had posted many days earlier.) The weather forecast was always much better for Thursday but we had an unmissable appointment so gritted our teeth, searched for my warmest clothing (feeling like -6C…) and prepared for Friday. Just after 9am on Thursday the phone rang and the appt was cancelled (ill - possibly Covid). I instantly said we would move the date and go for the better weather BUT we had no preparations made so it was a very late start (for a short winter's day) and a very foggy journey (was the forecast of sun on the summit really right??)
We drove up from Brecon and as we passed the ice cream van we were above the cloud and into the sun - whoopee! It was noon when we set off from Storey Arms in a very light cold wind and 1345 when we started the joint activation with the VX7. The first calls raised only 2 contacts followed by a quick QSY to 70cm where there were 3. Not good news when the cloud is gathering but things improved (thanks for the post - GW6OVD) and the return to 2m resulted in 6 more quick contacts as the sun went in and the cold started to bite. I announced a quick QSY to 70cm and had to ignore the 'Isle of Wight' (sorry!) as I left. I cleared the 70cm contacts (4 more) and then pulled the plug, we hastily packed up and left the summit at 1420. I have to admit that we did stop briefly for lunch (!) when we got out of the wind and into sunshine again (the cloud cleared from the top soon after we left - of course) but not for long as we wanted to reach the car in daylight. Thanks to some inventive short cuts we were leaving Storey Arms just after 1600, down into the fog only slightly lower than when we had arrived and had an increasingly foggy, dark and unpleasant journey back to Hereford.
By changing the day we had some glorious weather and probably the most striking views (shame about the camera which I forgot to pick up in the hasty packing and departure…) I have ever seen in South Wales. I hadn't realised there were so many little hillocks around Brecon. Luckily Rod's phone came to the rescue.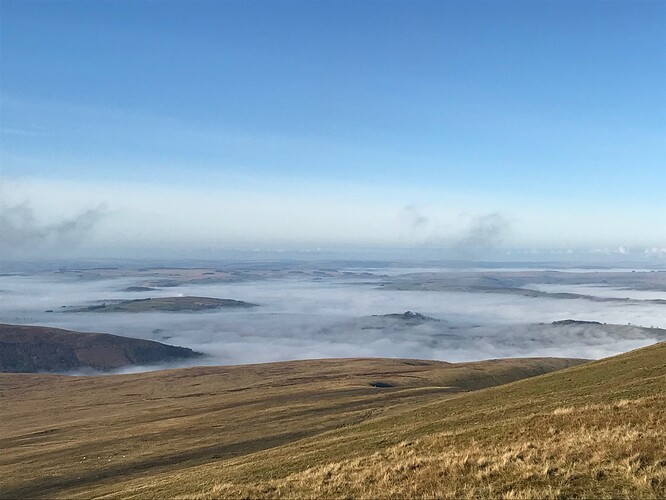 looking towards Brecon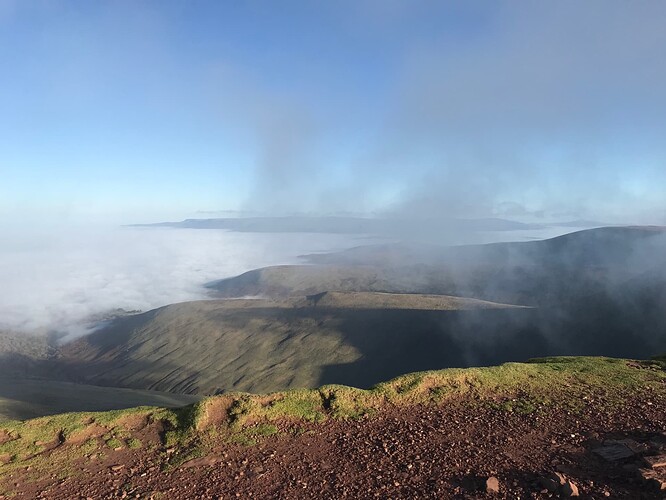 From the summit looking to the east
We had a brief s2s with John G0MHF on Stiperstones G/WB-003 and he was also above the cloud eventhough he was a lot lower. It was obviously well worth the effort to grab everything quickly and take advantage of the better day BUT I do feel guilty that it didn't give chasers much warning of when we were going to be up on the summit and, even more so, that we took so few calls when activating. Obviously sharing the radio took time but M0JLA only took the minimum of calls to qualify on both bands but I certainly left 2m with some sort of pile-up and it was only on 70cm that I reached the end of the queue and even called again to make sure. According to my log we were operating for 25 mins and I made 16 contacts including 2 over the Severn in Devizes and N Somerset and up to Llithfaen on the Lleyn Peninsula. I hope the unsuccessful chasers have some insight into why the activators call the shots and sometimes just have to cut and almost run. I'll try to do better next time so please have another try to contact me next time - eventhough there are likely to be fewer points on offer - and I shall probably be desperately looking for enough contacts to qualify!
Viki M6BWA