I had planned to do Dodd Fell Hill G/NP-016 and Great Whernside G/NP-008 today as it was probably my last chance to get points in 2021. The weather forecast was for a mild, sunny day with little wind so it seemed perfect to quickly do these two hills.
I set off early at 0745 as it is almost the shortest day. I was surprised how cold it was first thing. I drove through some thick fog and the car told me the temperature was now -2.5C. There was a heavy frost on the grass verges. The parking spots for these two hills are up steep minor roads. Although they are both gritted, the parking for Dodd Fell Hill is on an even more minor road and I didn't fancy risking the possibility of an icy road. So I decided to change my plans and only do Great Whernside. I parked up in Starbotton in the valley. It was going to be a much longer walk but it was actually going to be a proper walk and not just a point grabbing exercise.
I was quickly out of the valley and into the sunshine and soon I was very warm. I noticed that the grass, even in the shade, was not particularly frosty but I could see down in the valley that it was still misty with a hard frost. There was obviously a temperature inversion. Perhaps the road for Dodd Fell Hill wouldn't have been icy after all. It didn't matter as it was a great 14km walk on a beautiful day.
As it wasn't particularly windy on the summit I didn't need to find a sheltered spot and could use my favourite fence post just across from the trig point to bungee my mast. I had 11 QSOs on 40m CW, 9 on 20m CW and 4 on 2m FM. Both the HF frequencies had some QRM even though I had listened for a while and checked they were free so on 20m I did QSY for a few more contacts. Thanks to the chasers once again.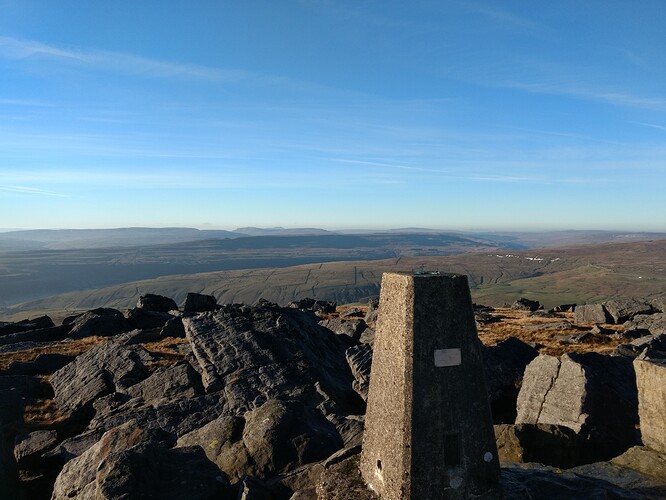 Pen y Ghent G/NP-010, Ingleborough G/NP-005 and Whernside G/NP-004 from the Great Whernside trig point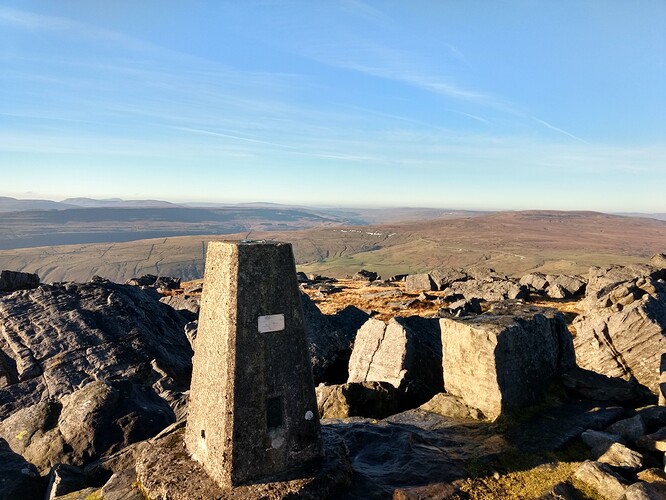 Lake District in the far distance?