I'd already activated Great Whernside G/NP-008 this year back in January but I didn't get any S2S QSOs so I went back today. It was also a chance to test out a couple of antennas. We are currently between heatwaves here in the north of England and the forecast sounded quite chilly on the summit. It was actually a really nice day with sunshine and cloud plus a fair breeze. I set up my tarp next to my favourite fence post and that nicely sheltered me from the wind although I still needed my fleece and even my fleece hat for a while.
I had a 4G mobile signal and could see on Sotawatch that 30m was a good band to start on so up went the 20/30/40m EFHW and the link was opened for 30m. This is the antenna that a sheep had tried to eat last week on Ingleborough G/NP-005 but I had repaired it. DK7MG/P and IK2LEY/P were quickly in the log for the first S2S of the day. I then closed the link so that the aerial was set for 40m and 20m. The next S2S was EA4DOS/P on 40m. A CQ call then brought me a good run of chasers including another S2S from DL20SOTA/P. Annoyingly the phone didn't have such good reception when it was on the ground so I had to get up and regain the 4G while standing. This found me another S2S on 40m with F/DL6FBK/P.
Next was 20m with another good run of chasers including W4GO in Virginia and S2S with HB9CBR/P. I then found IZ0ETE/P for another S2S. A switch to 2m FM found the regular local chasers plus a few slightly further afield but no S2S. The high pressure obviously wasn't generating any sort of lift.
On previous activations I had tried a 10m groundplane. This worked but I was getting some instability in the receiver of my homebrew rig. I had assumed it was the receiver but playing with it in the garden had revealed a loose connection so I had remade it with a new coax feeder. I had also made one for 12m and it was this one that I tried first. I didn't really expect to get anywhere but to my surprise managed 7 QSOs. 4 of these were with stations I had already worked today including HB9CBR/P. Perhaps there was a novelty factor with this band - these were my first ever contacts on 12m. I also tried the 10m GP but this only got 2 weak German stations. Presumably sporadic E was working on 12m but not as high as 10m. At least the instability problems were gone so it clearly was an antenna issue and not the rig.
Finally I tried my 17/15m EFHW and called CQ on 15m. This only got me two contacts but did include AB4PP in North Carolina.
So not a bad SOTA day. A short drive from home, good weather, plenty of contacts (63) including the S2S (7) I was after, confirmation that two new antennas worked and that my rig was OK after all. And no killer sheep.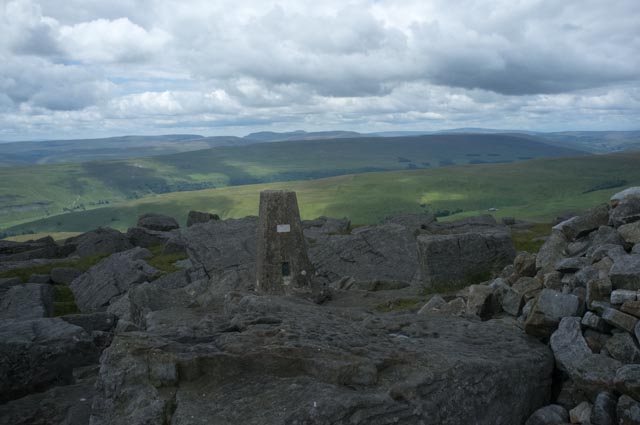 Looking towards several SOTA summits including Birks Fell G/NP-031, Ingleborough G/NP-005 and Pen y Ghent G/NP-010.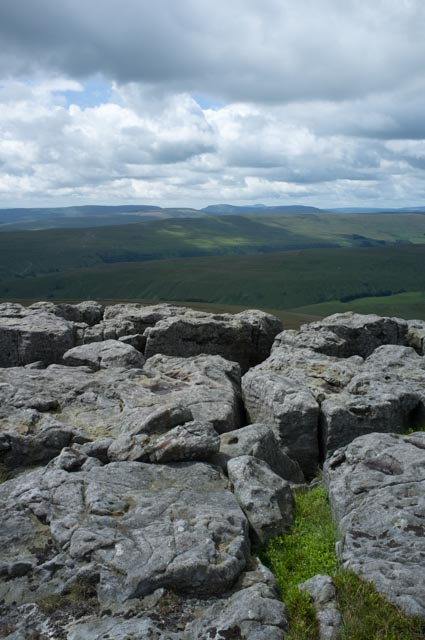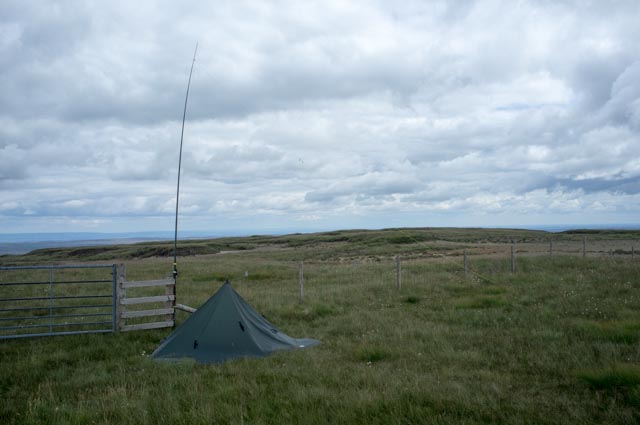 Convenient operating position.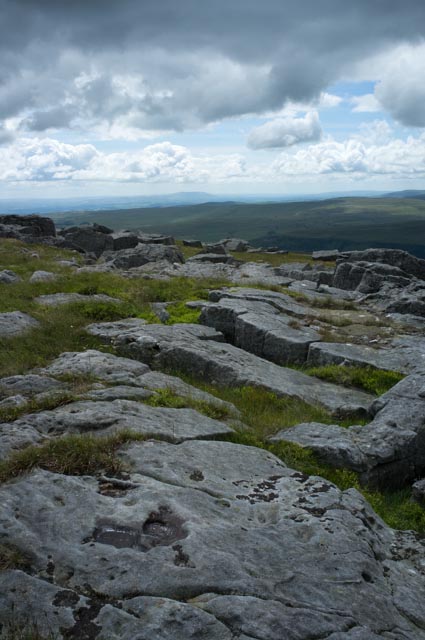 Looking towards Pendle Hill G/SP-005.