The completion continues…
WX forecast was for rain showers in the morning and an essentially dry and sunny day which meant more SS completing.
#Grange

Fell SS-249

This is yet another summit which once was a good viewpoint and has a trig but has been "conifered up" and now has no views and is a bit of a maze to find the summit. There are several ways up and none are very far or difficult. There has been some harvesting of the mature trees. I decided to follow Phil G4OBK's route that leverages the Grange Quarry. As the quarry does actually blast rock and has lorries running in and out you want to do this at the weekend when it is shut.

Like Phil, I parked near the locked up gates to the quarry. There had been heavy showers by the standing water and the sky was ominous. It showered hard for 5mins just after I had put my boots on but not enough to delay me. I was perturbed by the sign waring of dogs patrolling so I took a route in the neighbouring woods rather than through the compound. Quite steeo but easy going and I hoped over the fence about 1/3rd up Grange Bank. Good progress is made by following a road made from rock spoil. This tops out at and it was time to follow the GPS in earnest.

With a simple task of follow the arrow, I set off ignoring the GPS. Then checked, swore and doubled back. Up the correct forest ride and I did the same charade twice more. How hard is it to follow a GPS ? Very, I kept wanting to press on and not look at the screen. Suffice to say if you follow Phil's GPS route it takes you right to the clearing holding both trigs!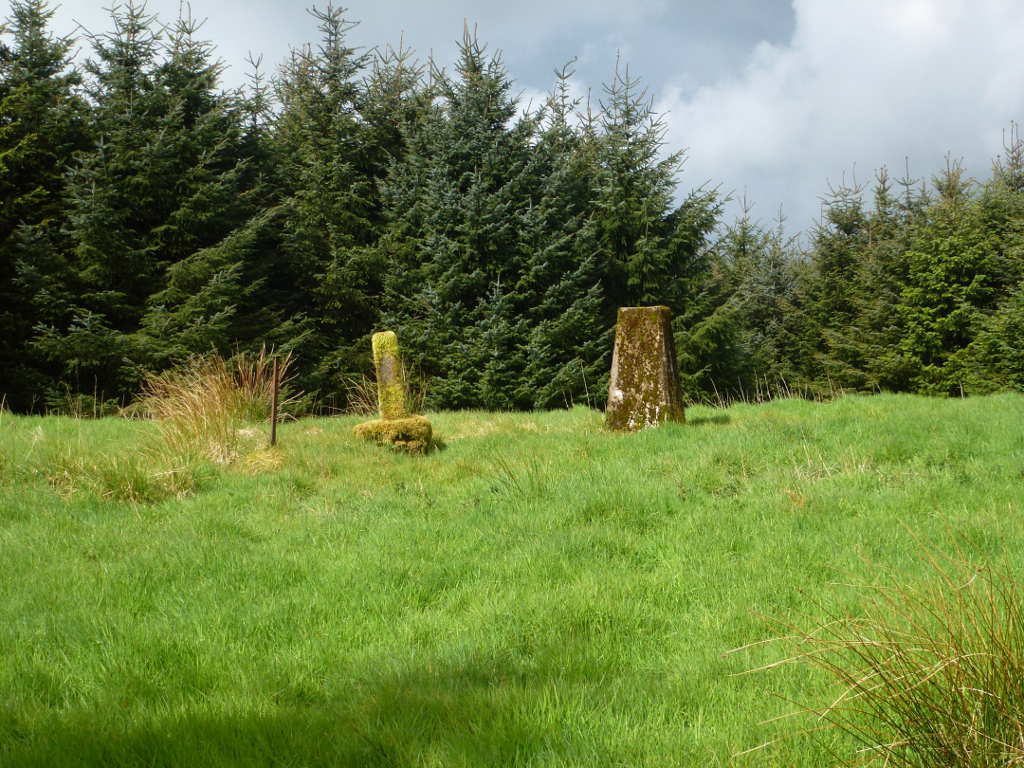 It took about 35mins including faffing about backtracking. Apart from Grange Bank I didn't think there was any climbing. I supported the fishing rod using the smaller concrete post. The main trig is one of the last installed in 1959. The clearing is big enough for an 80m dipole but the trigs are not in the centre so my 60m dipole just fitted. 60m worked well with stations about 65miles away being easy copy. 40m was long as it has been for ages. I squeezed in a few 40m CW contacts including LA1ENA who activated this summit a few years back. After that is was rip down the station and get out to the next summit.
I could only get a poor mobile signal from the clearing on my old Blackberry "other" phone which does 900MHz. It does work better than the 3g phone on 2.1GHz when you cannot see any roads or are obstructed by trees as the signal propagates through obstacles better.
This view comes as a surprise on the way down as it is the first time you see anything but trees. It shows some ascent as well but I didn't notice it!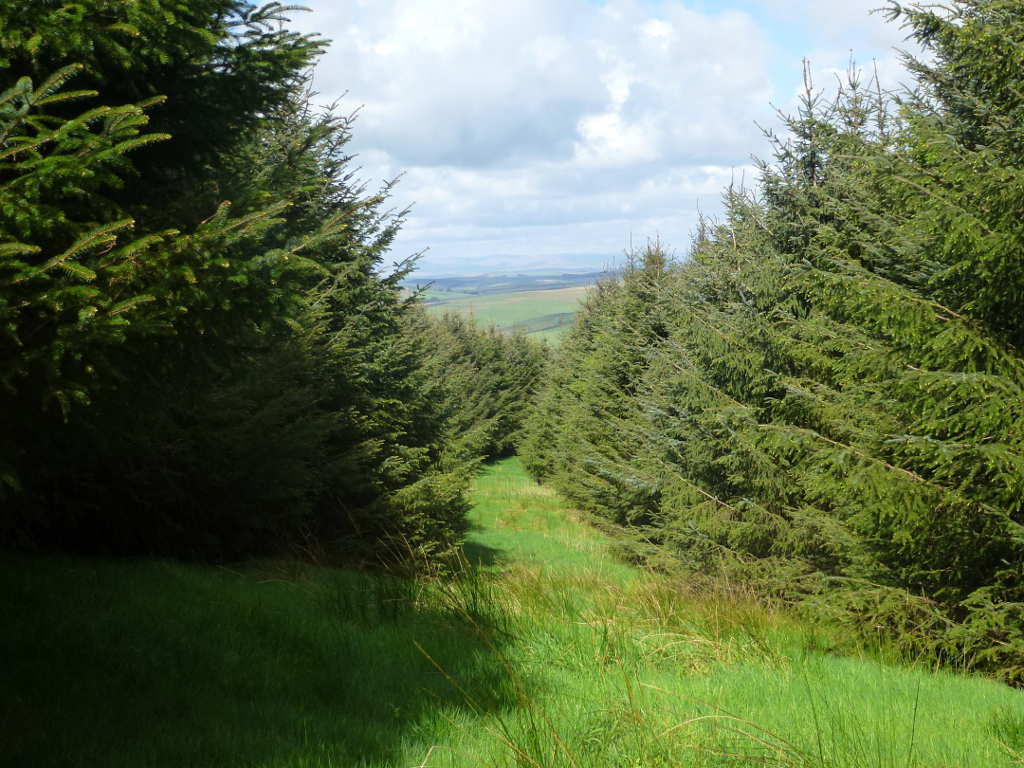 Finally here's a view of the quarry. This quarry is shown on the 1957 OS map. I think at the rate they are using the mountain, you have a few thousand years to bag this one. Not sure how much longer the trees have.