We did this activation on the way between Blackpool and our holiday cottage near Loch Lomond. It was dull but dry and the forecast was for a dry day. We had several possible hills to do depending on timings, but we were reasonably well organised and we had a generally good run up M6. When on the motorway we managed to chase Gerald M0WML on Great Gable who was doing a round of several Lake District summits. There were a few spots of rain as we drove, but the sun was out when we stopped at Annandale Water Services for lunch. Our choice had narrowed to between a short steep walk up Green Hill near Wanlockhead or a longer gentler walk up Lamington Fell.
We decided we did have time to do the longer walk in to Lamington. We parked in the nice car park by Lamington church at NS979309 and walked back along the road to NS978307, going sharp left back on an estate road, passing a cottage with barking dogs over a bridge then right onto a track passing above some noisy kennels and up through pleasant woods. Another left fork and we ascended more rapidly coming out of the woods into a field with wet long grass which ran long the top of more woods, giving us good views towards Tinto. Through the next gate and we were on a better track making its way up Lamington, and the views opened up on the other side towards Culter Fell and Cowgill.
The sky was a mixture of cloud and blue skies, with a nice trig point. There was no hole in the top so Caroline lashed the VHF antenna to the outside. We started with 2 2m FM S2S contacts with Gerald M0WML on Pillar and Robin GM7PKT near Braemar. There was only one other 2m FM contact for Caroline, so she needed 7MHz after Martyn had done reasonably well on 5MHz including an S2S with Jonathon GW2HFR on Snowdon. Caroline tried 14MHz but only managed 2 contacts, though she did hear a station calling from New York, but didn't manage to get the full callsign. We descended via a different route heading to the south of the woods to drop down to the Bottom Burn and over the footbridge over the Lamington Burn, passing through a field with many sheep and more good views of Tinto to a minor road. We failed to find the St Ninian's Well marked on the map, and once back to the main road headed back to the church car park.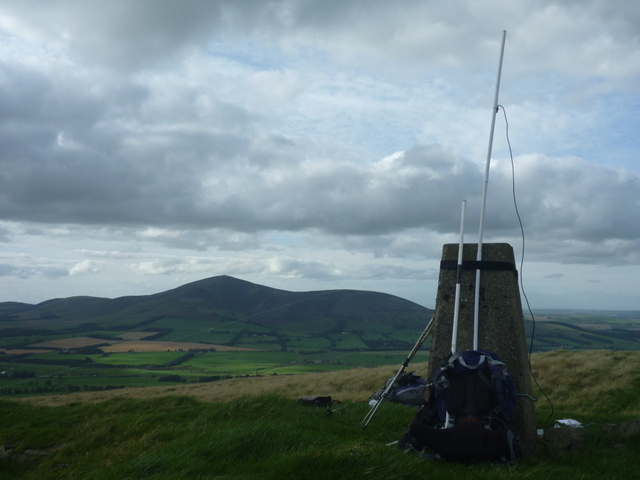 Lamington towards Tinto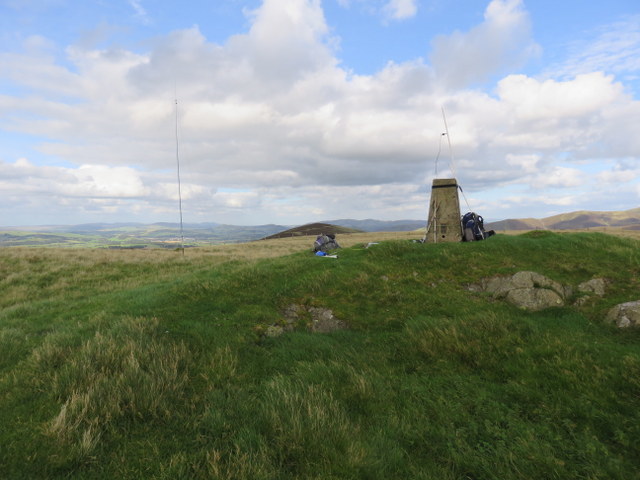 Antennas on Lamington