Hi a long tiring route in glorious sunshine yielding 21 QSOs of which 5 were s2s.
Despite having lived in sight of the Moorfoots for years, I haven't been on foot in them very much. I chose to park on the B7007 and head along the "front ridge" of the range - this gives a great view over Edinburgh and the Pentlands, all the way round to the Bass Rock and Traprain in the east. Due to our local weather phenomenon ,Haar ( sea fog the the rest of the world) the view was a bit murky but much better than Geralds' @G4OIG trip!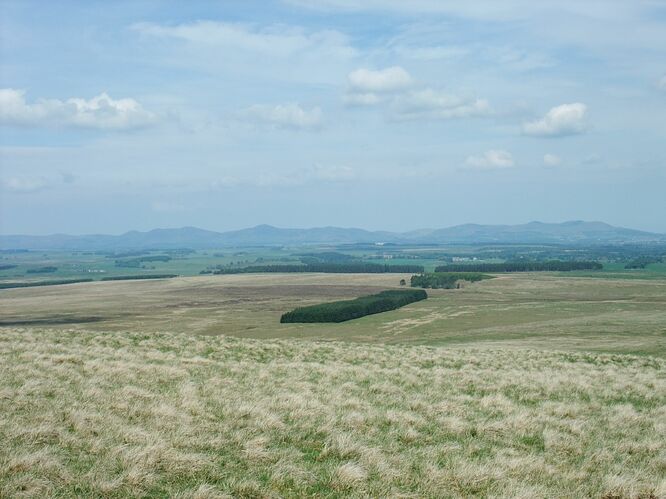 View north to the Pentlands
The route was dry underfoot which was good as it would be horrible after a wet spell. I had wanted to do it during the cold period we had over the winter for the same reason, but Covid restrictions ruled that "tricky" - it could just have been done staying in my local area, but only just…
Total round trip distance was 16km so missed my alert time by a fair bit - maybe I shouldn't have walked the dogs first!!
Got all set up and started to call on 20m - zero response… eventually noticed that the 817 was telling me high swr - oh that'll be because a link is wrong … got on a bit better after that!
Tried 2m SSB - found a clear frequency and in the time it took my phone to find a signal and I got back to the radio, there was a nice QSO going on there … (side note "3" is not the best for phone signal in the hills…)
2mFM - heard Richard on G/LD-035 so a nice QSO followed with great signal - 90 miles or so, not bad for a Wouxun HT with RH-770
Thanks to all activators for their patience, especially on 20m where it was very variable S9+ to S0 in a few seconds at times. Also thanks for the s2s.
Alan