The forecast was for a generally dry day with sunny intervals later, but it didn't look good at the cottage: a dull morning with Conic Hill in clouds. The clouds were still on the hills as we left cottage around 9:30. Despite that we decided to trust the weather forecast and go for medium height hills around Luss. Plan A was to go down the Glen Luss road where several reports said there was limited parking, and from there do Beinn Eich and Doune Hill.Plan B if the parking was full to return to the Pay and Display car park in Luss and do Beinn Dubh instead.
The Glen Luss road has a sign at the start saying "No parking in passing places", and is a nasty narrow twisty road with few passing places. When got to where the parking area was supposed to be there was a big notice "Turning Area: No parking", though there looked to be enough space for a few cars to park without blocking turning. We carried on a bit further but there was no parking anywhere else in the glen (though some of the passing places looked to have enough depth to allow parking without blocking passing). We decided to heed the notices and returned down the glen: if would have been more helpful if the notice at the start had said no public parking anywhere in the glen!
Back in Luss we stopped in the Pay and Display Car Park. Caroline started to get the maps together while Martyn went to pay, but returned reporting both that the machine was "not in service", but the sign giving the list of charges only went up to one hour. Since other cars had tickets so we went to try second machine, but it was the same. We found a third which was in service, but it also only went up to an hour. This was getting silly: an hour was no good to us; would we ever get off on a walk? We had to improvise a Plan C, so we left the car park and drove south out of the village to try to find somewhere to park. We were relieved to find a wide section of road near a bridge over Luss Water where we could park without blocking anything. At last we could put on boots and get off on our walk. The cloud was still on the hills, but the forecast was for it to clear.
We headed back into Luss, taking the road by the school which led to a path to a footbridge over the A82, past a house and through a gate onto the open hill. We had started off our wearing jackets, but once we were on the path up the hill we were soon overheating so the jackets came off. We were still hot, and the tops from about 500m up were still in the clouds, so we were limited to lower level views. There was a path to follow most of the way, though it occasionally disappeared in boggier areas. We entered the cloud at around 500m, and encountered two women coming down, who noticed we had maps, and asked if we knew if the cloud would clear: we said we thought it should have cleared by now! Slightly worrying was that their sole means of navigation appeared to be a mobile phone with a cracked screen!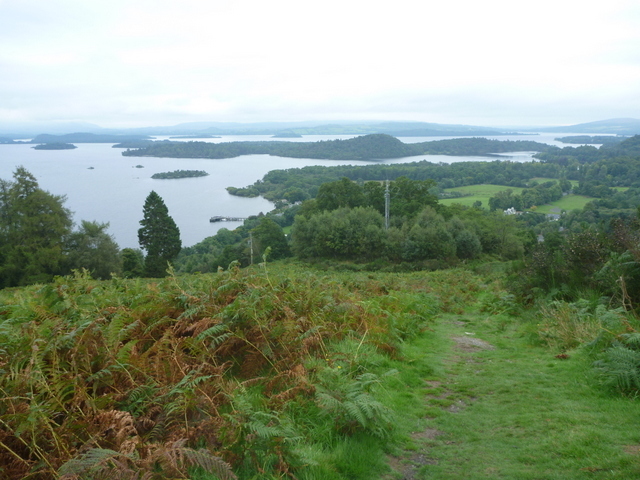 Loch Lomond and Luss on ascent before entering clouds
We continued in cloud to the cairn on the sub summit of Beinn Dubh, where we consumed a Mars Bar to keep us going to the SOTA summit which was over 1km further on. The cloud persisted all the way to the true summit which was marked only by a tiny cairn. Caroline set up the VHF station by the cairn, while Martyn used the ground slightly to the north. Caroline's initial run on VHF yielded 12 contacts including 3 S2Ses with a party on LD-031 Blake Fell, with Martyn also working two of them a little later. Martyn started with a good run of 17 contacts on 5MHz, before Caroline took over HF with 13 on 7MHz. Caroline returned to 2m FM for another 5 contacts while Martyn tried 14MHz, getting 7 contacts including Rob M0VFC in Iceland, who Caroline also worked. The cloud persisted throughout the activation. We headed south over Mid Hill and then SE along its spur to descend into Glen Luss, where we finally dropped below the clouds. We were then back down to the road we had had a futile drive down earlier. It was very quiet and we stopped to eat apples sitting on a stone by the road before returning to Luss down the road.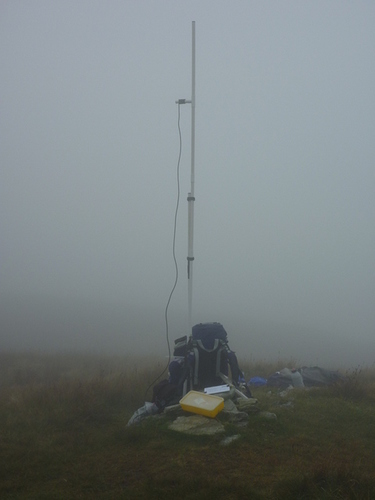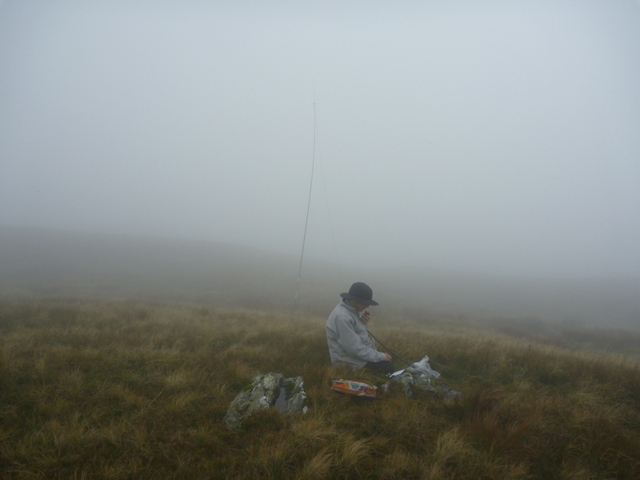 The summit in the cloud.