This report is dedicated to the memory of Colin G4UXH SK who along with wife Heather M6UXH was first activator of M/SI-144 Biod an Athair. We worked Colin & Heather S2S a number of times when our visits to Scotland coincided, and miss the friendly 2m chats. Nobody else has activated Biod an Athair in between, which is a shame because it's one of the best one-pointers we've done and deserves more activations.
The forecast was again for a day of low cloud, showers and possible some sunshine, with the north of the island being best, but we had already done the two most northerly smallish summits, so we decided to head north west towards Dunvegan. We good views of the "Macleod's Tables" as we drove across the island: they looked attractive, but weren't our target. We stopped for the toilets in Dunvegan and took photos in one of the sunnier spells before continuing to the car park at the end of the road at Claigan.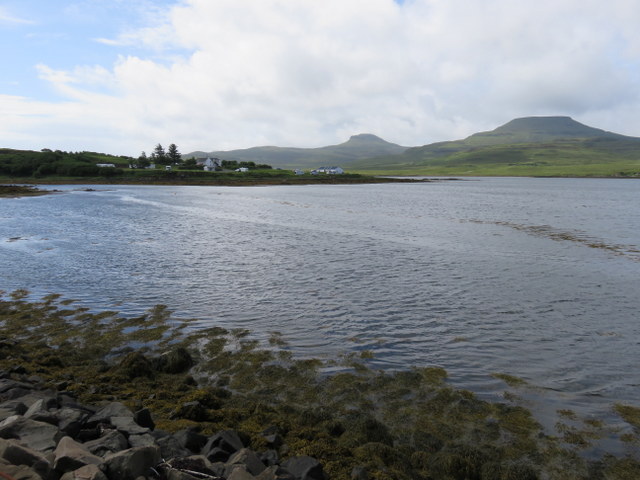 Loch Dunvegan & Macleod's Tables
Once again it was pretty full: with several campervans, but we managed to squeeze in. Most of the visitors appeared to be heading down towards the beach, but we were heading in the opposite direction taking the rough road and over a stile and then along track that headed east, passing buttercup filled meadow before going over another a stile to rougher ground with cows and sheep. The track had been heading straight for trig point on Beinn Bhreac, but that wasn't our target as it is on the lower summit of the ridge, and outside the activation area. Instead we followed the track as it bent right and slowly ascended via a zigzag towards the higher more southerly summit. Unfortunately, the track didn't go all the way to the summit and we left it at around NG247529 to ascend over very rough ground: deep heather and bracken: harder work that the other Beinn Bhreac we had done earlier in the week, but a considerably shorter distance.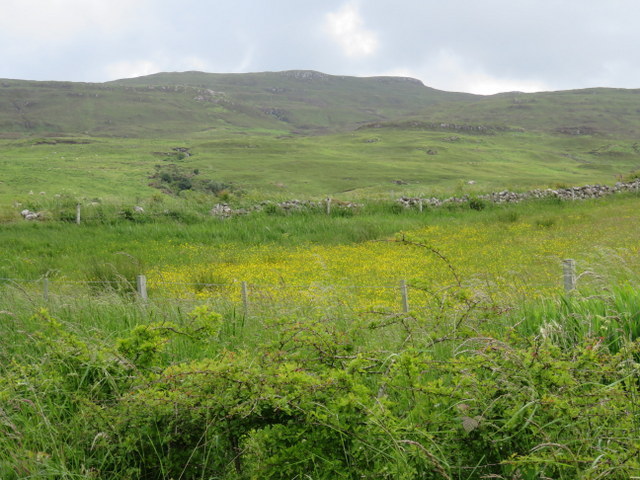 Beinn Bhreac
The summit was flatter and grassier with peat hags and we decided that the top of a peat hag was the highest point. We had misty views towards Macleod's Tables which were sometimes in the clouds and sometimes not, and better views of Dunvegan Head across the sea loch. It was sufficiently windy that we needed some shelter so Caroline set up the VHF antenna on to top of a peat hag and crouched behind it for shelter, while Martyn set up HF on the least windy side.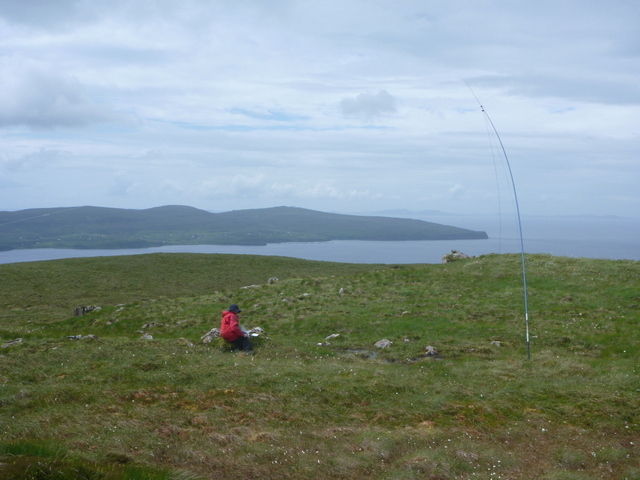 Beinn Bhreac towards Dunvegan Head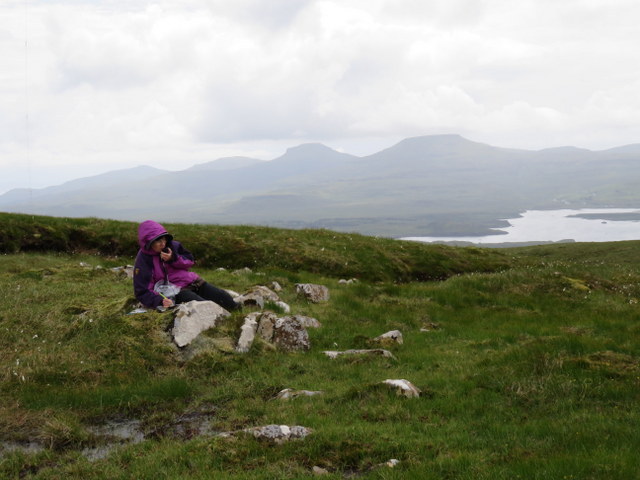 Beinn Bhreac towards Macleods's Tables
Caroline had one of her better days on VHF: 3 contacts, so again moved to 7 MHz after Martyn had a better run of 10 contacts on 5MHz. Caroline got 10 contacts on7MHz followed by 12 on 14MHz, including our first S2S of the week with OE6WIG/P. We probably spent too long on that activation as we wanted to try to get another summit in. We could probably see the starting point for the next summit across the bay, but it took a while to get back to the car and then make our way on the mostly single track roads round Loch Dunvegan to the end of the road at Galtrigill. There's limited parking at the turning circle at the end, and as we arrived the obvious places were blocked by a car and a land rover and trailer. However, people were arriving back at the car and they told us they were going soon, so we waited to take their place.
We started off following a track which lead through a few fields of cattle before appearing to end in a mass of cattle churned mud just through a gate. At this point we started to climb to get away from the mud, but this was a mistake as we realised that we were heading up the flanks of Ben Skriaig rather than towards Biod an Athair. We tried to contour round to pick up the right line, but encountered another barbed wire fence, and ended up dropping down into the valley to try to find a crossing point. We failed, but at the corner of the fence managed to find somewhere where we with some difficulty managed to cross without damaging anything. We crossed a stream and then found easier walking with a mixture of sheep cropped grass and low heather. We debated whether we would have time to make the summit, but Caroline wanted to get to the summit even if we didn't have time for an activation, and Martyn reluctantly followed. The grass become shorter as we ascended and Caroline pushed on to the trig point, where a stunning vista opened up, allowing her to shout encouragement back to Martyn as he made his way up.
The trig point is about 2m from a steep cliff edge, but there is a slight raised ridge before the drop, which meant that Caroline's dislike of heights wasn't triggered. Despite being late we spent some time taking in the view over to the Outer Hebrides, and back towards the Macleod's Tables. Despite being bathed in afternoon sunshine we could see rain over the Macleod's Tables with accompanying rainbow: although the rain was clearly nearby, it didn't get to us and we had a very pleasant activation taking in the stunning views. This just has to be one of the best one point summits we've done. Caroline managed just 2 VHF contacts, but Martyn had a good run of 15 contacts on 5MHz (perhaps because it was later in the day), followed by 14 contacts for Caroline on 7MHz. We would have liked to do 14MHz as well, but it was gone 7:30 pm and we had to walk out and drive back across the island.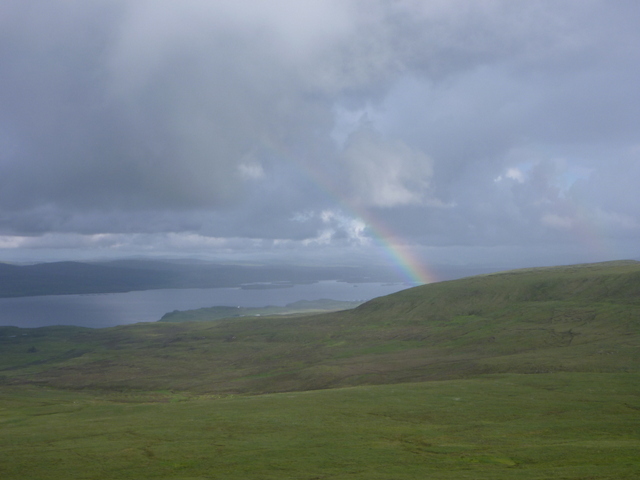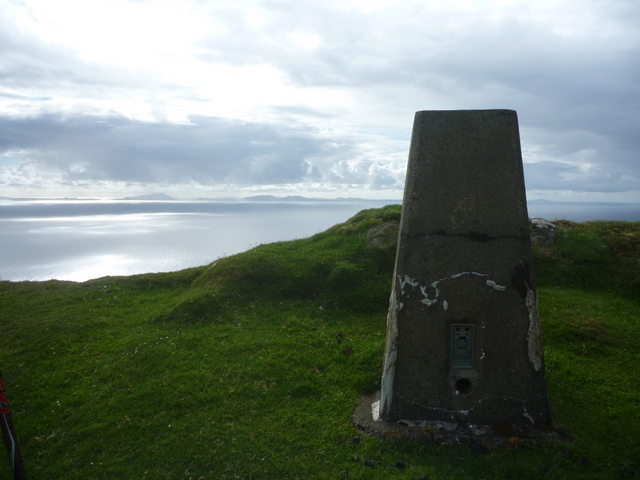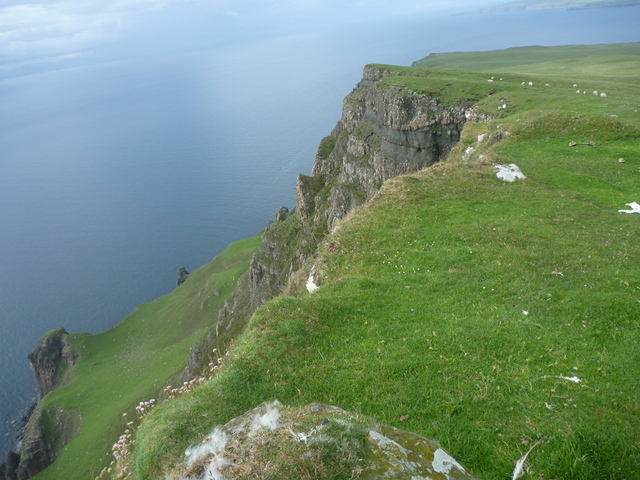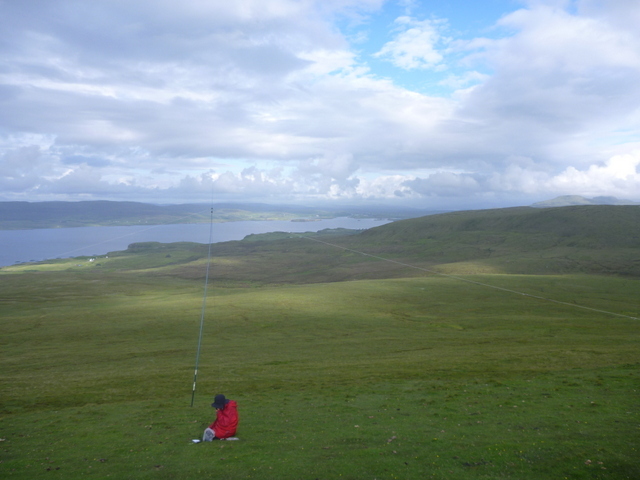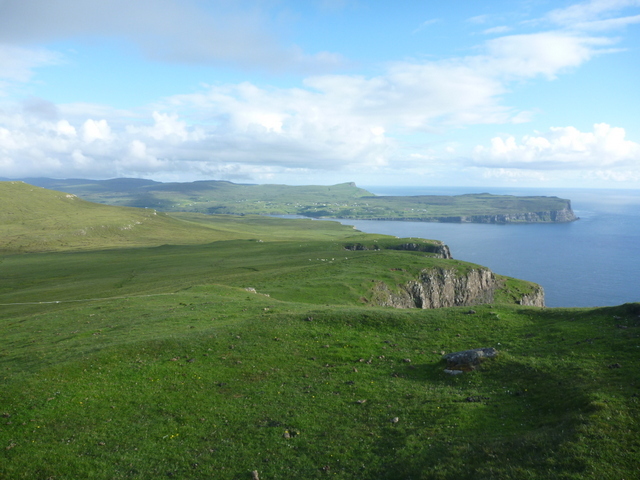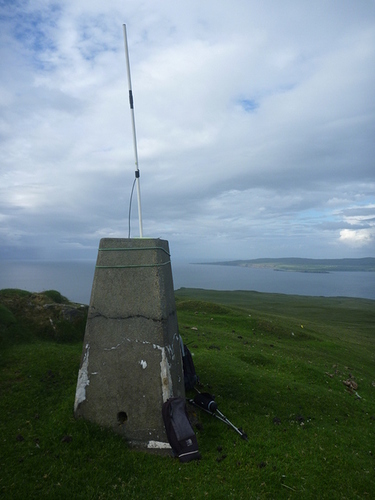 We retraced our steps down to the Galtrigill Burn, and didn't fancy trying to cross the barbed wire fence where we had before, so followed it down the burn and eventually found a section where the top barbed wire strand was broken. We then roughly followed the burn to pick up the muddy path and track back to the car. As we drove back across the island towards Sligachan we had stunning views of imposing clouds and the setting sun, stopping to take photos at after 10pm at night. We were very late to eat, but the second summit had been well worth being late for!