The forecast was for a band of mostly light rain to pass through in the morning followed by a brighter afternoon. When we got up it was dull but dry, but clouds were on the higher hills, so given the forecast we decided to go for a middling height hill – Little Wyvis. Having been up the "tourist" route to Ben Wyvis a couple of years ago we decided on a different approach to Little Wyvis. We parked at in the car park at NH401640, having negotiated our way past a tourist coach that was blocking car parking spaces near the entrance rather than being in the coach spaces, presumably because the coach parking would have meant the tourists having to walk another hundred metres or so to get to the waterfall viewpoint. We needed anti-midge treatment as it was still enough that we were bothered by midges as we donned boots and rucksacks.
We headed past the waterfalls, thankful that the tourists hadn't stayed long, passing over the old now pedestrianised road bridge, and then under the new road bridge which led to a path up through woods which emerged onto a track. The map was very busy at that point and we pondered which way to go, left was chosen and we shortly found a track with gate on the right which looked to be the one we wanted. It however had forbidding notices about access being forbidden to a radio installation, and warning of danger of shooting. The only radio installation we wanted to visit was our own (we presumed that were talking about the one on Meall Ruighe an Fhirich which we had seen to the south of our destination). The gate was open so we carried on, passing above a factory building before bending back on ourselves to a gate which took us out onto more open hillside. Meandering up we passed some horses and a donkey by farm buildings and came to another gate with warnings about shooting, Stuck into the latch of the gate was a piece of paper, which turned out to be a note from someone asking that deer not be let through the gate – it didn't look a durable way of communicating! We passed through the gate, and followed the track upwards – catching sight of just one deer in the distance. It was still dull, so we only took a few photos – it should be better by the time we came back.
Another gate and the track we wanted went left, and the transmitter track right. We followed by some forestry for a bit, leaving it for a set of zig zags which headed up hill. Rather than clearing the cloud seemed to be coming down onto the summit. Near the top of the zigzags we spotted another walker coming up a couple of zigzags below, but going forward we were soon walking in the cloud. The track continued almost all the way to the summit, with just a short walk across short grassy rounded top to the small summit cairn. There were no views – we had expected good views of Ben Wyvis. As we worked out where to set up the other walked appeared – we chatted for a bit – he'd clearly encountered SOTA before. After drinking a can of Irn Bru he was off and we had the summit to ourselves.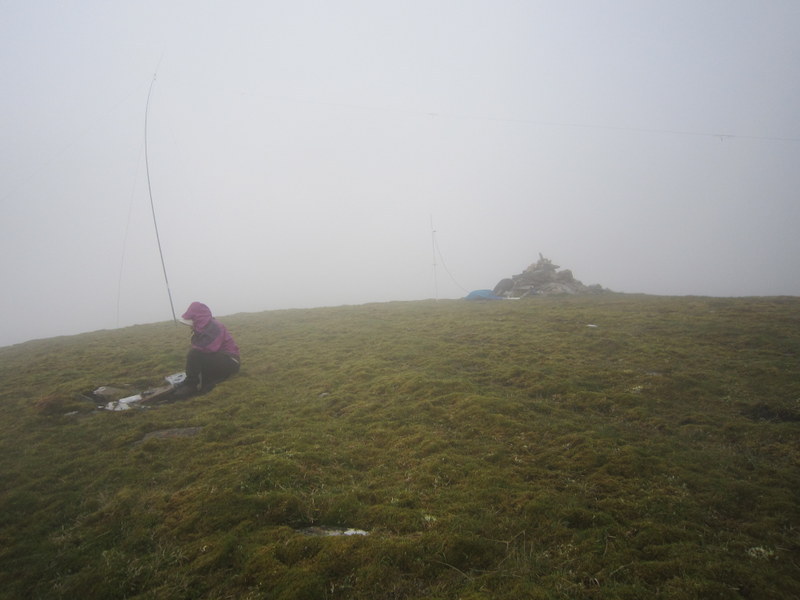 Not much of a view

With no other supports available Caroline guyed the VHF antenna not far from the cairn while Martyn set up HF nearby. A call on VHF calling channel yielded a station on Skye and a good chat, after which Caroline moved over to 145.575 to pick up 3 more contacts. For a change Martyn managed to qualify the hill on 5MHz with 7 contacts. As we decided what band to use next we noted a 10m spot for S57MS, and Caroline could hear him using the 2m antenna, so a quick link change on the HF dipole and we had an S2S each. Caroline then went onto 7MHz – still poor conditions – just six contacts, then Martyn on 14MHz – even worse 3 contacts. Worse still the drizzly rain was becoming harder – it was supposed to be clearing up by now! Perhaps foolishly Caroline decided to try 28MHz, which yielded 6 contacts, including 2 more S2S – F5LKW and DL/G1INK. However the rain had now turned heavy and diagonal, and we struggled to get things packed away without getting everything else wet.
We trudged back down the hill getting wetter and wetter, with fewer views than on the ascent: a definite weather forecast fail. We were glad of our Paramo tops keeping us dry, but the rucksacks were soaked. Once back at the car we grabbed the spare trousers and made use of the public toilets to change out of our disgustingly wet not very waterproof waterproof trousers, before driving back to the cottage to try to dry things out. That done we headed out towards Conon Bridge to find fish and chips. We ordered two standard haddock plus one large chips between us, and back at the cottage discovered that we had three pieces of fish (one enormous and two reasonable sized) and more chips than we could get through! They were tasty too! The fine weather expected earlier finally arrive about 9pm!