I didn't have a life mission of completing GM/ES, but when it became inevitable that, with a bit of effort I would, I thought I'd better get myself organised to mop up the stragglers.
The first batch of these were the one pointers to the north of me. Mainly up along the coast and in Moray. Three trips knocked off 10 or eleven summits in October and November.
I'd stupidly left all of the Angus Glens hills until the end. As the crow flies, these aren't too far from my home, but they are all south of the Mounth - a long strip of high mountain and moorland that only has roads across it at each end. Hills that are maybe 20 or 30 miles away are therefore a 60 or 70 mile drive. Anyway, I knocked off another few in December and that got the list down to one remaining summit. The December trips were tedious, with repetitive road driving, some grim weather and a couple of horrible hills. I decided that I would wait for a nice day to do my last one. I waited a while.
Sunday 26th February 2023 Ben Tirran 896 m GM/ES-016
At 0630 I set out onto empty Sunday morning roads. The drive over the Cairn o' Mount, dual carriageway for a bit and then finally up into Glen Clova wasn't too bad. I arrived at my planned parking spot (google streetview) only to find it fenced off. Thankfully there was enough room to park on the verge.
heading up Glen Clova - Ben Tirran far right, capped in snow
my route up Ben Tirran
I'd originally planned a long loop up and around Loch Brandy and was even going to take in the WWII Wellington bomber remains, 2km north of Ben Tirran, however it was France v Scotland rugby at 1500 and I wanted to get back for that, hence the route choice.
A decent vehicle track headed up the hill. I had to circumvent a herd of highland cows and calves, so took extra care not to come between mother and child.
hairy Coo
Later I missed the turning for the hill path. I blame the muirburn (burnt heather) and the fact that the substantial marker cairn was about 20 m from the track! None the less, I soon spotted it and headed up on fresh snow with patches of water ice. The ground was frozen hard all over. A white mountain hare spotted me and scampered across the slope.
mountain hare
My legs felt heavy but the track was misleadingly steep in places, taking a direct ascent. This eventually started to level off and I soon reached the first top, with a view of the summit cairn a few hundred metres further on.
the ascent eases off
The promised blue skies and sunshine hadn't appeared yet and there was a bitter NW west wind blowing through. I'd brought some bungee straps, as I'd planned on lashing the mast to the trig point. This didn't seem such a good idea now though. I'd brought two antennas - both end feds. Using the trig would mean me sitting out in the wind. In the end, I guyed the mast to the south of the summit, strung up the EFHW and took shelter from the wind in the summit shelter.
Ben Tirran summit
The Activation
I was 45 minutes earlier than planned, so had some time on my hands to explore the bands. The SFI had dropped and K had risen. The sun was doing its thing, so I knew it wouldn't be a DX day. I also knew there was a contest on. I started on 40 m…
…what a Zoo! Every KHz had a voice (or part of one) on it. I have never seen anything like it. It hurt my ears. I found a spare 1KHz space and spotted, somehow managing to work 4 stations before a contest station started calling over me. Goodness knows how anyone heard my 10 w. After just 4 minutes, I called QSY and shuffled off to 20 m.
Elecraft KX2, 5 m RG-174, EFHW. Carbon 6 mast
20 m was up and down with QSB and the contest was still there, but I managed to add another 9 to the log, all EU. To get away from the contest, I went to 17 m. My EFHW works on this band, only due to the KX2's internal tuner. That yielded just 3 more QSO's. 15 m was closed. This was becoming a depressing Victory activation! I'd hoped to work a good number of stations from this hill I'd waited so long to climb.
2 m to the rescue
Local Op @MM0XET Garry had asked me (on 17 m) if I was doing 2 m. I'd brought the hand held and telescopic whip, so why not? It may get a couple more. Well it did more than that! As well as working 9 ground stations, I caught @GM0GAV Gavin for a summit to summit from GM/SS-017 Ben Vane over on the west coast and @MM3WJZ Iain to the south west on GM/SS-075 Ballencleuch Law (108 miles). Oh and Ben Vane was a complete, which I didn't realise at the time. Awesome!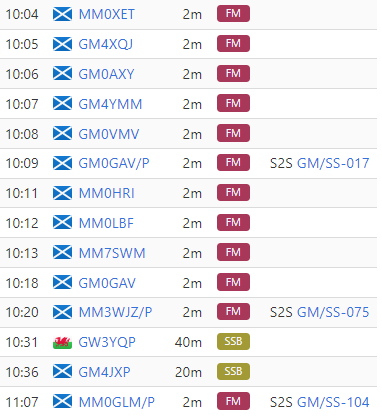 2 m log mainly
2 m QSO's
It was only 1035, so I packed up the HF kit, but only once I'd managed a QSO with @GM4JXP Simon. 40 m was still a mess, but we managed it on 20 m. Just. I then spent 20 minutes taking some photos. The sun and blue skies had appeared and the wind disappeared. I was now a pretty happy chappy. Sun, snow, blue skies and my last GM/ES summit in the bag, with VHF providing most of the fun.
celebratory hot Cross bun
looking up to the Munros of Driesh and Mayar, above Glen Doll
yaesu VX7r
distant Lochnagar GM/ES-008
I set off from the top just after 1100. Unusually I'd left the hand held turned on. It chirped to life. It was @MM0GLM Jim, who was over towards Amulree on GM/SS-104 Meall nan Caorach. I re-attached the diamond telescopic whip for my third summit to summit on 2 m. Nice!
I descended a different hill to the one I'd climbed. The sun had quickly melted most of the thin coating of snow and the ground was unfrozen. I enjoyed great views on the now cleared higher tops, Glen Doll and in the immediate foreground, Loch Wharral.
Loch Wharral
It took about an hour and 15 minutes to get back to the car and another hour and a half to get home. Plenty of time for a shower and some hot soup before the rugby, but we won't talk about the rugby.
Postscript
On the way back down to the car I started to think about my favourite and least favourite GM/ES tops. Tricky this, because some are memorable for band conditions or a single QSO, others for the scenery or even the experience. I love the high mountains, but there are some great 1 pointers out there. Here's a very short list.
Places I'll never return:
Crock GM/ES-056 due to crawling for 300 m through windblow
Anywhere else in the Angus Glens! (not at all fair as I did them all in winter)
Favourite:
Anywhere on the high Cairngorm plateau than allows DX with a handheld on 2 m. Eg. Ben Macdui GM/ES-001 to Scafell Pike G/LD-001 with a rubber whip. A great summit to summit contact!
Anywhere completely in the middle of nowhere. Eg Mount Keen GM/ES-014. My other favourite remote one is Carn an Fhidhleir (Carn Ealar) GM/CS-027, but that doesn't count, as it is in CS.
Craiglich GM/ES-068 (1 point) is just up the road from me and has stunning views up and down Deeside. Just a 20 min. hike from a high starting point.
The reason I've activated 88/87 summits is because I did GM/ES-020 Carn Laith. It was then deleted and replaced by GM/ES-088 Creag an Dail Bheag.
What next? Well @GM4TOE Barry kindly shared a list of the summits inside the Cairngorms National park - a park twice the size of the Lake District. It turns out that I still have 13 of those to do. Thanks Barry.
73,
Fraser MM0EFI