With the "roll out" of the Pfizer vaccine to the elderly and clinically extremely vulnerable persons in the UK starting this week, I am hoping of being protected against this dreadful disease in early 2020. As a result thoughts turn to SOTA activating outside the UK again, despite the unknowns which are still to be settled by a hard deal or a no deal Brexit which no one voted for but which we will have to stomach…
I am in the throes of booking one week in a Gite in Brittany for my XYL and I near the town of Mur-le-Bretagne with a view to exploring the area and activating all the summits in that part of the FL/NO region, which is west of Rennes. The plan is to drive there using the ferries to reach Guernsey, use the foot ferry to Sark and then the car ferry to Jersey, before proceeding on the Condor Ferry to St. Malo, reaching the Gite on Saturday 26th June. On the 27th June the Tour de France cycle race finishes in the town where we are staying, so that will be exciting to watch and to see if Dan Martin, the Irish Pro Cyclist can repeat another audicious win like he did on Stage 6 in 2018!
The map of 150 Km radius shows 11 summits if you include the Channel Islands 3: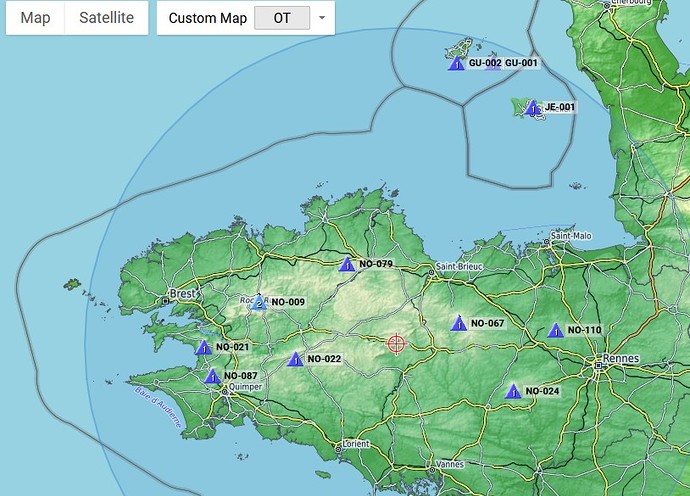 On Sat 3rd July we will leave Brittany and head towards the Channel tunnel near Calais. There is a possibility of stretching this journey out over 2 or 3 days to allow me to complete some more FL/NO summits en-route.
If any other activator is planning to visit this part of the FL/NO region before then please alert this in good time as I need to Chase several summits in that area for the first time. If I could work them from home before we go there is a chance of a few more SOTA Completes!
It's great to be able to look forward to a more active SOTA year now we have the news of the vaccine.
73 de Phil G4OBK