The morning started with some cloud, but improved as the day went on. Having done most of the easily accessible higher hills we headed through Omagh to a couple of the SW region's one pointers.
Our first target was the "drive-on" summit of Pollnalaght. The picnic area car park at H371710 was closed, but there was enough of a layby outside for us to park without blocking the road. We don't really like drive on summits, so out of the three activation choices: the picnic area, the true summit, or the trig point, we chose the trig point. The picnic area didn't appeal, and the true summit looked to be the highest of some peat hags in a boggy area, and we like trig points (even when not quite at the highest point). Since we like our routes to summits to include sections outside the activation area we started off by heading SE along the road past the antenna installation to H377701 where we found a track heading back up hill. The sun was shining brightly and the track provided easier ground then the rough heather/peat/grass, although it faded before we got to the trig point leaving some rough ground. The trig point had nearby peat hags higher then it, but it still provided a good support for the VHF antenna. At first sight the ground looked difficult for HF, but in practice it wasn't as boggy or heathery as it first looked.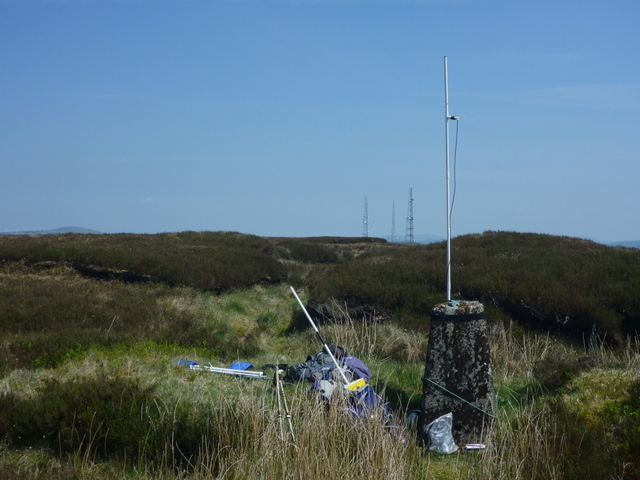 Pollnalaght trig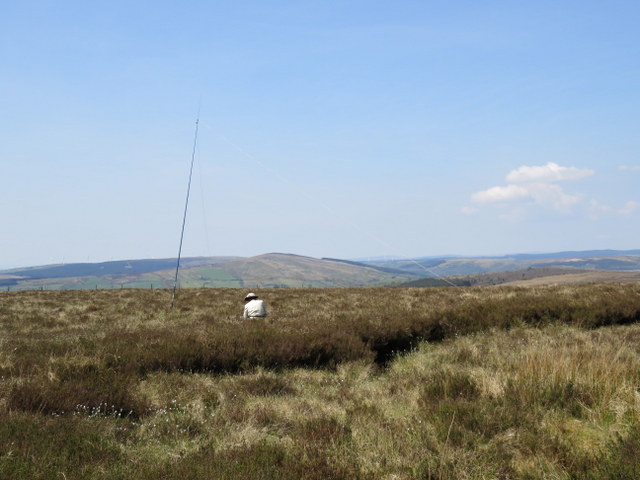 Pollnalaght
This was a summit that looked as though it could be really miserable in bad weather, but in bright sunshine with blue skies, and an almost continuous accompaniment of skylarks it was almost idyllic. We started with a 7MHz S2S with Victor GI4ONL on EI/IN-039. Martyn reverted to 5MHz getting 9 contacts before passing HF to Caroline who had a good run of 22 contacts on 7MHz to qualify the hill after getting just 2 on 2m FM.
On packing up we decided to try to cut more directly back to the road to where we had seen a gap in the barbed wire, which was probably slightly quicker than going back down the track and up the road, though the ground was rough and there was one thankfully slack barbed wire fence to cross.
We headed west to the Sloughan Glen picnic area which was our starting point for Bolaght Mountain, though the final section was along a twisty single track road with few passing places (but thankfully for us no other traffic!). We had picked this starting point having heard there was also a nice waterfall walk there, but as we approached the car park a notice said it was dangerous and closed until further notice. Thankfully our route to Bolaght Mountain didn't follow the waterfall walk itself, and instead we headed along the track heading west from a little north of the car park. After a long straight and less interesting section we turned right over a gate to follow the prettier upper reaches of the Sloughan Glen. Over another gate and we joined the Ulster Way as it headed northish through forest before emerging onto heather moor surrounding Lough Lee and its accompanying wind farm.
Where the Ulster Way left the track to head NE, we followed it briefly, and then headed north straight up to the indistinct heathery top of Bolaght Mountain. It wasn't clear where the true summit was, so we made our base in a dryish highish section. There was some cloud, but still plenty of blue sky. Caroline managed just one contact on 2m FM, but 7MHz came to her rescue with 13 contacts, after Martyn had got 10 contacts on 5MHz. He finished off with just 6 on 14MHz. Back at the car we headed back down the narrow road – again thankfully meeting nothing else – to pick up the better roads and back through Omagh to the cottage.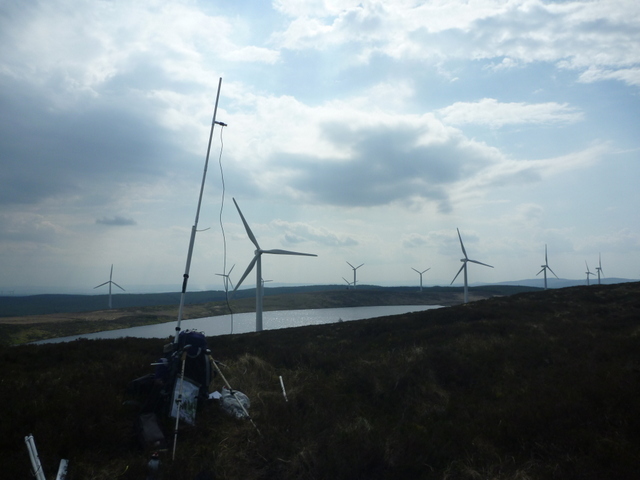 Bolaght Mountain & Wind Farm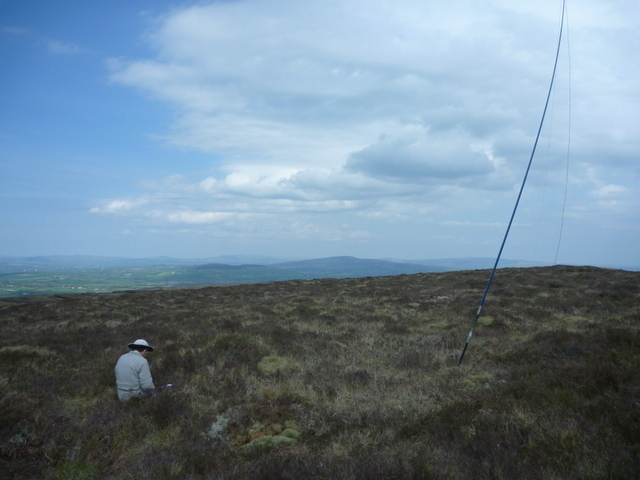 Bolaght Mountain
Caroline
M(I)3ZCB with Martyn M(I)1MAJ