G4YSS: Lakes Week 2016 LINKS:
G/LD-020; G/LD-023; G/LD-004; G/LD-008 & G/LD-001 Report Links
DALE HEAD; KNOTT; SKIDDAW; BLENCATHRA & SCAFELL PIKE.
Introduction:
This reflector post is not a report in itself but merely gives links to GX0OOO/P (G4YSS) SOTA activations during our annual five-night break in the Lake District.
The usual walking group attended, assembled from Worthing, Birmingham and Scarborough. This eagerly looked-forward-to annual event is now in it's 26th year and the 14th time I have attended since 2002; the start of SOTA. It's always arranged for the week after Spring Bank Holiday when the children are back at school. Though that might disappoint some, it also avoids the busy Keswick Beer Festival.
We were thin on the ground this year; the group consisting of Rob, Roger, David and myself. Another four who might normally have been there had gone off on an Israel holiday. Also we are all getting older and developing various 'mechanical' faults.
As before, accommodation was at the Sandon B&B in Southey St, Keswick (now GBP45 pppn). We found evening meals in Keswick at The Wainwright, The Casa Bella or The Pheasant Inn. Cost was typically in excess of GBP20 pp for two courses including a drink and 10% tip.
Group leader David Barnes of Worthing devised the routes based on Lakeland Walker Magazine. A choice from the list was made each morning after discussions the evening before. If it was possible to walk with the group all or some of the way and also take in a SOTA summit, I was with them. Otherwise I went solo. In all cases I took independent transport.
There were five walking days; one more than last year but operations were limited by breakfast time (8am) at the B&B and evening meals in the town at around 6:30 to 7pm. In these circumstances and because of summer conditions, one summit per day is the preferred option.
VHF-QRP station was used for Dale Head G/LD-020 on the first day. The remainder were all given a multi-band HF-QRO activation, although HF band conditions left a lot to be desired.
The was forecast for warm and sunny weather with light winds. Just one day had heavy downpours but there was the risk of thundery showers on all days. One of these materialised on Skiddaw on the 7th June and it was accompanied by static shocks from the equipment.
Lakes Week 2016 Summits Activated and Links to Individual Reports:
Day-1 (05-06-16) G/LD-020 Dale Head:

Day-2 (06-06-16) G/LD-023 Knott:

Day-3 (07-06-16) G/LD-004 Skiddaw:

Day-4 (08-06-16) G/LD-008 Blencathra:

Day-5 (09-06-16) G/LD-001 Scafell Pike:

David's accident:
During the course of the week we suffered an accident. David, Rob and Roger had been walking the hills near Ullswater on Day-3 (07-06-16) when David, the group leader fell on no more than an angled path and suffered a hairline fracture to the lower fibula. Rob and Roger had a walking stick each and Dave used these to hobble a mile down a steep hill to an isolated farm. The farmer gave Roger a lift back to David's car which he then drove back to pick up the casualty.
Once at Keswick hospital treatment started within 20 minutes. An on-call radiographer was summoned. David was X-rayed; the resulting image emailed to a consultant at a larger hospital for diagnosis whence Dave was given a pneumatic splint complete with air pump and told to rest his leg for 4 to 6 weeks.
I drove Dave back to the facility the next morning for proof to be faxed to the RAC whereupon David's car was winched aboard a truck. Casualty and car were then duly taken in two stages, the 360 miles back to Worthing on Thursday. There but for the grace of God, go any of us. It just shows how easily damage can be done and that's how we lost our walk leader.
We all hope David will recover as soon as possible.
…
Summary of walking data:
Day-1 (05-06-16) G/LD-020 Dale Head:
Ascent: 807m (2,647ft) ascent and 12.3km (7.7 miles) walking.
Day-2 (06-06-16) G/LD-023 Knott:
Ascent: 470m (1,542 ft) and 12 km (7.5 miles) walking
Day-3 (07-06-16) G/LD-004 Skiddaw:
Ascent: 726m (2,382 ft) and 10.6km (6.6 miles) walking
Day-4 (08-06-16) G/LD-008 Blencathra:
Ascent: 660m (2,165 ft) and 7.9km (4.9 miles) walking
Day-5 (09-06-16) G/LD-001 Scafell Pike:
Ascent: 893m (2,930ft) and 15 km (9.4 miles) walking
TOTALS:
Ascent: 3,556m (11,667ft) and 57.8 km (36.1 miles) walking
40 SOTA Activator Points
73, John G4YSS
(SSEG Call GX0OOO/P)
…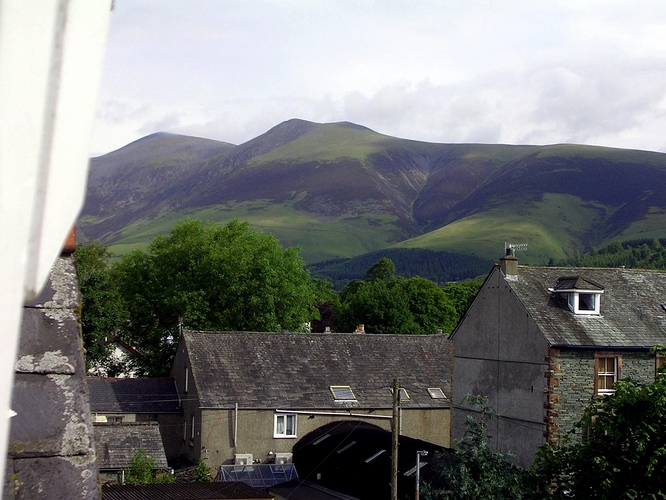 Above: View of Skiddaw G/LD-004 from the bedroom window at Sandon B&B, Keswick.