OK, so I hold my hands up.
I think for several CQs this evening, I mistakenly said I was on G/SE-001… Duh! I was, of course on G/CE-001, Cleeve Hill. I'll put this down to 'brain freeze' added to the failing light.
(It was actually somewhere between the 2 images when I started… they 'joys' of cheap cameras

)
By the time I'd finished it was dark… I had to use my phone as an ad-hoc torch to make sure I hadn't left anything behind!
I had intended to do some HF, but the fading light meant I only had time for 2M FM, with 9 QSOs in a little over 15 minutes, thanks to everyone who called.
Earlier, I was on G/WB-019, May Hill, like Cleeve hill, somewhere I'd been past many times, but never even thought about going up, until SOTA came along.
I looked for the restricted parking space at SO689212 to find it full, there were a couple of 'passing places' I could have used, but the verges were just mud, and I didn't fancy getting stuck! Driving further NW on the road, there was a signpost for 'May Hill Car Park', which I found just past Yartleton Farm, there's probably space for 8-10 cars there, but I found only 2. The first part of the walk was incredibly muddy, the only way I could describe it is with the fine 'Northern word' - Clarty! For the first 3rd of the walk it was mainly 3 steps forward, and one, or two sliding backwards. Several skid marks showed that the horses had similar problems!
Once through the stile, it was a lot better, at least the water pouring over various parts of the wide footpath was relatively clean

The wide path up to the trees on the summit
Finally reached the trig point in about 30 minutes, surrounded as it was with a fairly wide puddle! I had a wander about, and settled on a nice bench just to the North of the trig. Courtesy of the friends and/or family of the late Rosemary Henry. If this was her favourite spot, I could see why (well, maybe in the summer

)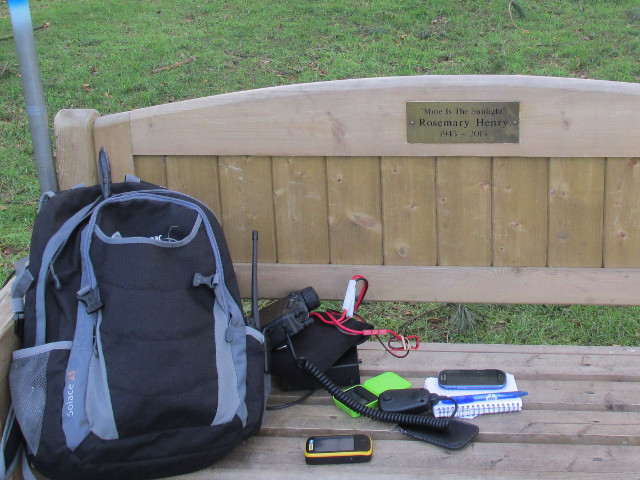 The shack on G/WB-019.
6 QSOs on 2M (10 - 40W into a slim jim on the pole) qualified it, Followed by 26 on 20M (up to 40W and Linked Dipole)
linked diploe and slim jim - up the pole
As time went on, I was joined by some of the herd of Belted Galloway Cattle, and not fancying having my antenna destroyed, I decided to pack up and beat a hasty retreat!
The 2 on the right were headbutting each other… I don't think they really pushed the tree over

It took just over 20 minutes to get back to the car, carefully avoiding most of the mud.
Thanks to everyone who called, although I have noticed over the past couple of days that there do seem a lot more impatient people calling than this time last year… I have no doubt that at least one may have logged a 'phantom QSO'

There's really no need, I like to work everyone I can, unless I say that I'm pushed for time.
Don
m0hcu