Hello everybody,
Firstly a big thank you to all who worked me today on G/SP-014 Longridge fell. This activation was dedicated to the memory of Eric KU6J, who amongst many other good things he did in his short life, was the author of the RBNgate software that many CW activators & chasers have found invaluable over the past few years. As many will have noticed, since Eric's passing the RBNgate no longer works & CW activators are having to go back to how we used to do things, either relying on chasers to find you, or self-spotting. It is hoped that the RBNgate software can be returned to use, but as you can understand Eric's family have far more important matters to be dealing with for the immediate future.
After winning a little money in a raffle at work I decided it would be wise to purchase a 300Hz Collins mechanical filter for my FT897D before they become rare. This would be an improvement, especially for contesting, over the 500Hz filter I already had fitted. The 500Hz filter could then be fitted permanently in my FT817 so I would no longer have to swap the filter between radios each time I wanted to activate a summit.
The idea of activating today in memory of Eric KU6J was first mooted on the NASOTA Yahoo reflector & as I had benefited both as an activator & chaser from Eric's fine work, the least I could do was activate in his memory. My choice of summit today, was not simply because it is one of the easiest for me to get to, but also is the place where I met Dave G4ASA, also sadly silent key, who was a superb former professional CW operator that had stuck with a straight key after being told off by his superior when he dared to dabble with a bug!
I was running a little late when I arrived at the parking spot but in the absence of a 3G phone signal I was unable to amend my alerted time from 1200z to 1230z which I knew by then would be more realistic. As I knew I would be late I decided to relax & treat this as a pleasant walk with a bit of radio thrown in for good measure.
With the rain & flooding we have had in this part of the world over the past couple of months I knew Longridge Fell would be a bit muddy, but thankfully conditions on the ascent were not as bad as I feared. I did contemplate continuing along the ridge to the trig point to also offer that for the WAB chasers, but as that would have involved a 500m trudge through muddy puddles I decided to operate further to the west near the style at SD653408. I thought I was getting old when I found the style more difficult to cross than I remember, it was only afterwards that I noticed the top step had collapsed making it quite a bit more of a stretch than it used to be!
My first QSO was with Alister M0BKQ/P on G/LD-004 Skiddaw using my VX7-R handheld. Alister later commented that there didn't seem to be many stations around on 145MHz FM for a Saturday lunchtime when he only had three stations in the log, I hope you made a few more QSO's Alister!
After setting up my 5MHz – 21MHz linked dipole I called CQ a few times on 5.3985MHz SSB & after a couple of calls I was answered by Geoff G7BGA, he was followed by GI0HWO, G7DHW & M0IOK so whatever else happened I had four contacts & the one activator point. After several more calls went unanswered I decided to pull the outermost links in my dipole & have a listen on 40m CW. I soon found G4MEM/P calling on 7.030MHz CW from G/LD-022 Seat Sandal. We had an easy QSO at 599 both ways but without a 3G phone signal I was unable to spot him. As he was such a good signal I thought he should be OK, yet I was amazed when I got home to find he had not been spotted! I hope he qualified the summit, it's worth 6 points!
Moving up to 7.0325 I called CQ & was answered by M0MPM who kindly spotted me, leading after a couple of minutes to a real pileup!! I'm not used to being on the receiving end of a pileup, especially for a humble one point summit but I had one today. I'm quite used to chasing from my shack & picking out each chaser as they work an activator. Being on the receiving end is a different matter, & for much of my time on 40m CW my calls were answered by a wall of sound with only a couple of characters readable from each chaser. It does help if chasers spread out a little in frequency to help activators pull full calls out of a pileup. QSB, which was reported on several bands didn't help either.
After a surprisingly good run on 40m I tried 10.116 as 10.118 was busy & was rewarded with a second QSO with EA2DT, who had tried to work me earlier on 40m but lost me in QSB. Manuel called me again at the end of my session on 40m & had a good QSO, & it was nice of him to find me on 30m to make absolutely sure of a good contact J
On a similar note, during an S2S with Kurt HB9AFI/P on 40m CW a strong fixed station started calling CQ very close to my QRG whilst Kurt was passing me his summit reference. After asking for a repeat from Kurt I got the necessary details, but the fixed station really should have sent QRL? Before firing up. I do have a recording of most of my activation so I should be able to identify that particular station L
After a call from DK50WEPO a German special event station I had no further calls on 30m so I moved to 20m CW where my only contact was another S2S with Kurt HB9AFI/P just be absolutely certain we had a least one good S2S today J
I had antennas to cover from 5MHz to 28MHz today & I wanted to include bands that may give me a chance of working across the pond. 14MHz had not been good in that respect so I thought maybe 21MHz would prove more fruitful. Time was moving on & rain was getting nearer and I didn't think chancing a call in the hope someone would hear me was worth the risk, so I decided to try again to send a self-spot. Without a 3G phone signal I couldn't spot via SOTAwatch so I resorted to a 2G SMS spot for "21.062 in 5 mins followed by 28.062".
I dropped my link dipole & put up a vertical wire tuned by a SOTAbeams 14MHz – 28MHz EFHW tuner. It took two attempts for the SMS spot to be transmitted but eventually my phone said "SMS Sent" & I took a quick refreshment break before asking QRL? On 21.062MHz
One of my first CQ calls was answered by Rich N4EX at very good strength, although with QSB, which had been mentioned several times already, he could only give me 449 in exchange. Rich was followed by EA5AER, K4MF, N1EU, N1GB & AC1Z so there was some transatlantic propagation at that time on 21MHz.When several more calls brought no further replies I moved to 28.062 which also proved fruitless, & a quick scan around indicated that there may be no propagation on 10m at that time.
I finished my activation with a handful of contacts on 145MHz FM before packing up & arriving home just as it started to rain. Apologies for the odd bit of dodgy Morse, my fingers did get surprisingly cold.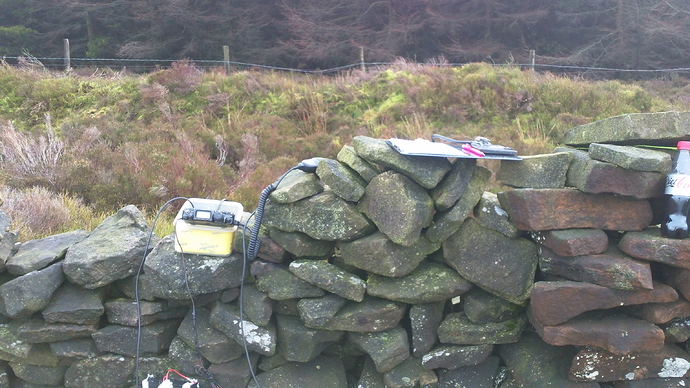 Station location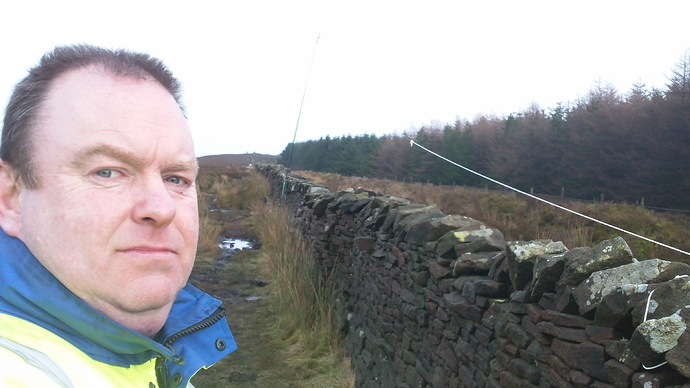 Operator - G0VOF/P
Eric was remembered more than once today.
KU6J RIP Eric . .
Thanks & best 73,
Mark G0VOF