A quick heads up on a planned G/SE activity weekend planned for 22nd & 23rd August. More info to follow.
Things are looking up!
We're hoping to get as many summits as possible activated during the weekend of 22/23rd August 2020 with particuklar focus on the G/SE summits. Hoping there'll be something promoting the event in August RadCom. All welcome to join in the fun - newcomers to SOTA and experienced SOTA activators, of course. Please spread the word, club nets, newsletter whatever. Please drop Richard G8ITB or me a quick note if you're interested or want more info. 73 Tim G4YBU
The map in RadCom is not really readable, perhaps you could post a higher res version here on the forum?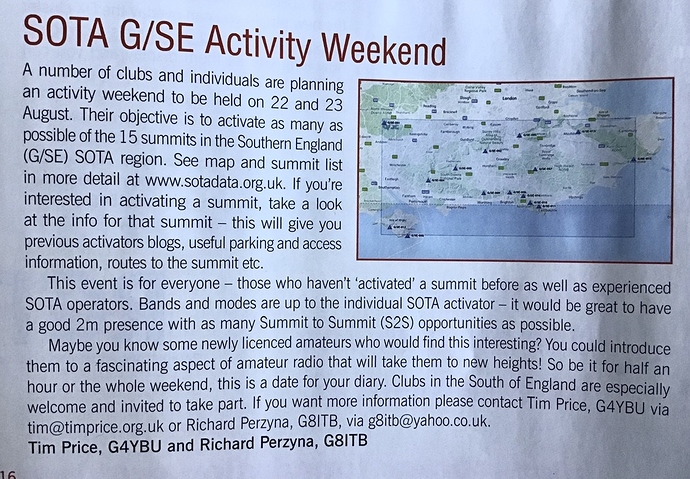 Many thanks, showing my lack of experience there

A diary reminder for the 22/23rd August activity weekend. The long range weather forecast is looking promising!
I've sent a reminder to the VK and ZL teams Tim. Hopefully some will be able to make it out during greyline.
Best wishes to all taking part!
73
Geoff ZL3GA
Activity weekend starts tomorrow and the weather forecast sounds hopeful!
Quite a few short heavy showers here this morning. Hope it's a bit drier over in the South East…
Good luck with the event! I'll be QRV here in Georgia in a few hours. Hope to hear some of you across the pond.
Thanks to all the activators and chasers for making our G/SE Activity weekend such a fun event. The weather was mixed, dry for the most part, the occasional light shower and some wind to contend with but nothing too serious.
Very pleasingly from the Friday to the Monday all 15 of the G/SE summits were activated so some made it a long weekend! We stirred up activity from nearby regions too. Saturday was busier than Sunday.
We had some new SOTA operators and recently licensees joining in. Graeme G0WXI deserves a special mention. He had only activated one SOTA summit before, so quite new to SOTA. Graeme managed to activate 10 of the 15 summits over 4 days and is keen we have another event next year!
From my records, and apologies if I've missed anyone off, we had 15 activators operating over the weekend.
G/SE-001 Walbury Hill M1CJE G3RDQ
G/SE-002 Leith Hill G4YBU G4VHJ
G/SE-003 Black Down 2E1GLQ
G/SE-004 Butser Hill 2E1GLQ
G/SE-005 Botley Hill G4XAT G4YBU G4VHJ G8ITB
G/SE-006 Ditchling Beacon G0WXI M1MRB M0SGL M0TCH
G/SE-007 Crowborough G0WXI (21/8)
G/SE-008 St Boniface Down G0WXI (24/8)
G/SE-009 Chantonbury Ring G0WXI
G/SE-010 Firle Beacon G4TPJ
G/SE-011 Wilmington Hill G4JED G0WXI
G/SE-012 Brighstone Down G0WXI (24/8)
G/SE-013 Detling Hill G8ITB
G/SE-014 Cliffe Hill G0WXI
G/SE-015 Cheriton Hill G0WXI (21/8)
G/CE-005 Wendover Woods G4HSO
Shall we plan to do it again next year? Any comments, things we could improve? Just let us know.
73 Tim G4YBU and Richard G8ITB
Hi Tim and Richard
If everybody enjoyed the event then organise for next year. I managed to chase Botley which gave me a complete so thank you for that. I'm trying to complete activation of G/SE and plans had already been made for this but Covid changed all of that. FYI my son lives in Crawley so hence the interest in SE. If conditions allow I might join you next year to complete my activations of SE.
73 Allan GW4VPX
Hi Tim and Richard,
Thanks for organising this. I managed make a couple of new SE S2S contacts. I will look forward to doing it again next year.
73
Andrew - M1CJE