I read with interest the "Dogs on Summits" as the powers that be had decreed that a family dog was now in order and as this could well be a ticket to the hills "Just Walking the Dog back this Evening…" via the Lake District! This is where the reflector was a bit disappointing. This site is a wealth of information and advice, somethimes conflicting on batteries ( would 4Ah do?), antennas, masts, amplifiers, boots, riucksacks, microphones, summit advice but as far as I could detect nothing on what flavour dog would provide a walking ticket!
Anyway to stop this being entirely off topic we now have an English Springer Spaniel (Woody) who is now able to do shorter walks.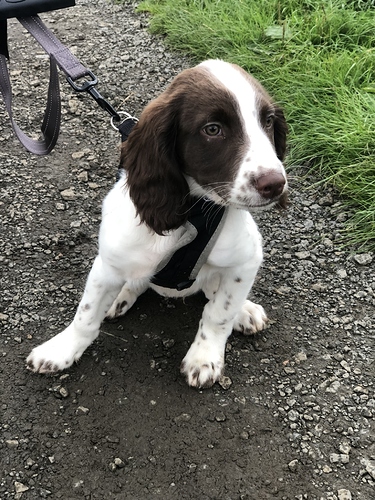 With the oldest two children bust being paid to chase grouse along the hillside towards the waiting fleet of range rovers an escape was planned.
Great Knoutberry is a relaitivly short walk, and by driving along the road past Garsdale Station the walk starts at 500m ASL. A short walk along an easy track is followed by a slightly boggy ascent (170m climbing and about 1.5Km walking) to the Summit.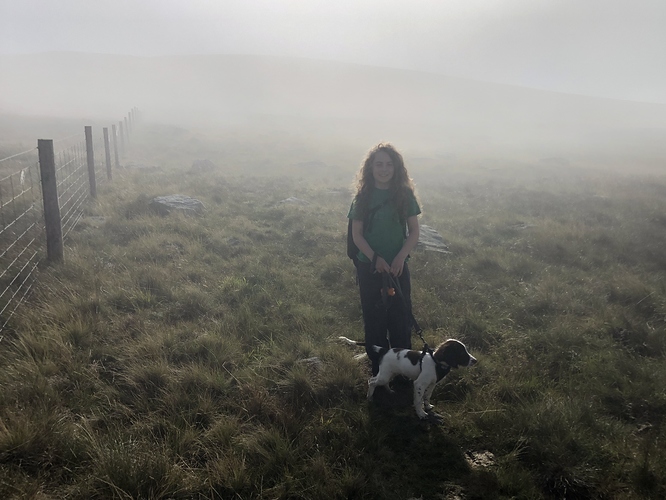 Despite the seemingly bright sky the sun didn't break through all morning. I started on 80 which seemed a bit dead, curiously strangely as did 40m with a high SWR. What could do wrong with a linked dipole? The connection at the top of the mast from the Coax, so a bit of twisted wire later and we were off!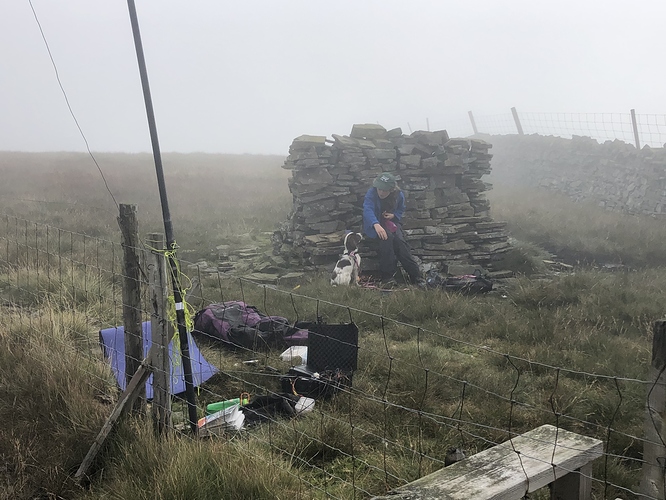 Qualified 80m, and then moved to 40m where I seemed to be causing quite a pile up. Some very short skip which was probably a bit too long for groundwave (Sporadic E???). I know there was a couple of stations I missed at the end -but a combination of batteries going flat (was 4Ah enough? (must re read the reflector) and bored puppy which was starting to take an interest in eating its way through the radio gear and Emily. I had a quick go at 2m before descending.
The drama had not quite finished as by the car I went into the rucksack for the safe place where the car keys are kept … nothing! In the rucksack …nothing the antenna bag…nothing the radio box …nothing the box with the logbook in…nothing. Given that its an old landrover getting is was not going to be a problem but it wasn't going anywhere in a hurry - after all I fitted the new steering lock six months ago!
Then I double checked my pockets… Keys! Success!!!
Once in the car the Dog was asleep in under five minitues, only brefly surfacing to sit beside us as we enjoyed a lemonade and chips (Seriously!) at the Moorcock at Gardale Head.
Well to conclude the choice of Dog seems appropriate (English Spinger Spaniel) and I am looking forward to some bigger walks as he gets a bit older.
Equipment FT-817 - Speech processor, MX-P50M amp running about 30W. Linked dipiole at about 6m and 4Ah LiPo battery (4S1P) and buck converter to get nearer 12v. 2l water, dog biscuits (more needed next time) , retired climbing tape and karabiner to attach Woody!
73, Paul, Emily & Woody (and apologies to anyone I missed on 40)