The final full day of our SOTA trip, and we hoped to get two summits in, but we needed to be back in reasonable time to pack up to leave next morning. Which two out of Birks Fell, Great Shunner Fell and Great Knoutberry Hill should we do? Our recollection of Birks Fell was that it wasn't an inspiring walk or summit, whereas Great Shunner was awkward and boggy, but a nice summit when you get there and 6 points instead of 4. So we headed up to the high point on the Buttertubs pass and parked by the cattle grid.
The last time we had done Great Shunner we had been walking over snow, but this time it was snow free, and we seemed to find a better route, sometimes following faint paths between grouse feeding stations, and sometimes just ploughing across the heather. As the fine summit shelter came into view the wind picked up: it was going to be another windy activation, but for the second day running we had some sunshine with scattered clouds running across the blue sky. We expected this to be a busy summit, but the shelter was empty when we arrived, and the strong wind was coming from the west, so we made our base in one of the shelter's quadrants on the eastern side. Caroline had trouble supporting the VHF antenna against the wind and ended up with it just projecting over the top of the shelter bungeed to one of the rocks in the shelter: any higher and the wind was going to snap it. Martyn set up on rough ground on the east side of the hill: windy but not as bad as the west. A party then arrived at the top and occupied both the two usable quadrants, but were happy for Caroline to stay where she was. Unfortunately, we weren't able to show what fun could be had playing radio on a summit as conditions weren't good. Caroline found VHF hard going, but eventually got 4 contacts, at which point Martyn came over asking if he could grab a VHF contact, since 5MHz was not playing ball either, and he had just 3 contacts. With the VHF contact getting the hill qualified he went back to 5MHz while finishing lunch, but there were no more contacts on HF. Caroline ended up with 6 contacts on VHF. We packed up and hoped for better radio on the next hill.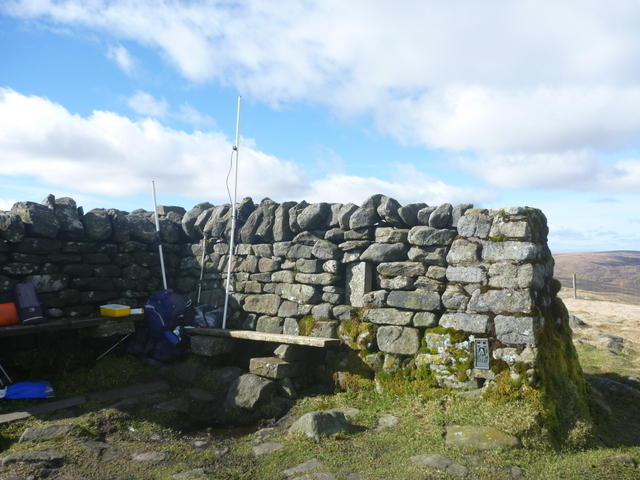 Great Shunner Fell: shelter with built-in trig point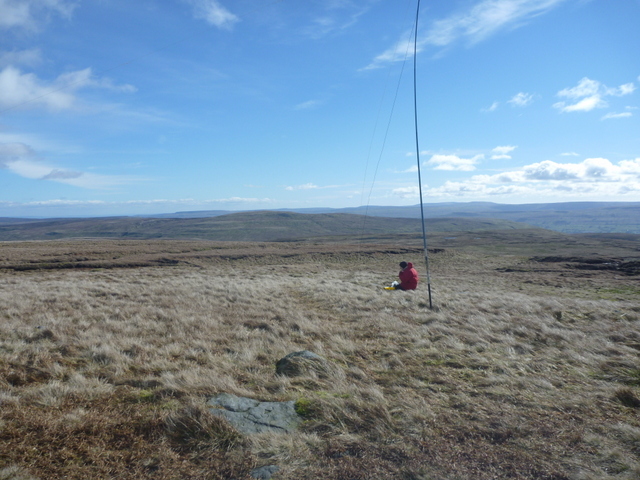 Great Shunner Fell: HF station
Our next target what Great Knoutberry Hill, which owed us a decent activation, since we had first done it two years previously when the ground was covered with snow, and high winds and snow had appeared by the time we reached the summit, so we ended up doing a VHF only activation using the rucksack antenna crouching behind the wall in near blizzard conditions. We headed to Garsdale and turned up past the station, only to see a sign saying that the road was closed due to snow and ice. Hmmm, the road looked a lot better than when we had been up it last time (when it was icy and the road width had been reduced by snow drifts). We decided to carry on anyway, and there was no sign of snow or ice on the road at all. As we approached the parking we noted there was a car already parked there, and then noted that there was a SOTA bumper sticker: ah this summit might already be occupied. Caroline manoeuvred the car into a space behind the other car, and as we started to get our stuff out, we spotted someone walking down the track back to the other car. It turned out to be Neil G0WPO, and we had a bit of a chat: he'd been working 20m and 40m, so hopefully there would still be 2mFM and 60m chasers left for us.
It was still a sunny day, with some distant mist and occasional clouds, so it was a pleasant walk along the track and then up along the fence line. It was still windy, but not as bad as on Great Shunner. The trig point was surrounded by water, and close to fences, so wasn't going to provide an antenna support. The lighter wind meant that Caroline could use one of the fence posts to support the VHF antenna and get it slightly higher, while Martyn set up HF on the least windy side of the hill. Despite being lower than Great Shunner, Caroline did better on 2m FM with 10 contacts in less than half an hour. 5MHz was also better and Martyn soon had the hill qualified with 16 contacts. We had time for Caroline to try 7MHz: conditions weren't good, but she managed 6 contacts including an S2S with Luc ON7DQ on ON/ON-001.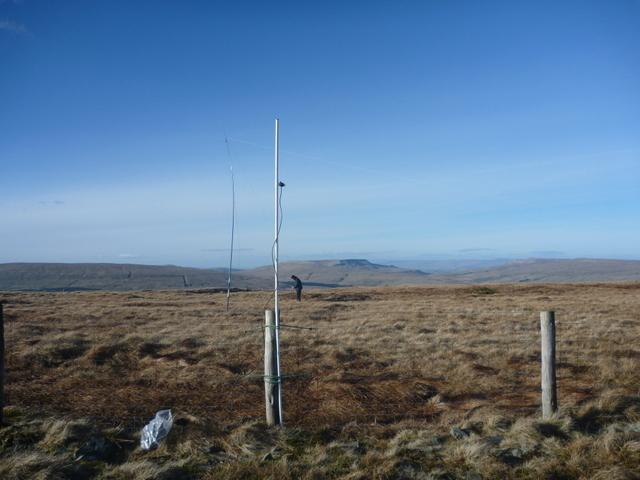 Great Knoutberry Hill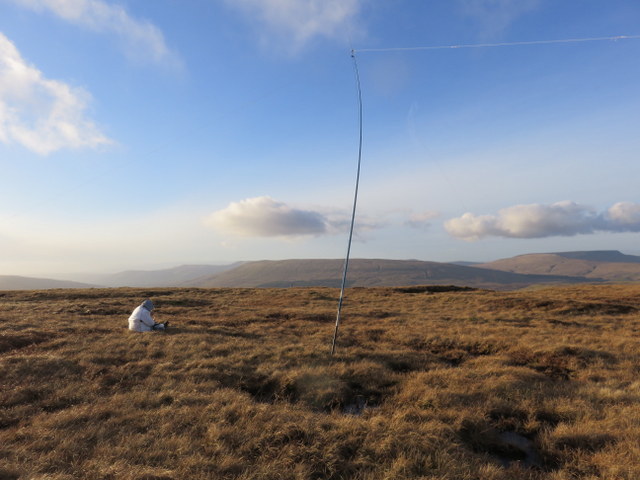 Great Knoutberry Hill
We packed up and headed back down the hill, getting views of the cairns on the hill, and clouds just topping higher hills. We finished off the day with excellent haddock and chips from the shop in Hawes.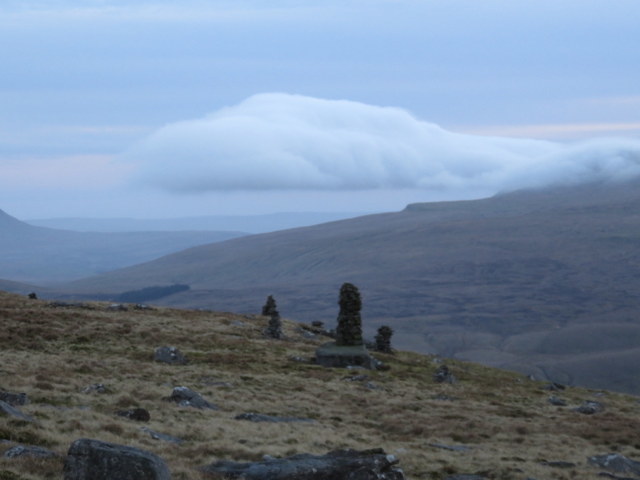 Cairns and clouds