After my first, failed SOTA activation of Great Shunner Fell (G/NP-006) (Didn't manage to activate G/NP-006 - advice needed) I decided another go was in order. In my BC ( Before Kids ) existance I had climbed a significant number of Munroes in winter, however a cmbination of age, a 15 year break plus the challenge of showing my 14 yr old son how to use an ice axe made me somewhat reluctant to go to the lakes (G/LD) and go for a much more gentle hill which would be much harder to fall off of.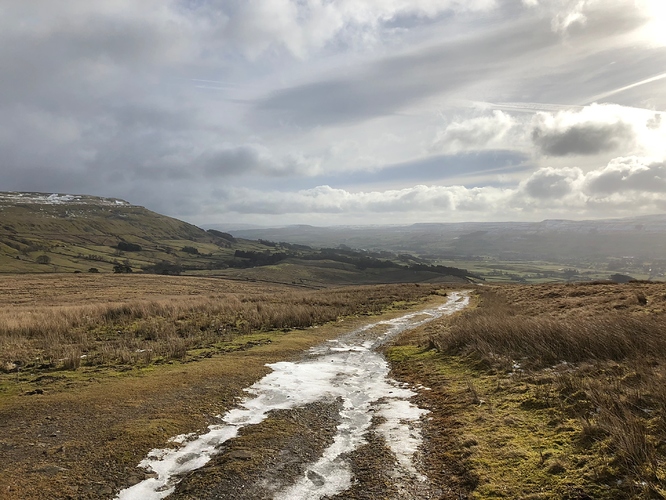 After a gentle drive ( about an hour ) we arrived in Hardraw at about 10-15 and began the ascent in warm sunshine with no wind. Not very suprisingly for the North Pennines it did not stay that way and we were soon in a very strong cold wind walking in snow. I know that some languges have various different words for snow so I would welcome suggestions for the stuff that sometimes fails to support your weight and then drops your feet into a slushy mess underneath. We had a couple of ideas but felt they could fall foul of the moderator!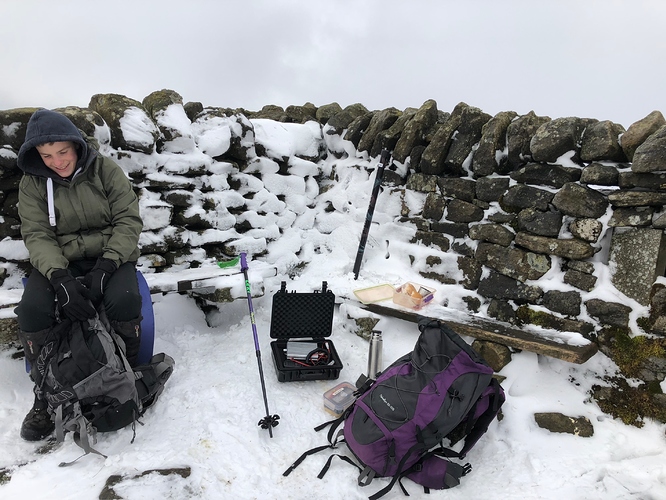 Some time later we reached the summit and wilst Matthew ate his way through sandwiches, biscuits and a flask of Chocolate I set about activating. A quick call on 3.760 resulted in being spotted and a pile up. Really suprised by an SM and ON contact on 80 in the daytime and amazing to have a noise floor of less than S1! Many thanks to G7AFM for spotting me - it saved trying to manage a text message spot in the cold. Many thanks to all the chasers who were patient whilst I fumbled putting the log on the phone.
A couple of WAB stations asked if I was by the trig point, which I failed to see. However on returning a quick Google search showed THAT WE WERE SAT ON THE REMAINS OF THE TRIG POINT so anyone who has me in the log can add the trig point too!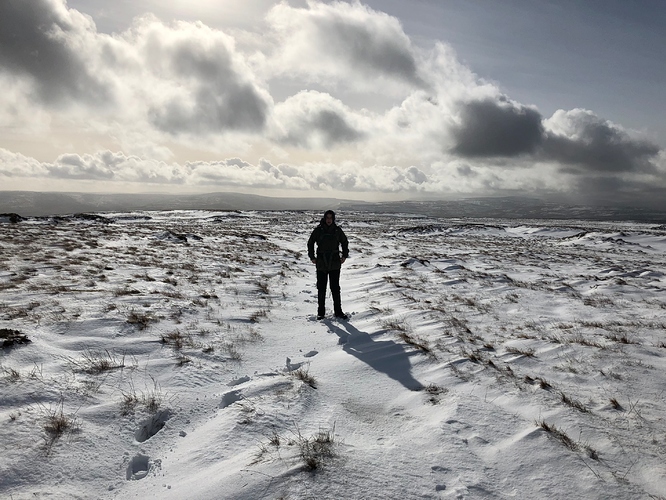 ( Kit FT817, MXp50m amp , 8m mast which due to the wind was nearer 5m high, linked dipole for 80/60/40 4AH LiPO4 and lots of layers !). Apologies for not getting onto 60 or 40 - too cold and the wx was deteriorating.
So what was different from my last failure? I was spotted, I was on 80m not 20m running 40w not 5w. The SLAB has been replaced by a LiPo4 (4AH) , the rig and amp are in a relatively bombproof case and I have started logging using HamLog rather than try and use a pencil. (This is not foolproof when the windchill takes the temperature to -7C). As for what I could do better - find out about the trig point in advance and be a bit more careful packing ( I am not entirely sure how the mains powered batter charger found its way into the activation kit! )
We both enjoyed the walk - which is not the shortest or easiest way up NP-006 but was the easiest to drive to in icy conditions. ( We walked approx 14km with 475m of ascent which through the areas of wet slow made it feel more…), although my son still fails to have the radio bug (You could have just used your phone Dad!..).
73
Paul