A nice day to be out on the fells in the Lake District. Waking up at 5:30 local means getting on the fells at silly o'clock - I was on the summit at 06:30 UTC and thought the radio would be quiet but that wasn't really the case - there was a Russian contest on keeping 20m alight.
Very fortunate that my first contact was with R63RRC the Popigay-Ary Island Expedition in Asiatic Russia.
Deep QSB on both 20m and 40m meant being patient for QSOs, especially the S2S. I took the Garmin Virb with me and managed to catch the initial run of 40m chasers so if you want to know how you sounded listen out on the video (QSOs start with ON4CB at 5:32 in the video and end with HB9DBM/P who snuck in just before the first battery died).
Please be gentle - I'm not in the same league as @OE5JFE Joe but I did try and add a bit of music to soften the blow of poor editing! Transport was via the Yamaha R1.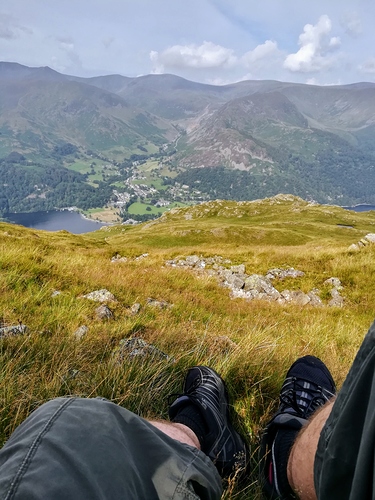 The views from the operating position overlooking Glenridding towards the Helvellyn range are breathtaking.
Many thanks to all the chasers. It was a beautiful day, a wonderful time to reflect on how fortunate I am in so many ways.
73!
Date: 03/Aug/2019 Summit: G/LD-027 (Place Fell) Call Used: M0NOM/P Points: 4 Bonus: 0
| Time | Call | Band | Mode | Notes |
| --- | --- | --- | --- | --- |
| 06:47z | R63RRC | 14MHz | SSB | |
| 07:00z | F4FCE/P | 7MHz | SSB | |
| 07:12z | ON4CB | 7MHz | SSB | |
| 07:13z | ON3YB | 7MHz | SSB | Lucas |
| 07:14z | 2E0FEH | 7MHz | SSB | |
| 07:14z | EA2CKX | 7MHz | SSB | |
| 07:14z | EA2DT | 7MHz | SSB | |
| 07:15z | G0VWP | 7MHz | SSB | |
| 07:16z | DL2HWI | 7MHz | SSB | |
| 07:17z | G0RQL | 7MHz | SSB | |
| 07:17z | ON7ZM | 7MHz | SSB | |
| 07:19z | DL1DUE | 7MHz | SSB | |
| 07:19z | F5BBD | 7MHz | SSB | Daniel |
| 07:20z | PA0B | 7MHz | SSB | Rob |
| 07:20z | SM4CJM | 7MHz | SSB | |
| 07:21z | 2W0FLW | 7MHz | SSB | |
| 07:21z | DJ5AV | 7MHz | SSB | |
| 07:21z | G0TDM | 7MHz | SSB | |
| 07:22z | GW4VPX | 7MHz | SSB | Allan |
| 07:23z | DL5OAB | 7MHz | SSB | Ben |
| 07:25z | DL8WEM | 7MHz | SSB | |
| 07:26z | SP9AMH | 7MHz | SSB | |
| 07:27z | EA2TP | 7MHz | SSB | |
| 07:32z | HB9CRY/P | 14MHz | SSB | |
| 07:34z | HB9DBM/P | 14MHz | SSB | Mark |
| 07:38z | LB8CG/P | 14MHz | SSB | |
| 07:42z | DJ7UA/M | 14MHz | SSB | Mario Camping |
| 07:52z | G0TDM | 14MHz | SSB | |
| 07:56z | DL1KGS | 14MHz | SSB | |
| 08:08z | 2E0ESY | 3.5MHz | SSB | Norfolk |
| 08:10z | M0BKV | 3.5MHz | SSB | Damien Cornwall |
| 08:12z | MW0XOT | 3.5MHz | SSB | |
| 08:13z | GB8ABG | 3.5MHz | SSB | g4iar |
| 08:15z | 2E0FEH | 3.5MHz | SSB | Karl |
| 08:16z | G4AFI | 3.5MHz | SSB | |
| 08:17z | G6NHW | 3.5MHz | SSB | Pete West Midlands |
| 08:20z | G1OHH | 144MHz | FM | |
| 08:34z | G7THI | 144MHz | FM | Frank Hoff |
| 08:37z | GM4WHA | 144MHz | FM | |
| 08:38z | G4TRY | 144MHz | FM | Tony |
| 08:41z | 2E0MIX | 144MHz | FM | |
| 08:52z | DH2PA | 7MHz | SSB | Patrick SW Germany |
| 09:04z | GX3WIM | 7MHz | SSB | John Rygate Hill M25 |
| 09:09z | G0EVV/P | 144MHz | FM | David |
| 09:19z | DL1GRC/P | 14MHz | SSB | 1 300m alt |
| 09:20z | RN3QN | 14MHz | SSB | Oleg |
| 09:23z | HB9BHW/P | 14MHz | SSB | |
| 09:25z | HB9DBM/P | 14MHz | SSB | |
| 09:25z | HB9MKV | 14MHz | SSB | |
| 09:27z | SV2HSY | 14MHz | SSB | |
| 09:30z | IN3CVK/P | 14MHz | SSB | |
| 09:35z | DK0DFF | 14MHz | SSB | |
| 09:35z | MW0JHC | 14MHz | SSB | Fleetwood James IO83lw ATAS-120A mobile home |
| 09:50z | LZ304AE | 14MHz | SSB | |
| 09:53z | IK3SSW/P | 14MHz | SSB | WWFF: FF1761 |
| 09:54z | G0TDM | 144MHz | FM | |