Christ Cross G/DC-005 is a small summit in Devon UK and one of only 7 SOTA summits in the Devon/Cornwall region. Today I had the opportunity to activate it and approaching from Honiton in the east (I had an early morning visit to Bridport) I could see it on the skyline, the communications mast on the summit clearly visible between the showers.
The last few miles of the approach to the summit are down narrow lanes and parking is limited when you arrive. Following the example of one or two previous activators I didn't go to the summit but set up beside the road which is well within the activation zone. This wasn't laziness on my part but we have had some very heavy rain recently and this was the best way to avoid the mud. The raised verge (below) was firm to walk on and mud-free. The chair is where I sat - I did not sit in my car!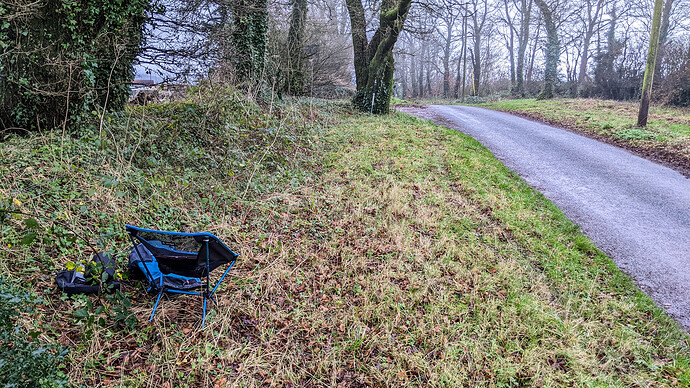 Because of the lack of space I had brought with me the MP1C vertical which I have had good results with before. You can just see it in front of the tree in the photo. It looks close to the tree but is actually about 3m away. In hindsight it probably should have been nearer to me. Radio was my usual IC-705 with a 4.2Ah LiFePo4 external battery giving 10W.
Starting on 40m SSB was disappointing with only one QSO to Manual EA2DT. He really struggled to hear me and gave me a 44 signal report. The band was very busy and finding a spare frequency was difficult.
Switching to 20m SSB was better with QSOs with SA4BLM and OK1SDE, the latter also giving me a 44. I tried 10m SSB but it was dead but turning then to 15m SSB I could see some activity on the waterfall which was encouraging. However, I had only one QSO on this band, but it was a good one to SV2HJW in Greece who gave me yet another 44.
After calling CQ for a while I fished out the Morse paddles and tried 20m CW. I haven't done much CW practice over the holiday period and it showed! My reading and keying was dreadful but Nicolas F8DGF persevered after I convinced myself his call was F3DGF. He came back a second time on my next CQ and then it struck me he was sending the 3 dashes and 2 dots of an 8 not the 3 dots and 2 dashes of a 3. Its a not uncommon rookie error I think - reversing dots and dashes in your head, for example reading a K when an R was sent. I wasn't much better with Damian M0BKV in Cornwall, which is close for 20m.
With time pressing I packed everything away before trying 2m FM on my Yaesu 65e HT. There was no response initially but after putting on the AH770 antenna M0TYM/P came booming through from the summit of nearby High Willhays. I don't think the longer antenna did the trick, it was just luck he chose that moment to be listening on 145.500 which I had turned to after giving up on my spotted frequency. It was very windy where I was but he was in a gale on the exposed summit of High Willhays and was unable to keep a mast up for HF so was trying on 2m only. I hope he was successful. After we had finished he handed me over to his daughter Alice, M7SQT/P so we could complete another S2S. I always check callsigns when I get back on QRZ but M7SQT came back unknown. I thought I must have made a mistake but a bit of Googling confirmed the callsign was correct, she is just not on QRZ.
So a not exactly impressive 8 QSOs and disappointing results on the higher bands and my dismal CW skills on display again. I'm sadly about a week too late I think for 10m and the SFI is creeping back down now as the recent sunspots swing away.
I've now activated 5 of the 7 G/DC summits with only the two most westerly still to do. It is quite a trek even from my home QTH to reach them but if we get some good weather during the next couple of months I will make for them.
Using M0NOM's ADIF mapping processor here is a map of today's QSOs.