Hi All,
Just a short report on yesterdays FT8 activation of VK3/VC-031, Arthur's Seat. Band: 40 m. Ant: dipole in inverted V with apex at 4 m. Set up in grassy area of picnic area. Power 25 W for 10 minutes, 1 VK2 QSO. Then 15 minutes later, 10 minutes at 50 W for 1 VK2 QSO. Lots of DX seen but none of those calling CQ heard my response. I resorted to SSB to get the 4 QSO's. I used a standard Laptop as I only had to walk 100 m from the car park. No problems with visibility, the sun was getting low in the sky at 4 PM local. Visitors, 4 in total. Here are two who didn't say much.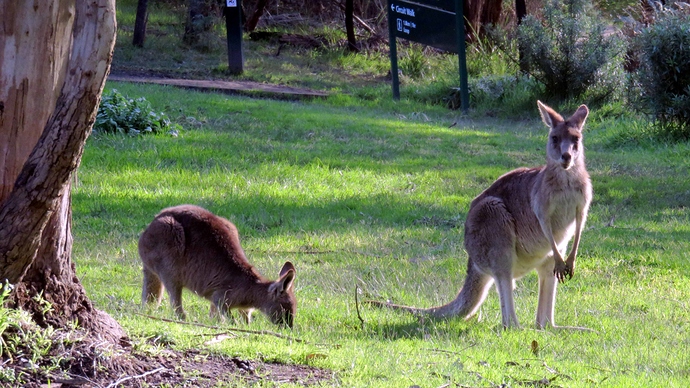 On checking PSK Reporter this morning I saw I was being heard at good strength in ZL3 and Northern VK2. VK5 should have been possible as three worked on SSB. -18 dB reports from USA and Ireland…
I miss-typed my SMS spots but suspect that most JT8 operators in VK don't monitor SOTA activity.
At present while FT8 offers better signals than other modes there are not enough VK/ZL SOTA chasers using the mode to make it viable at present. The DX is unlikely to see weak signals due to them being buried under big guns.
I'll try again another day when I'm not so pressed for time.
73
Ron
VK3AFW