I've used Clublog since its inception - as someone who has logged on computer since 1990 its so easy to update ones records by importing an ADIF log to the website at Clublog every day or two. Michael G7VJR and the support team have done a great job creating and maintaining Clublog via charitable donations.
With the rise in the use of datamodes operation, mainly due to the use of the computer soundcard and the modern transceivers with USB souncards built in for decoding signals, I decided to check on my increasing use of datamodes, from 2017 up to the present day. I started using FT8 in March 2018. I haven't yet used datamodes for activating SOTA, only for chasing the DATA activators amongst us. If I do try activating SOTA using DATA it will probably be on G/TW-004 where the carrying distance for the extra equipment from the car is minimal…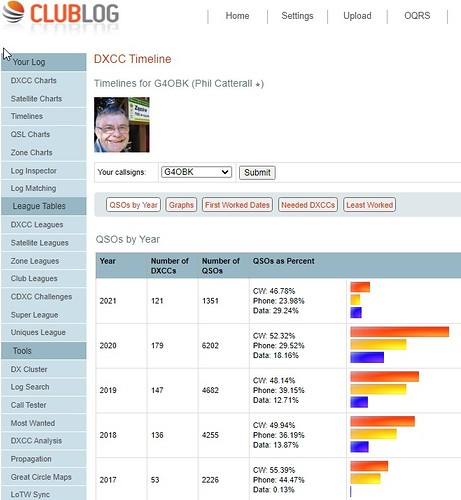 The chart above in my case shows an increase in my use of data modes this year of 29% prior to my adoption of FT8 in March 2018. The chart shows a reduction in SSB contacts of 20% and a reduction in CW contacts of 8.5% for this year and an increasing trend year on year since 2017 to use DATA modes at an increased % level more or less, every year.
My operating interests are SOTA, DXing on HF and VHF and occasional contests (some RSGB MGM, some CW non-RSGB Contests). So for this year out of 1351 QSOs up to yesterday, 47% are CW, 24% are Phone and 29% are DATA. In my case FT8 has taken me away from phone operation more than it has from CW.
It also seems to me, that my interest in SOTA is ensuring that the highest proportion of my activity is still done using Morse Code - thank you SOTA Activators for keeping CW alive!
The DATA SOTA Activator experts pulled from the database worldwide are: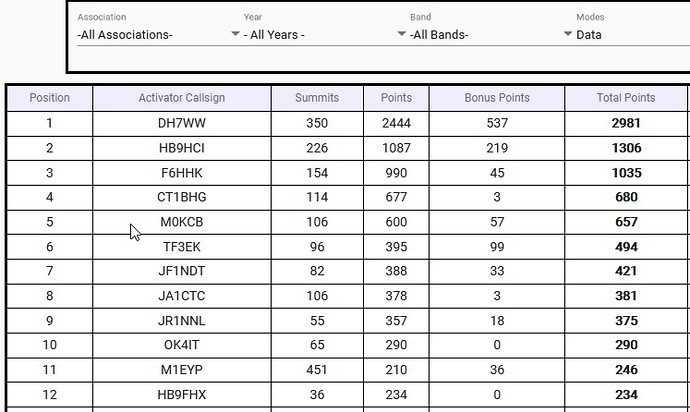 The DATA SOTA Chaser experts pulled from the database worldwide are: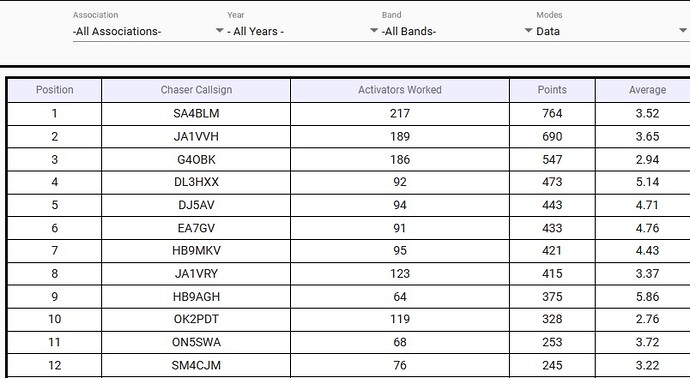 It has been suggested by some that the use of FT8 data is changing the hobby as we know it beyond recognition. I personally do not think that is the case to a great degree, but it will be interesting to see if once the newness of these efficient machine modes wears off, if usage returns to the traditional Voice and Morse modes.
73 Phil G4OBK