Another bright sunny morning – a shame to be going home, but hoped to activate the "Ponderosa" pair of SOTA summits north of the Horseshoe Pass on the way home. We parked opposite the Ponderosa around noon after some delays on the road. It was gone 12:15 before we were on our way up Moel y Gamelin, a little later than scheduled. The parking was relatively full, and there were quite a lot of walkers in both directions.
As we headed over Moel y Foal we heard Nick GW4OOE calling from Black Mountain and worked him hoping for a S2S later. It was beginning to cloud over but we still had good views with the white peak of Snowdon in the far distance. There was enough of a breeze at the summit, and sufficient other walkers that we set ourselves up away from the cairn on the North East side. But before we set up properly we had some S2S contacts to grab with the rucksack antenna and hand held, Nick was still there followed by GW1FOA on Rhialgwm and MW0XOT on Drygarn Fawr. Caroline quickly got the necessary 4th contact and before long G4VPX came along on Stiperstones with a 4tth S2S which Martyn also grabbed to get the summit qualified with S2S calls. Caroline had a good run of 30 contacts on 2m FM: struggling to find enough pauses to eat her lunch. Meanwhile Martyn had a good run of 19 contacts on 5MHz. We didn't have time for other HF bands if we wanted to do Cyrn-y-Brain as well, so we packed up and retraced our steps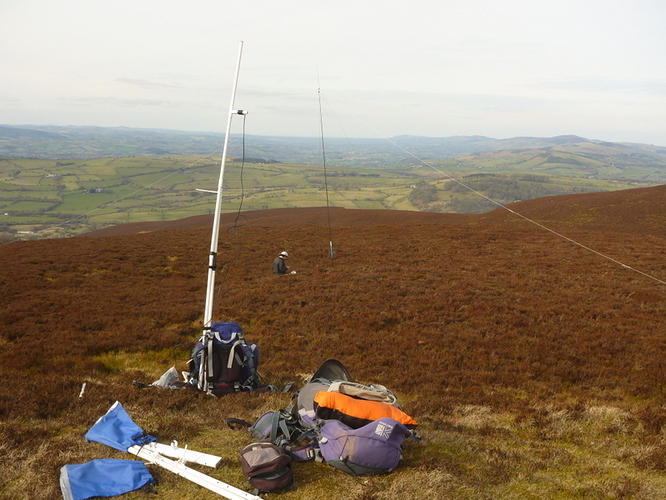 We topped up water supplies at the car and headed past the Pondersoa and up the transmitter road: easy if slightly tedious walking. The activation area is large, with the true summit being the first of the three summits, though visually the third with the trig point looked higher. Nice as it would have been to get to the trig point, we didn't really have time to go the extra kilometre, so headed for the shelter at the true summit. We had seen no other walkers on this hill, so Caroline set up in the shelter with Martyn a little way north. We again started with a 2m FM S2S with Allan GW4VPX on Corndon Hill, we had the FT817 out but were still using the rucksack antenna. Allan also had James MW0JCQ on Mynydd Troed on frequency, but although we could hear there was someone there he wasn't really workable. We told Allan we were putting up a better antenna, and James also changed antenna, with the result that we both got a 51 each way S2S.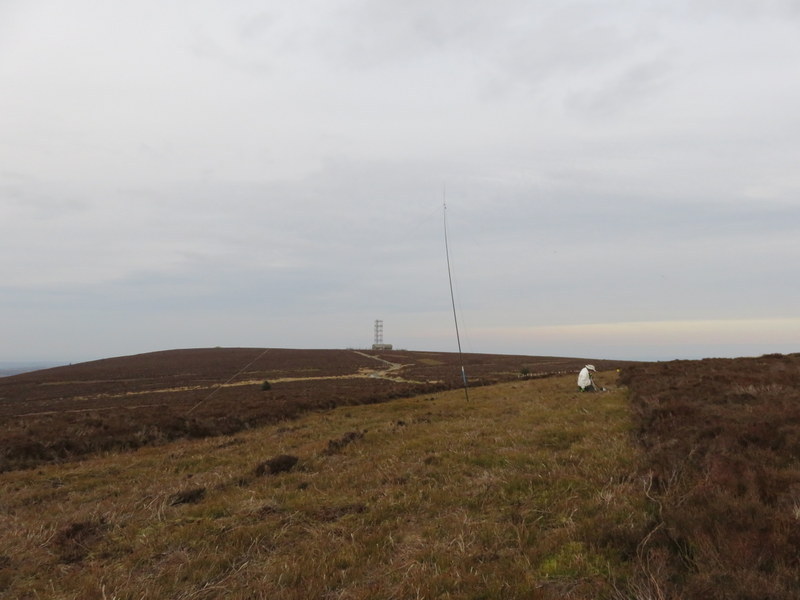 Despite being only a couple of miles from Moel y Gamelin 2m FM was slower, with Caroline getting 11 contacts. After Martyn had finished on 5MHz with 19 contacts, Caroline took over HF for 40m. She struggled to find a free frequency with at least S8 signals across the band, but a spot brought 23 contacts before the frequency was lost. Time was getting on so we packed up and headed rapidly down the hill. It was 18:30 before we were on our way on the long journey home: a long but good final day of holiday.