Including a 17th birthday look back to the early days of SOTA - read on below
9 SOTA activations in the day - a new personal record
31 activator points collected - but no S2S (perhaps not surprising!)
Storm Freya following me through the day!
The Shropshire Five is a classic SOTA day out, and a "must-do" for all serious activators. I was noticing that several such serious activators had indeed been completing this suite of summits in this early part of 2019 - well, who wouldn't, with the 150% boost on offer courtesy of the winter bonus?
So how could I make mine different? Turn the Shropshire Five into the Shropshire Six. The Shropshire Five already includes one summit that isn't even in England, never mind Shropshire, so why not two? I greedily thought that if I could add in Gyrn Moelfre GW/NW-049 at the end, I could turn my 25 points into 30 - not a bad haul for a day out.
As Del Boy would say, I'd need to "whip round them a bit lively" - so the plan was to go mega lightweight with 2m FM handheld only - no problem in this part of the world. For most of the activations I wouldn't even bother with a rucksack - just stuff the handheld and logbook into a coat pocket and go for it!
1. Brown Clee Hill G/WB-002
I set off from Macclesfield at 0530, and breakfasted at McDonald's in Bridgnorth around 0700. It was a sausage, egg and cheese bagel, with hash brown and Tropicana orange juice, for those of you that follow these things.
I parked at the picnic area, from which probably the most pleasant of the three main routes up Brown Clee Hill originate. In fact there's a couple of variations available here. Once into the picnic area you can bear right or left. I couldn't remember which was the way, so I went right. I was soon on an unfamiliar but good graded path, angling upslope through dense forestry - so I must have gone left last time!
This led out onto the tarmac access road for the transmitter site, but near to the summit plateau. At the top I did suspect significant desensing of my rig from the close by masts, as well as the audible pager QRM. As such, hearing incoming reports was quite challenging, but I got qualified with five 2m FM QSOs inside nine minutes.
For the descent, I looked for the path off the summit plateau down towards the woods, in order to make it a circular walk. As I got into the wooded section, I noticed that a BMX bike track had been crafted into the soil, so I followed this back down to the road. I didn't use the ramp to bunny-hop over the gate though.
By way of celebration of SOTA's 17th birthday, I'll close each summit report with an old photo from each hill:
This is from 3rd Januuary 2005 - Jimmy aged 12 and Liam aged 7. That trig point is no longer there.
2. Titterstone Clee Hill G/WB-004
Navigation was easy today, as I'd programmed all the parking points into my satnav. I must get round to saving them all onto a memory stick before my car goes in for its first M.O.T. this month, just in case the battery gets disconnected in the workshop and I lose all the information I've programmed into the unit!
Despite having activated this hill umpteen times before, I actually found a new route up it. I walked along the road up to the first CAA complex on the hill, and noticed that there were actually two tall wire fences running in parallel on its northern boundary. In between the two was a paved path for walkers. I'd never spotted this before! Walking through it brought me round to where the metalled road reemerges from the back of the compound, and I followed this up to its end, very close to the summit.
No problems with desensing or QRM on this hill, and six chasers were in the log on 2m FM, in a mammoth three minute operating session. The weather for the first two hills had been wetter than anticipated - the forecast had been for the rain to come in somewhat later - but less windy than expected, with Storm Freya reported to be still off the Cornish coast at this time.
This photo from the past is dated 30th May 2003: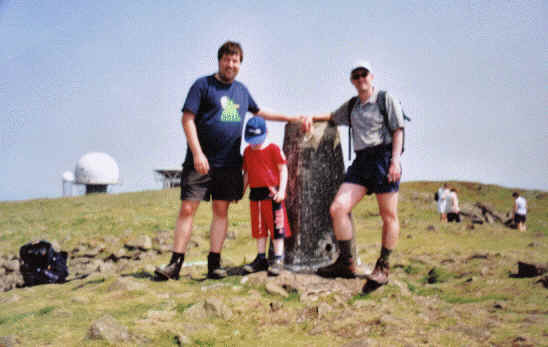 In this one, Liam is aged 5, and even Richard G3CWI and myself were in short trousers…
3. Long Mynd - Pole Bank G/WB-005
I parked on Portway, opposite the short wide track to the Pole Bank trig point. This is a ridiculously easy summit for five points!
I operated right beside the trig point on 2m FM, and no problems from any NT wardens! The band seemed a little quieter from how it had been earlier that morning, and just four QSOs were recorded. Mind you, that's all we need, so that will do nicely!
This photo is from 27th May 2003: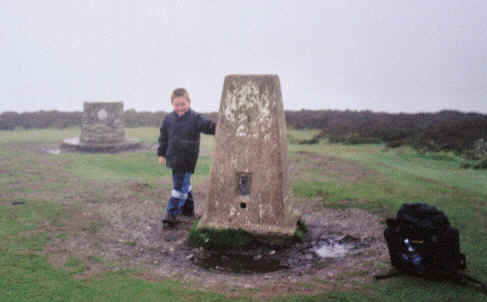 Liam, then aged 5, and myself visited Pole Bank while Jimmy was away on a motorbike-and-sidecar roadtrip to John o'Groats with his grandad.
4. Stiperstones G/WB-003
From the Long Mynd, I drove down the hill into Bridges, then back up the other side to the Stiperstones NNR car park near The Bog. Again, I headed up the hill without rucksack or trekking poles, just carrying a small drybag containing my handheld, phone and logbook.
Once onto the main summit ridge, what was a decent path quickly deteriorates into arguably the worst cobbled street in Great Britain. You really have to watch where you're placing your feet, and it's hard to keep a rhythm going.
I walked alongside the summit rocks a little beyond the trig point, until those rocks gave me good shelter from the strengthening wind, with Freya on her way. It was dry, so operating was comfortable and easy. Five QSOs were made on 2m FM with the handheld.
This photo from the archives is also from 27th May 2003:
Liam is enjoying a drink beside my first ever portable SOTA antenna, an HB9CV - which was rubbish. So rubbish that it inspired G3CWI to develop the SOTA Beam.
5. Corndon Hill GW/MW-013
This is normally the terminus for the 'Shropshire Five' - but I had other ideas (yet still considerably less than what actually ensued). After the initial bit of fairly level track, there is then the steep slog of the hill to the summit. The footprint steps were not very horizontal, but were rather greasy with mud, so I made a mental note to avoid them on the descent.
I think my fitness must be quite good at present, as I was able to keep going and not keep stopping, looking up and feeling despondent that I wasn't getting any closer. I was up on the summit fairly swiftly, but then you could really start to feel the force of Freya!
This hill used to be densely forested on one side, and that would give excellent shelter to activators from the typically south westerly winds. But that entire side of Corndon Hill has been felled, and now the summit is VERY exposed! It would be magnificent for a VHF contest - on a very calm day!
Storm Freya now had the potential to be disruptive, to cause problems. Due to the steepness of Corndon, I'd wanted my Leki poles on this one, so the drybag containing my stuff was placed into the rucksack. When taking off this very light rucksack, I placed it carefully beside the summit cairn, with poles and rocks placed over it so it wouldn't blow away!
It was now raining heavily, and blowing a gale, with some very powerful gusts that nearly knocked me off my feet several times. As such, operating was very difficult. In fact holding a paper logbook, with the anxiety not to allow Freya to rip out pages of as-yet unsubmitted activations (I haven't entered any of my 2019 activations in the Database yet!), was very difficult. Five contacts, summit qualified, one unanswered QRZ? call - time for a sharp exit.
I was now getting rather hungry, so looked out for a local shop en route to the next summit. I didn't find one that was open, but when I got to Buttington, just north of Welshpool, there was a big shop there at the filling station. My late lunch comprised a hot steak bake, a full packet of six Welsh cakes (I'd only intended eating one of these and taking the rest home for the lads, but, you know…), an orange and carrot flavour Juiceburst drink and a can of Red Bull. Fine dining at its finest.
The archive photo this time is from the very first Gaulfest, 29th December 2003, a tradition we resurrected at the end of 2018:
Jimmy is aged 11 in this photo, and was in his last year of junior school!
6. Mynydd-y-briw GW/NW-060
I'd planned to head for Gyrn Moelfre GW/NW-049 as my sixth and final summit of the day. Following my satnav I reached a road junction that I recognised, with the signpose "Briw". I realised I was a few minutes from the parking spot for Mynydd-y-briw, a very easy summit. I diverted up to it as I reckoned I just about had enough time to squeeze it in before Gyrn Moelfre.
The summit cairn is in the field just behind the radio station complex at the top. I decided to remain this side of the fence and buildings, at the top of the access track, and make use of the little shelter the buildings provided.
Compared to earlier, things seemed slower to get going on 2m FM, but I ended up making seven QSOs, which in fact was the most of any summit in the day.
I needed to get cracking though, as I wanted to be on the summit of Gyrn Moelfre while there was still some daylight for the photos.
The archive photo here is from 30th December 2003. It doesn't show me, so you can't see how young I was (33), but you can see my inexperience and naivety. How many mistakes can you count?
And the answers:
Radio, microphone etc are far too close to the snow-covered ground. It looks like I've used nothing more than a small bag to place them on.
An old fashioned, liable to break/fail glass thermosflask. Stainless steel is the minimum standard for expeditions.
Normal paper logbook (in fact looks like a school maths book - wonder where that came from?) - certain to fail in the wet/damp.
Normal black biro. See 3.
At least this photo is a slap in the face to the Flat Earth conspiracy theorists, actually proving that the Earth is much rounder, and in fact much smaller than any of us ever thought.
7. Gyrn Moelfre GW/NW-049
As usual, I drove into the yard at Moelfre Hall and knocked on the door there. As usual, a very pleasant lady cheerfully gave me permission to park there and use that route to the summit. The route starts and ends on PROWs, but the middle section - which is the majority of the route - is, I believe, private. I get the impression its use as a route to the summit is very customary, but it's best to be polite and ask, especially with the bonus of the very convenient parking.
Storm Freya had properly caught up with me on this hill. However, it was kind of to my benefit. It was at my back and actually pushing me up the hill. It was the easiest ascent of Gyrn Moelfre I'd ever done!
As I homed in on the summit, I could tell that the wind was now dangerously fierce. Standing - and moving - was now massively impeded. I carefully place my rucksack down in a semi-sheltered hollow just beneath the summit - but still weighed it down with several rocks. I then carefully edge my way to the trig point for a couple of photos. Getting back down to my rucksack - just a few metres away - was incredibly tricky!
Thankfully the chasers were all on board with my predicament and were cooperative with very quick and simple exchanges. Five 2m FM QSOs were made. I very carefully replaced my phone, handheld and logbook into my rucksack, grabbed my poles and commenced my descent.
Even during my few minutes on summit, the storm had intensified, and now little bits of soil and grit were being whipped up and stinging my face. I really didn't want to see if the storm intensified further, allowing stones and small rocks to be whipped up! I made the decision not to follow the usual winding track down, but to drop more steeply and directly down the grass beside the stone wall. This would lose me height more quickly, something I thought would be to my advantage. For the second time in the day, I ended up zigzagging down a purpose-crafted BMX track!
Once I was back down on the main track, it was actually possible to stand up and walk without too much energy wasted on battling the gusts. Daylight was now over, but I didn't don my headtorch as my night-vision was adequate. It was a good feeling to be back in the yard at Moelfre Hall and getting into my car!
Now for the drive back across to East Cheshire. I connected my phone to my car's Bluetooth so I could have a chat with Jimmy M0HGY. Marianne and Liam were still out at a concert in Manchester and he was sorting himself some dinner. Jimmy pointed out that I'd matched our previous joint record of seven SOTA activations in a day. I was still full of energy, and mentioned to Jimmy that I was thinking of adding in The Cloud G/SP-015 and Gun G/SP-013 on my way home! His response? "You should do Shining Tor as well then dad and make it 10"…
The crazy thing is I actually thought about actually doing that, a couple of times, briefly.
OK, back to the archives, and back to 30th December 2003:
My first successful activation of Gyrn Moelfre, having climbed the hill with Liam and Jimmy on the Boxing Day and not managed to make any contacts before the weather turned and time ran out - a SOTA failure I had long since forgotten about! Researching for these archive photos brought it back to my attention!
8. The Cloud G/SP-015
I can do this walk with my eyes shut, so the darkness of night is not really a problem. Especially not with a fully charge Petzl headtorch illuminating the way. What I forgot to do was take any photos at the actual summit. At least my activation was on 2m FM though, so it's obvious I was up there!
It was windy on The Cloud, but significantly less so than it had been on Gyrn Moelfre GW/NW-049, so maybe Freya had now passed through and heading north. Four QSOs made, all 2m FM with the handheld.
The archive picture here is back to 30th July 2003, which would have been my 9th wedding anniversary. We're celebrating our silver wedding this year - where does the time go?
Liam, just turned 6, joined me for this one. In those days he took a toy car to keep himself amused, whereas now it's a handheld games console and a smartphone!
9. Gun G/SP-013
The walk up to Gun was calm and pleasant, so I assumed that Freya had indeed passed through and was well on her way to Scotland. Then I touched the trig point. Then all hell broke loose and the gusts were chucking me round all over the place.
I planted my size 12s as firmly as I could, gripped my paper logbook as firmly as I could, and made my CQ call. The bands had gone quiet again, and several CQ calls were required. Well, that, and I think despite my best attempts to shelter the microphone, considerable wind noise was still getting into it, and no doubt putting most casual monitors off my giving me a call.
Nonetheless, the four QSOs were recorded inside five minutes, and I could be on my way home. Any lingering thoughts of Shining Tor G/SP-004 were now completely extinguished; I had no desire whatsoever to discover what the gusts on Gun would be like some 172m higher up on a hill that is completely exposed to the south west! So I guess I'll award Freya a "goal" for that one!
Finally into the archives again, and another from 30th July 2003:
Here we have the original SOTA Beam - possibly even a pre-production prototype.
A total of 45 QSOs were made in the day. All 2m FM handheld. My thanks to all the chasers that worked me on this memorable SOTA day.
@G7HEM x2
M6IOI
M0WPS
@M0NTC x2
G1PHN
@G0LGS x2
@M0YDH
G7TGK
G0NUN
@G8MIA x2
2E0NPC
2E0IXM
@M0PLA x2
@2W0JYN x2
G4URM
M0TBQ x2
G0OHY x2
@2E0MDJ
@G4TQE
@G7LMF
G7WAB
2E1ICK
M0EOT
2E0FDN
M6NNK
M3STG
G0WBT
@M1DHA
2E0XLG
@M6NSV
@2e0dij
M3MQW
M6OBQ
M6YCE
G1HIP
@G4HZW
M3ISJ