It's winter bonus time. I have noticed that unlike the Black Forest, the Summits in the Vosges are rarely climbed in winter. That can be changed. This year I was little in the Vosges and there is something to catch up.
Unfortunately, many roads in the Vosges are closed in winter, and so it is often difficult to get close to the summits.
The rainy weather of late has melted snow but produced a lot of mud.
One of my goals was to reach the 100 completes. To do this, I have to activate summits that I have already reached as a chaser.
FL/VO-019 is often activated and I already have it as a chaser in the list. What could be more obvious than to activate it myself. It is a comfortable drive-on to reach, which is probably the reason for its popularity.
To drive only for a mountain in the Vosges is in my opinion a waste of gasoline. So there must be at least a 2nd summit. I have already reported that my attention is on summits that have not yet been visited so often. In the area around FL/VO-019 there are a lot of them.
My view fell on FL/VO-069: 901m ( 10+3 Pt.), not so high… therefore not so muddy, but otherwise? -
To say it right away. It is once again one of the underrated pearls in the Vosges: You get quite close to a forest parking lot at 48.36079 7.35248 … There is a well signposted beautiful hiking trail… At the top, there is everything your heart desires: benches and a table, a lookout tower with a beautiful view, space to set up antennas…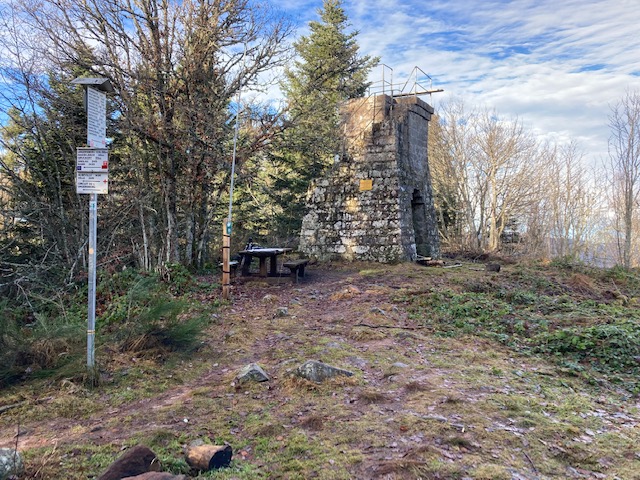 In this area I will be around more often in the next year…
---
By the way. Ignacio @EA2BD made my day … I chased him from FL/VO-019 on EA2/NV-151 where I was with Guru @EA2IF for an activation in september. This was my 100th complete.
73 Armin