I wish to draw all of attention on this question.
There is a list of the summit in SOTA website. Typical sample is those below
https://summits.sota.org.uk/summit/JA/SO-027
It shows "First Activation" in right side as shown like below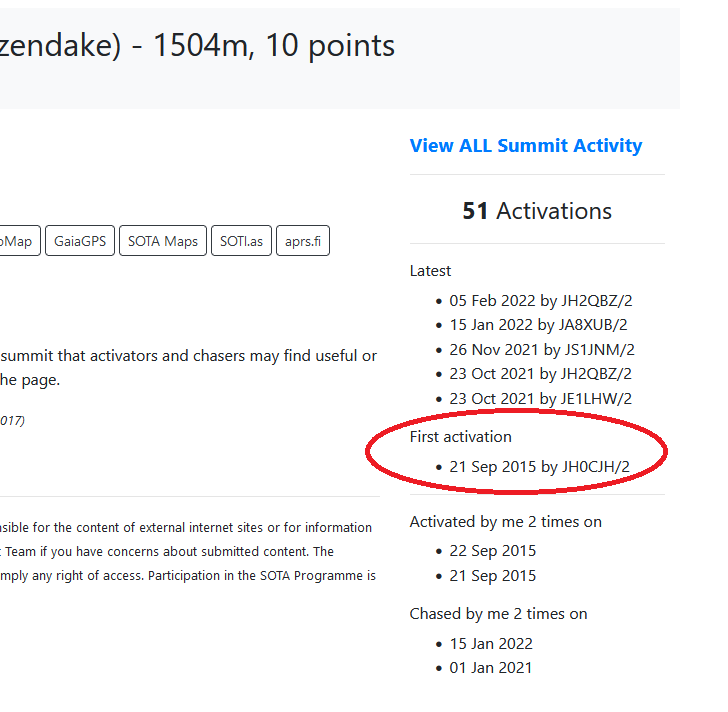 This gives me a great motivation for first activation. Actually I have several first activation records.
But recently my friends got back-dated SOTA activation reports by others and his first activation record has been swapped by this back dated reports. It was more than 5 years retro-record and surely it might not be activated as SOTA program. This makes my friend very disappointed.
Then I thought this may happen for everyone. The reason of this back dated report may come from this "First activation" record in each summits list and looks like very honorable work. Some SOTA activation in high peak or dangerous peak, yes it is very honorable but is this "First Activation" indication is really need?
First activation is easily made for old man like me who joined SOTA program from very beginning. But it is not easy for young activators. SOTA Japan wish to invite many young stars in the program and it is a little dint in the program for them.
I actually got First Activation record and was my big motivation but now I'm wondering if this is really required to show in each summits list.
This may affect first activator record holders, actually me too, but we need to think about the case like this 5 years back-dated reporting and how young stars see this First activation in SOTA program. I simply don't want people to get compete mind by this indication.
Toru K JH0CJH / JA1CTV SOTA MT, SOTA Japan AM