Today, Franz ON9CBQ/DL3RBF achieved his 3rd mountain goat on FL/VO-092 … in style.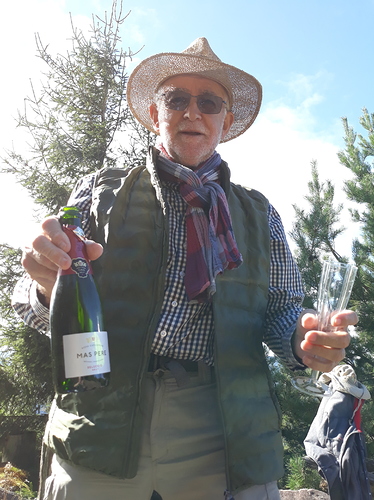 Peter ON4UP
ON association manager
Hi Franz
Congratulations, good to see that you are still clocking up the points!
73
Nick
Congratulations to the 3 mountain goat, Franz
73 Markus in3adf
Congratulations Franz! No luck on 40 meter sofar on yourr FL/VO trip. 73 Karel
Congratz Franz,
keep on activating, nice job sofar. Next 4Goat.
73
Frank (almost 2goat)
Franz,congratulations and well done.Pleasure to work you.
Have a good day.73 Don G0RQL.
Hello Franz,
My best wishes and congratulations to your 3rd MG succes.
Good luck and 73, bye
Hansjoerg (alias John) OE7PHI
+
Bravo Franz!
Congrats on your 3x MG achievement.
73, Woody/K1LB
Congrats on your TRIPLE MG Franz !
But shouldn't you have celebrated it with a Belgian style TRIPEL ?


73
Luc, ON7DQ
Congratulations Franz, you should celebrate with a Westvleteren Tripel (Abt)

Herzlichen Glückwunsch, Franz! Einmal Goat immer Goat

!
73, Sylvia
Congratulations, Franz, for the amazing achievement. 3xMG is a really hard work and lots of activations. Thank you for so many SOTAs you've given me along the several QSOs we've had, including a S2S.
I hope to keep chasing you for longer times.
73,
Guru
Herzlichen Glückwunsch Franz!
Am Weg zu Deiner dritten Goat durften wir mit Dir in einer unvergeßlichen
Bike Touur die Maas entlang und hinauf zum Sint Pietersberg radeln.
Lindemanns Krick Bier haben wir bei uns entdeckt. Prost Franz!
vy 73 de Susi und Karl
Congratulations Franz!
73,
Keith KR7RK
Just back from the FL/VO tour, it was great !
Thank you all for the friendly remarks, and
especially to my "top chaser" Don G0RQL …thank you!
Now we go for the 4K…
73 de Franz
ON9CBQ / DL3RBF
Congratulations to the 3 mountain goat, Franz!
73 de Rumen / LZ2AF
Franz,
freue mich immer, euch unterwegs von unterwegs zu hören. Weiterhin viele frohe Stunden mit Summits on the Air!
Vy 73 de Markus, HB9DIZ