After watching a couple of Sota activation videos with my XYL last week, she finally saw the light and pretty much insisted on trying an activation the very next day.
So yesterday saw our usual hillwalking kit supplemented by way too many Kilos of radio gear… heading for the hills.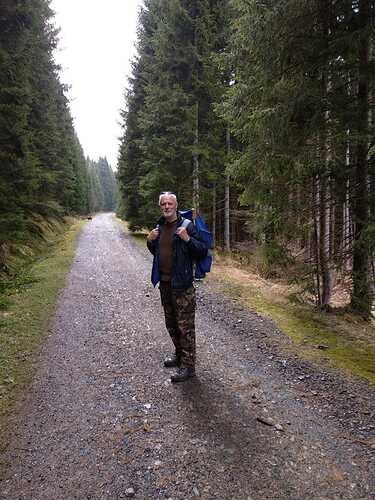 Weather in the Sumava mountains can be fickle and yesterday was no exception - Warm spring like conditions at the carpark, and knee deep snow ( in places) at the top (1315m ASL). Sadly our last minute preparations meant we got off to a late start, so that by the time we reached the look out tower at the top, rainy weather had set in.
Because of the WX the OK8GB station was repeatedly dismantled and rebuilt in attempts to find shelter / breaks in the weather, and combined with almost completely dead conditions at the start of the activations, in all it took 5 hrs in the cold and damp to scrape together 5 contacts… But special thanks to Paul M10ITS /m and Neil G4SEN for most enjoyable chats who brought some warmth and humour to a pretty challenging activation.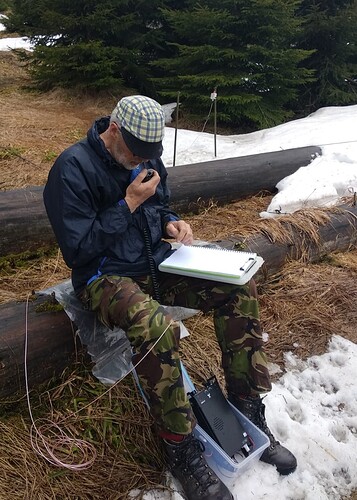 Take-aways from this activation:
-Access to summit from carpark very straightforward and fairly easy going.
20kg all up weight of my radio rucksack needs to be greatly reduced
Tarp and lightweight poles needed to keep wind rain and sun off us during activation
Make a link to attach a second 10m wire to the EFHW to give me 40m in addition to 20 and 10m capability
logging software installed on an IP68 phone as wet A4 is very frustrating to handle!
AND FINALLY our thanks go out to the youtubers who provided the motivation to get out and have a go:
- My old friend James M0GQC ( Chanel Amateur Radio UK)for his boundless enthusiasm no matter what the chrisis,
- and Fraser MM0EFI ( Chanel Radio Rover) for his slick videos that just make you want to be up there in his beautiful mountains with him!
Guess what… In all we'll be up on the OK hills again next weekend, but with somewhat lightened kit!
73 de Jon
OK8GB / G6UDE