Dear all:
Here is just a quick report about the first activation of Torre Wundt (I/VE-064) on June 22, 2021.
Torre Wundt is a beautiful tower in the Cadini mountain group in in Northern Italy with some relevance to the history of alpine climbing. The summit was first reached by Theodor von Wundt and his guides Masurto Barbaria and Giovanni Siorpaes in 1893 1, and all routes to the summit require some climbing in at least UIAA III.
See also Torre Wundt : Climbing, Hiking & Mountaineering : SummitPost.
In June, I chose to climb this beautiful summit together with Mauro Bernardi, famous for his guidebooks of the region, using the "Via Valleferro" route, which is a bit more difficult (UIAA IV with a few sections maybe IV+ / V-) than the more travelled "Mazzorana" route. The first ascent of the route was in 1978 by Diego Valleferro and companions, so this is a rather really historic place with a special spirit.
We reached the summit by ca. 10:00 a.m. local time, and I started a quick CW-only activation by 08:06Z (10:06 local time). 22 minutes later, 12 QSOs on 20m and 40m were bagged and we started the descent, which is mainly abseiling (rapelling).
Attached, please find a few pictures of the first activation.
73 de Martin, DK3IT
Torre Wundt (2517m) is the tower in the middle of the picture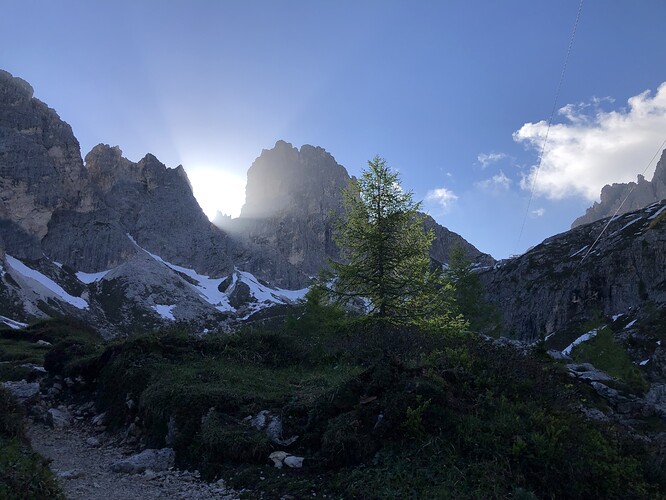 Operating position with the Tre Cime to the left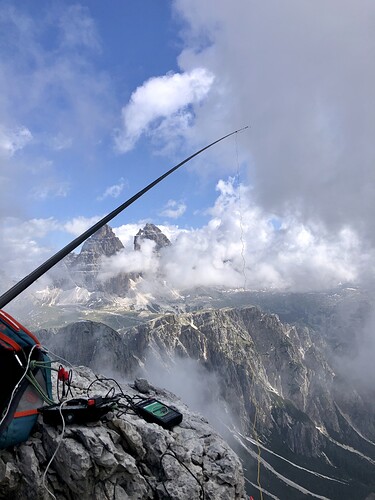 Multi-pitch Abseiling on our way back home