Hi all,
Today was activating F/CR-245 Chapelle Sainte-Radegonde, an easy one, for testing my new rig, not an IC-705 but an FT-817nd in very good working condition that I have just purchased and a new keyer (uniHAM UNI-715) https://www.aliexpress.com/item/4000162609621.html?spm=a2g0s.9042311.0.0.3da26c37pj48LQ

The weather was fine, we got 32°C

The setup was quick, a lot of trees around no need a pole to put my EFHW antenna. The shack was pleasant in the shade of an oak tree and comfortably seated at a camping table

Started on 40m with directly an s2s with Antonio
@EA4MY
/P on EA4/MD-028, but was a lot of QSO QRM between 7.030 and 7.038, so moved around to find a free frequency ! And after 1h30 of activation seven s2s and one GMA between 7Mhz and 14Mhz in CW and for the first time in SSB

my EFHW antenna not worked on 30m !
Time for a break, XYL and me needed to have a snack !
2nd round and 5 more s2s

and the icing on the cake one transatlantic QSO with Leslie @K4DY !
Here the map of my activation :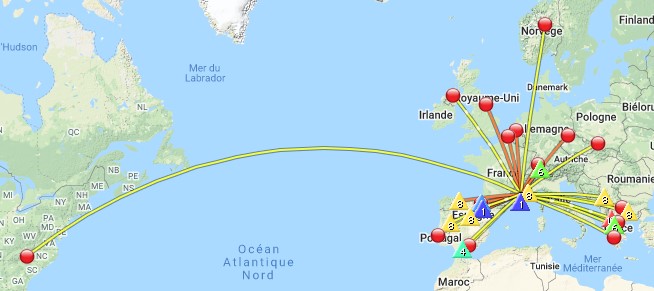 I was surprised watching my spots on RBN

The conclusions after this new experience:
1 - review my antenna system, need to try all bands.
2 - learn to manage the controls of my 817


3 - try to use one of the 2 applications I've on my smartphone to log all QSO.
Thanks all chasers and activators who made my day (12 s2s 30 QSO). See all soon !
73 Éric